South Korea
South Korea is a country that is brimming with natural, cultural, historical, and tourist attractions. The country offers wide open spaces with incredible natural beauty, including rock formations, green pastures, dense forests, and prominent tourist attractions like Seoul. The nation has a long and illustrious history in which numerous kingdoms and rulers have ruled. Their reigns can still be seen in the country's ruins and restored palaces.
If you were wondering where to go in South Korea, the following is a list of the tourist spots in South Korea, ranging from well-known to less well-known destinations, including rural villages, grand Buddhist temples and palaces, ancient fortresses, and high-tech urban centers. The fact that most people only know about Seoul, South Korea's capital, and believe it is the only place worth visiting is interesting.
Top 4 Tourist Spots in South Korea
Mentioned below are the top 4 Tourist spots in South Korea:
#1 Busan
South Korea's second-largest city and seaport in Busan. Busan is well-known for its beaches, natural reserves, hot springs, and yearly events like its famous international film festival. It is a hidden treasure in South Korea, also known as the "City of Tomorrow." It is a hub with religious temples, magnificent cliffs for adventurous hiking, and great beaches or strolling through a World Heritage village's colorful alleys. There are many things to do in this city that will make you fall even more in love with South Korea.
Things to do:
Visit the Haeundae Beach.
Visit the Gamcheon Culture Village, also known as Busan's open art museum.
Visit the Sea life Busan Aquarium, a paradise for Marine lovers.
Visit the Buddhist Temple, Haedong Yonggungsa.
Best time to visit:
The best time to visit Busan is from April to November.
#2 Seoul
South Korea's powerful capital is a city of contrasts. Among the glittering skyscrapers of global technology companies are centuries-old Buddhist temples. Additionally, billboards depicting K-pop stars strutting their stuff share space with traditional palaces and museums. There appears to be harmony among the various attractions of the capital, despite the dichotomy. Many visitors also praise the food and public transportation in the city as being less expensive than in neighboring East Asian nations.
Things to do:
Visit the Five Royal Palaces of Seoul, which are the perfect symbol of the culture and history of South Korea.
Visit the Seoul Museum of Arts (SeMA).
Travel through the Hongik University Street.
Visit the Lotte World.
Best time to visit:
March through May and September through November are the best months to visit here.
#3 Jeonju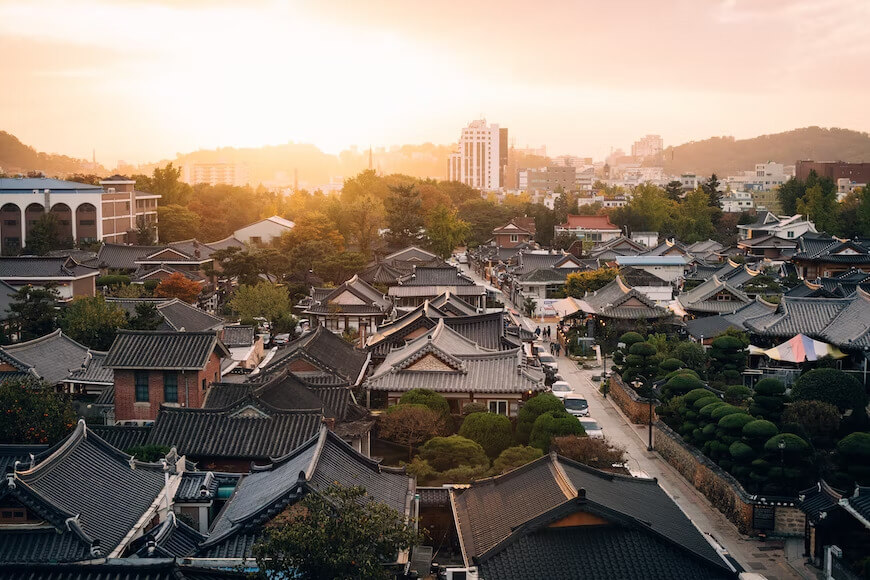 Jeonju is the capital of North Jeolla Province and the 16th largest city in South Korea. Due to the the proximity of Wanju County, which almost surrounds Jeonju, is both urban and rural. Jeonju translates to "Perfect Region." It is a significant tourist destination known for its Korean cuisine, historic buildings, sports, innovative festivals, and other attractions. The Hanok village, or ancient downtown, in Jeonju, South Korea, is a tourist draw. The traditional Korean homes that are frequently beautiful are referred to as "hanoks." Jeonju ought to be on your South Korean travel bucket list.
Things to do:
Wander through the Hanok Village.
Shop at Nambu Market.
Visit Jeonju Gyeonggijeon Shrine.
Walk through the Hwangbangsan Scenic.
Best time to visit:
The best months for good weather in Jeonju are May, June, July, August, September, and October.
#4 Jeju City
Jeju City is the largest city on Jeju Island and the capital of the South Korean province of Jeju. Jeju International Airport offers transportation to the city. Most of the year, Jeju, an island off the Korean Peninsula, experiences mild, warm weather. With prestigious hotels and public casinos, the city is a well-known resort.
It's not surprising that so many people annally return to Jeju City. There are so many beautiful things to do in this charming city. There is never a dull moment in this place, whether you like to go to local attractions or try more thrilling activities.
Things to do:
Try Tea tasting at the Osulloc Tea Museum.
Admire the Sunset at Yongmeori Coast.
Try thrilling rides at Shinhwa World.
Visit the Unique waterfall named "Jeongbang."
Best time to visit:
March to April is the best month to visit as they have very mild and pleasant weather.
Conclusion – Tourist Spots in South Korea
South Korea has a long history, and its tourism resources include cultural landscapes and historical sites. Additionally, many century-old palaces remain from Seoul's past as Hanyang. However, Seoul is now recognized as the fashion, avant-garde, and international metropolis of Asia. Busan is well-known for its sea because it was built with the ocean in mind. Tourists from all over the world come to vacation there because of the stunning natural scenery, the slow pace of life, and the green and fresh food. It's not just about these cities but many more. Check the above list of tourist spots in South Korea to make your trip memorable.
Recommended Articles
We hope that this EDUCBA information on "Tourist Spots in South Korea" was beneficial to you. You can view EDUCBA's recommended articles for more information –