Updated May 30, 2023
Siliguri Tourism
Siliguri is a northeastern state of West Bengal. Nestled in the foothills of the Himalayas, Siliguri is a charming city often overshadowed by its more famous counterparts. But this hidden gem in the heart of West Bengal has a lot to offer to those willing to explore its streets and unravel its secrets. There are so many tourist places in Siliguri to enjoy your days with family and friends.
This city has something for everyone, from breathtaking natural beauty to rich cultural heritage. It is surrounded by lush green tea gardens, rolling hills, and vast plains, making it a paradise for nature lovers. Adventure enthusiasts can take on the challenge of trekking to the nearby hills, paragliding, or rafting in the Teesta River. The city is also a popular bird-watching hub, with numerous species of birds found in the nearby Mahananda Wildlife Sanctuary.
Top 6 Must Visit Tourist Places in Siliguri
For those who are planning to visit the city, here is the list of tourist places in Siliguri worth exploring.
#1 Mahananda Wildlife Sanctuary
Mahananda Wildlife Sanctuary is spread across  158 sq. km. and lies right in the middle of the Mahananda and Teesta rivers. The place is rich in flora and fauna, and visitors can easily travel through the Sukna village to reach it. It is home to many animals like the Royal Bengal Tiger, Indian bison, gaurs, elephants, spotted deer, wild cats, boars, sambar, and leopards. Some exotic species like the Himalayan black bear, Himalayan serow, Clouded Leopard, and Binturong can also be seen here. Visitors can spend 4 hours easily here.
#2 Salugara Monastery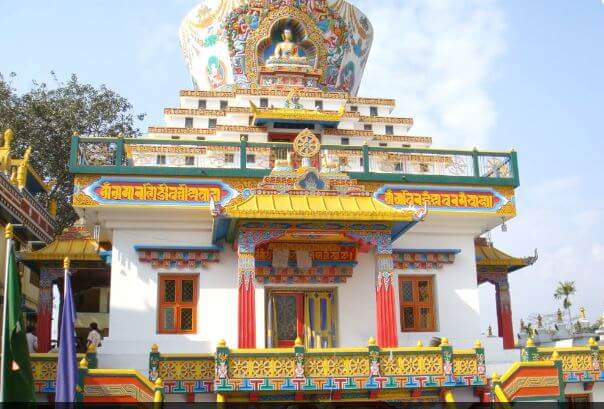 There are plenty of tourist places in Siliguri, but one that is always etched in everyone's heart is Salugara Monastery, a sacred place. It is 6 km from the main city, and several Buddhists visit there to pay respects. This monastery is a sacred place where people can meditate or sit alone to ponder their thoughts. As you enter the Salugara monastery, you'd see a 100 ft. long stupa, a teacher, and a llama. Five relics live in this place, and devotees come to offer their prayers.
#3 Sepoy Dhura Tea Garden
This Sepoy Dhura Tea Garden is an unexplored but special place in the city. It is right next to the Tindharia Tea Garden in the Shivkhola Hills. Sepoy Dhura is considered one of the most beautiful tourist places in Siliguri, where you can view natural beauty. If you love to trek, then this might be the perfect opportunity for you. This tea garden takes you around the villages for a soulful experience. You can also travel, book a homestay, and soak in the view. You might also see the tea-picking process and join the workers.
#4 North Bengal Science Center
This place is the only science center in the city and was established in 1997. If you are an enthusiast, this might be the place for you. It is in Matigara and showcases well-maintained lawns full of pendulums, swings, periscopes, seesaws, eco tubes, and more. You'd also see a huge T-Rex statue, the most prominent one in the area. The complex has a Nature Interpretation Center and a digital planetarium museum to explore. One of the best tourist places in Siliguri to enjoy with friends and family, this North Bengal Science Center should be on your bucket list!
#5 Chilapata Forest
Chilapata Forest is for every nature enthusiast and is a huge part of the Jaldapara National Park. It is located in the Alipurduar district and is widely populated with forestation.  Since the forest is situated along Bania and Torsha, you'd get to explore a huge collection of flora and fauna here. This place is called home to some endangered species like wild pigs, one-horn rhinoceros, leopards, and bison. It has more than 20 snake species and a huge variety of butterflies. If you want to get the best view of the wildlife, then there is a watchtower that gives you that opportunity. You can also check out the Nalraja Garh, surrounded by bleeding trees and built in the 5th century.
#6 Iskcon Temple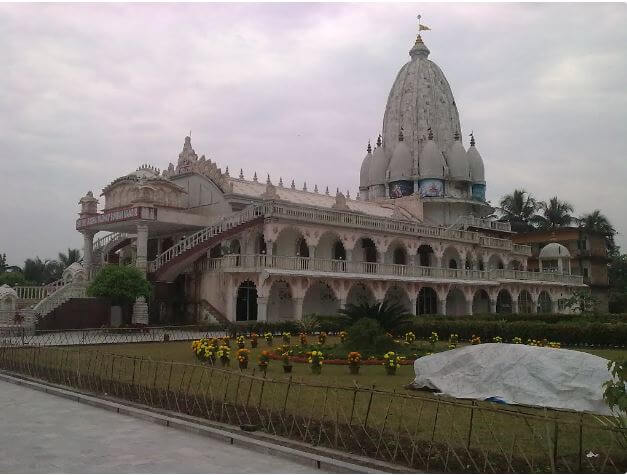 Iskcon Temple is one of the humblest tourist places in Siliguri. It is a part that connects the northeast region of India to Krishna Ji. The place is a prime spot for devotees and pilgrims, so if you are a firm believer, then make sure you visit it. A Vedic research center also gives you extensive knowledge about our rich culture. Iskcon Temple is located amidst the manicured garden, and its main structure oozes out purity and calmness. Once you join the worship session in this mandir, you'd be taken for a boat ride on the emerald lake. You can also visit their restaurant if you feel hungry!
Recommended Articles
We hope that this EDUCBA information on "Tourist Places in Siliguri" was beneficial to you. You can view EDUCBA's recommended articles for more information,