Top Tourist Places in Shimoga
While wondering where to visit on the next holiday, there are so many places to shortlist that people often need clarification. But one thing common to everyone's mind is taking a luxurious yet affordable trip. One destination that travelers can choose this year is Shimoga. There are plenty of tourist attractions in Shimoga where you can enjoy yourself with your family.
Shimoga, also known as Shivamogga, is located in the Indian state of Karnataka. It is known for its scenic beauty, rich cultural heritage, and various tourist attractions. One of the special features of Shimoga is its natural beauty. The city is surrounded by lush green forests, waterfalls, and hills, making it a popular destination for nature lovers. Another thing that is popular here is the city's cultural heritage. Shimoga has a rich cultural heritage, with several temples, monuments, and other historical sites. Some famous temples in Shimoga include Sri Rama Temple, the Bhadrakali Temple, and the Mahaganapathi Temple.
Tourist Places To Visit in Shimoga
Read about some of the most beautiful places to visit during a trip to Shimoga.
#1 Kodachadri Hills
The Kodachadri Hills rise 4411 feet from the south end of Kanara Forest. They are one of the most scenic and peaceful tourist spots in Shimoga. Full of lush evergreen trees and stable walking paths, you can enjoy a day of trekking here without overburdening yourself. Walking from the start to the end, you will cover 14 kilometers easily. This place also acquaints you with exotic birds and animals like the Indian rock python, Malabar langur, and pied hornbill.
#2 Jog Falls (2nd highest Indian waterfall)
If you are a waterfall fan and love exploring them, this is your opportunity. Jog Falls, also called Gerusoppa Falls and Jogada Gundi, is a prominent tourist spot in the city and is 850 ft. high. Although the flow of water is significantly reduced just before the monsoon due to the Linganamakki dam, if you want a completely jaw-dropping experience, visiting here during the monsoon rather than before is recommended. The hill was formed by the sharavathi river and is split into four sections: the roarer, the rocket, the raja, and the rani.
#3 Agumbe (South India's Cherrapunji)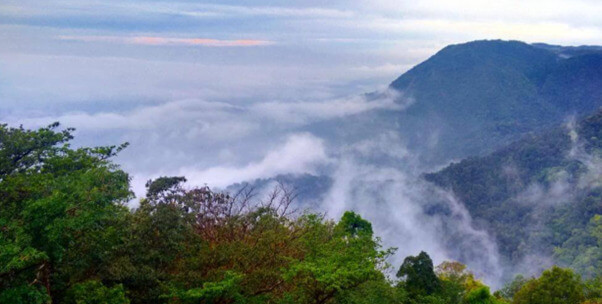 Agumbe is immensely popular for its presence as the "Malgudi" town in the Malgudi Days T.V. series. This picturesque town in Karnataka is one of Shimoga's most beloved tourist destinations and is rich in biodiversity. The hiking routes make this lowland rainforest everyone's favorite, so people from across the country visit. Here at Agumbe, you'd also find several rare medicinal herbs, including Eugenia, Garcinia, Myristica, Diospyros, Litsea, and more. It is also home to several cobras, prompting some to refer to it as "cobra capital." It also gave Agumbe the title of "Hasiru Honnu," or "green is gold."
#4 Dabbe Falls
While talking about the tourist attractions in Shimoga, how can we forget the Dabbe Falls? This gushing water stream creates a tranquil experience for you and gives you a pleasant sight to behold. The falls are situated in Hosagadde village and are 110 m high. You can enjoy trekking or swimming here and especially have fun during the monsoon season. The site is open to the public at all hours, so make sure it is on your bucket list.
#4 Honnemaradu Reservoir Tourism
Honnemaradu is the land of golden sands and is home to a charming community. It is located in the heart of the valley, and if you go for a weekend getaway here, you might enjoy an adventure camp. It is one of Shimoga's most fun tourist places, where you can kayak, camp, or walk by the Golden Lake. Here you'll also get a view of sunrise and sunset that cannot be witnessed anywhere else.
#5 Bhadra Wildlife Sanctuary
Bhadra Wildlife Sanctuary is one of the classiest tourist places in Shimoga. It is situated on the Bhadra River bank and is surrounded by the Western Ghats. Visit there and spot animals like elephants, jackals, spot deer, barking deer, panthers, tigers, sambar deer, snakes, and crocodiles. You'd also see exotic birds like butterflies, hornbills, paradise flycatchers, and racquet-tailed drongos. Apart from that, people also come here to enjoy rock climbing, camping, safaris, and trekking.
#6 Gudavi Bird Sanctuary
Gudavi Sanctuary gives you a beautiful sight to remember for life. It is a favorite destination for ornithologists and is home to over 48 bird species. Come here from June to December and explore a variety of birds like bitterns, jungle fowl, Indian shags, black-headed cranes, white-headed cranes, white ibis, and more. The bird sanctuary is behind Gudavi Lake, where you can sit with your family and rejuvenate.
Recommended Articles
We hope that this EDUCBA information on "Tourist Places in Shimoga" was beneficial to you. You can view EDUCBA's recommended articles for more information,