Updated May 31, 2023
Mahabalipuram
If you plan to visit Mahabalipuram this year or anytime soon, this article is for you. Mahabalipuram has always been one of the most popular destinations in Tamil Nadu. This bustling port city is popular for its rich collection of ancient monuments and Hindu temples, surrounded by mesmerizing scenic beauty and must-watch travel spots. The temple town of Mahabalipuram is a UNESCO world heritage site. Mahabalipuram is always crowded with visitors throughout the year.
The best time to explore the city is during winter. In the summer, the weather is humid, making travel difficult. The temperature during summer rises to 34 degrees most of the time. Therefore, if you want the best travel days in Mahabalipuram, make sure you know the places to visit and book your accommodations beforehand.
This article will tell you about the best, and you must visit travel spots in Mahabalipuram to explore with your loved ones. Keep on reading;
Location:
Mahabalipuram is a small town in the Chengalpattu district of Tamil Nadu. The ancient name of Mahabalipuram is Thirukadalmallai. Bus services between Chennai and Mahabalipuram are always easy to avail. The distance between Mahabalipuram and Chennai is 56km.
Tourist Places in Mahabalipuram
People have always known Mahabalipuram for its wide collection of ancient temples and religious places. But there is more that you can explore in the city.
#1 Tiger Cave
You can start your day by visiting the famous Tiger Cave in Mahabalipuram, which dates back to the 8th century. The main attraction of this spot is the carving of Goddess Durga mounted on the top of the cave. The smaller temples with beautiful sculptures of Shiva-Linga will also amaze you. There is no entrance fee to visit this site. Make sure you wear comfortable shoes when visiting Tiger Cave, as there are many things to explore through walking.
#2 Pancha Rathas
Pancha Rathas is a monument complex that comprises five temples like chariots. The artisans carved these rock-cut temples out of pink granite and gave them the names Draupadi and Pandavas. Among these five Pancha Rathas, the Dharmaraja Ratha is the most elaborate one. This Ratha has sculptures of deities like Shiva, Krishna, Brahma, and Skanda. It's a delight to watch this beautiful spot in Mahabalipuram.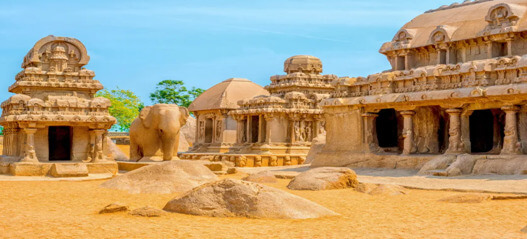 #3 Shore Temple
Your visit to Mahabalipuram will be incomplete if you don't visit the beautiful Shore Temple, known for its Dravidian-style architecture. The Pallava dynasty built this temple complex of granite in the 8th century. Several deities' stone carvings and Nandi figures feature on the temple's outer wall. Visiting this temple does not require an entrance fee.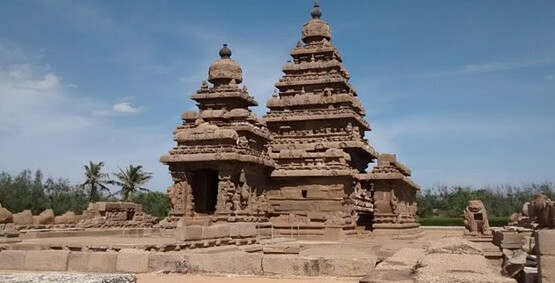 #4 India Seashell Museum
The India Seashell Museum in Mahabalipuram is an amazing spot to discover with your friends and family. This largest museum has over 40,000 specimens of fossils, whale fins, shark teeth, and many more. Founded by K Raja Mohammad, this museum features mollusks and sculptures of cars and ships made of shells.
#5 Krishna's Butterball
Krishna's Butterball is a granite boulder that weighs almost 250 tons and is six meters in height. This Butterball has been here for the past 1200 years. The Butterball defies the law of physics and balances on a slope. The locals call this boulder the Stone of Sky God. Don't miss visiting this tourist spot.

#6 Mahabalipuram Beach
If you are a beach person, make sure you visit the serene and pristine Mahabalipuram beach, located on the shores of the Bay of Bengal. Walking with your partner on the beach will make your trip worthwhile. The added attractions are the rock-cut sculptures, stunning caves, chariots, and temples on the Mahabalipuram beach.
#7 Alamparai Fort
You can end your trip by exploring the historical Alamparai Fort. This historical fort features attractive architectural work, and the view from the top of the fort is mesmerizing. This ancient architecture has been a popular tourist spot in Mahabalipuram, attracting visitors throughout the year.
Conclusion
Tourist Places in Mahabalipuram have some must-watch tourist spots that you should never miss exploring. Those who believe that Mahabalipuram is only about temples are not exactly correct. There are many other spots to discover in this bustling city of Tamil Nadu. Don't miss experiencing their delicacy as they offer amazing seafood. Book your tickets today!!
Recommended Article
We hope that this EDUCBA information on "Tourist Places in Mahabalipuram" was beneficial to you. You can view EDUCBA's recommended articles for more information.