Updated May 31, 2023
Explore Coimbatore
Breathtaking natural beauty surrounds Coimbatore, a city located in Tamil Nadu and nestled in the deep environs of the Ghats, showcasing the best of South India. The best tourist places in Coimbatore include Ooty, Tiruppur, Palakkad, Pollachi, and Mettupalayam. Nature and breathtaking scenery surround the popular hill station in South India. A dedicated tourist will visit Coimbatore and take the time to explore the surrounding areas. Several amazing places near Coimbatore are worth a visit. In the foothills of the Nilgiris, you can visit hill stations and enjoy the glory of nature.
Top 6 Tourist Places in Coimbatore
We have mentioned the top tourist places in Coimbatore and spots near Coimbatore to make your journey more enjoyable and exciting.
#1 Adiyogi Shiva Statue
The Isha Yoga Complex in Coimbatore houses the Adiyogi Shiva Statue, which stands surrounded by greenery at the foothills of the Velliangiri Mountains in the Western Ghats. The statue, dedicated to the well-known Hindu deity Shiva, comprises 500 tonnes of steel. Guinness World Records have recognized it as the largest sculpture in the world.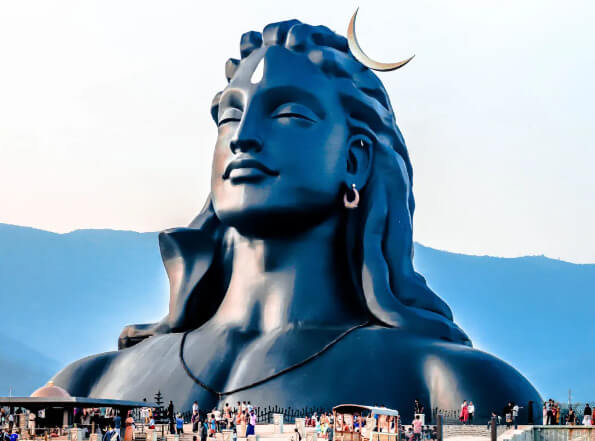 The founder of the Isha Foundation, Sadhguru Jaggi Vasudev, designed the statue, which Prime Minister Narendra Modi inaugurated on February 24, 2017. The term 'Adiyogi' refers to the first yoga practitioner. As a result, this Coimbatore tourist attraction also pays homage to the ancient art of yoga.
Location: Isha Yoga Complex, Booluvampatti, Tamil Nadu
Timings: 6 am to 8 pm
Entry Fee: Free
#2 TNAU Botanical Gardens
If you enjoy nature, you will enjoy your visit to the TNAU Botanical Garden. This massive garden on the Tamil Nadu Agricultural University (TNAU) Campus is home to various trees and plants. The Covai Flower Show, held on campus every January, is a huge draw for the people and is extremely popular with the locals.
Location: Pappanaicken Pudur, Coimbatore
Timings: 08.00 am to 11.30 am & 02.00 pm to 04.30 pm
Entry Fee: ₹ 10 per person
#3 GeDee Car Museum
The Gedee Car Museum is a mix of vintage, and new cars brought in from all over the world, including the United States, England, Germany, and France. Gedee Car Museum is one of the few places in India where you can see cars from the United Kingdom, Japan, France, Germany, and the United States all under one roof. The car collection is exceptionally well kept, and all pertinent information about the vehicles is on display, providing visitors to learn. The museum's interesting exhibits and car models will also appeal to children. You must include it in the itinerary to Coimbatore.
Location: 734, Avinashi Rd, Race Course, Coimbatore
Timings: 10.00 am to 06.00 pm- Tuesday to Sunday
Entry Fee: ₹ 125 per person (Approx)
#4 Nehru Park
Nehru Park is the best Tourist place in Coimbatore's most admired park and is famous for the gigantic statue of Jawahar Lal Nehru. It's also well-known for its lush green park area, jogging track, and well-kept pathways. You are welcome to come here and relax among the trees for a while. Tourists pay a small fee to enter the beautifully landscaped gardens, which are well maintained. You can walk through the gardens, observe the various birds visiting, and build their nests in the trees. Children will also enjoy the environment, which is ideal for playing and running around. However, these are only some of the attractions at this park.
Location: Trichy Rd, Sungam, Karunanidhi Nagar
Timings: 06.00 am to 10.00 am and 04.00 pm to 08.00 pm
Entry Fee: Adult- INR 20 per person Children- INR 10 per person
#5 Sree Ayyappan Temple
Sree Ayyappan Temple in Coimbatore is one of the most beautiful tourist attractions in the area. This temple is also known as the 'Second Sabarimala Temple' due to its similarity in style, architecture, and puja processions. Unsurprisingly, art, architecture, and history buffs flock here all year. The builders constructed the Ayyappa Temple using traditional architectural styles, making it a must-see attraction for architecture enthusiasts, history buffs, and religious devotees. A visit to the Ayyappan Temple will thus transmit you to Kerala.
Location: Chinnasamy Naidu Rd, Coimbatore
Timings: 05.00 am to 11.00 am and 05.00 pm to 09.00 pm
Entry Fee: No entry Fee
#6 Vaidehi Falls
The Vaidehi waterfalls are about 35 kilometers from Coimbatore. Vaidehi Waterfall in the Narasipuram village near Coimbatore is too beautiful for an idyllic escape in the Nilgiris. A lovely picnic area near the waterfalls is ideal for spending time with family or friends. When planning a trip to Coimbatore, this should be at the top of your list of places to see. People can enjoy the peace and tranquility of the area and make their trip memorable by visiting these falls.
Location: Narasipuram village, Coimbatore
Timings: 08.00 am to 05.30 pm
Entry Fee: Free
Conclusion – Tourist Places in Coimbatore
Coimbatore has beautiful surroundings and natural beauty! This location is ideal for a week-long vacation, but if you want to stay shorter, try visiting on weekends. A travel enthusiast should find it easy to enjoy local culture and traditions while sightseeing and spending 4-5 hours exploring these wonders. Plan a trip to the above tourist places in Coimbatore for an amazing holiday experience like never before. Don't forget to pack a few extra clothes if you wish to extend your relaxing vacay!
Recommended Articles
We hope that this EDUCBA information on "Tourist Places in Coimbatore" was beneficial to you. You can view EDUCBA's recommended articles for more information –