Updated November 8, 2023
Explore Katra
Katra is a town in the northern Indian state of Jammu and Kashmir, nestled in the foothills of the Trikuta Mountains. It is well-known as the gateway to the Vaishno Devi Temple, one of India's most sacred pilgrimage sites, which attracts millions of devotees and tourists every year. Besides its religious significance, Katra is also a place of natural beauty, with serene landscapes, historic temples, and a vibrant local culture that make it a captivating travel destination. The primary language spoken in Katra is Dogri and Hindi. Basic knowledge of these languages can be helpful.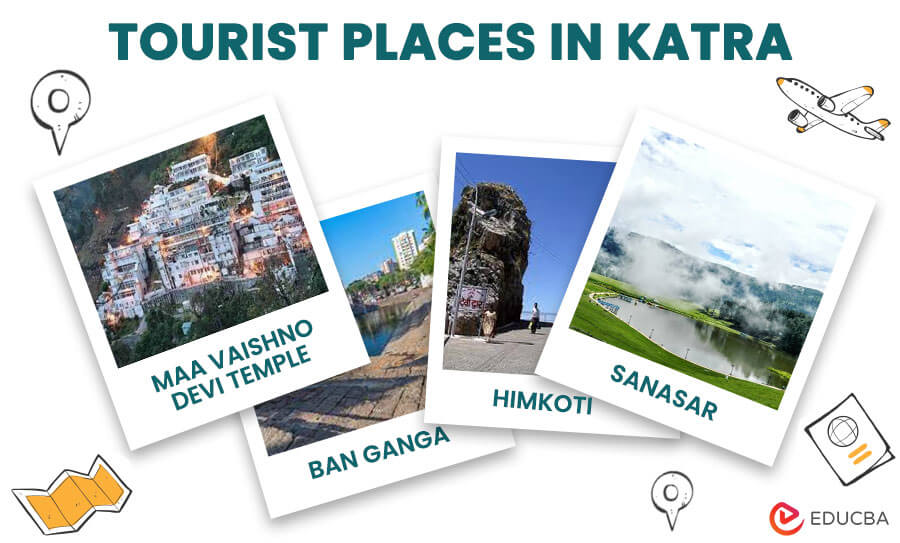 The Spiritual Epicenter
Katra stands as the epicenter of religious devotion in the region, primarily due to its association with the revered Mata Vaishno Devi Temple. Devotees from all corners of the globe journey to this sacred site, believing that the divine mother will answer their prayers. The Mata Vaishno Devi Temple is nestled in the Trikuta Hills and holds immense significance in Hindu mythology.
Best Tourist Places in Katra
Here are some tourist places in Katra:
1. Maa Vaishno Devi Temple – Seek Blessings
When one thinks of Katra, the iconic Maa Vaishno Devi Temple immediately comes to mind. Nestled amidst the Trikuta mountains, this shrine holds deep spiritual significance for Hindus. The temple features a cave with three rock forms, known as Pindies, where Mata Vaishno Devi is believed to have appeared. To reach this sacred shrine, you have multiple options, including a 13-kilometer uphill trek from Katra, horse and palanquin services for those who need assistance, or even a helicopter ride to Sanjichhat, followed by a 2.5-kilometer walk. The journey to the temple offers breathtaking views of the Himalayas.
Tips for a Fulfilling Journey
For those who cannot undertake the journey on foot, horses are readily available.
A ropeway between Mata Vaishno Devi Cave and Bhairon Ghati is under construction, promising ease of travel.
Visitors to Katra should note that the consumption of alcohol is strictly prohibited. However, they can enjoy a variety of delicious vegetarian dishes during their stay.
Remember to obtain a yatra slip from the Yatra Registration Counter in Katra, as it's mandatory for the pilgrimage.
Location: Bhavan, Katra, Jammu and Kashmir 182301
Timings:
Morning: 5 AM to 12 PM
Evening: 4 PM to 9 PM
2. Charan Paduka – See Vaishnavi Maa's Footprints
Charan Paduka is a sacred site on the path to the cave of Maa Vaishno Devi, where the foot imprints of the goddess can be seen on a rock slab. According to legend, Maa Vaishno Devi rested here during her journey to the cave, and her footprints got imprinted on the rocks. A visit to Charan Paduka is an essential stop to seek the blessings of the goddess before continuing your ascent to her cave.
Location: Katra, Jammu
3. Ban Ganga – Take A Refreshing Dip
Ban Ganga is another significant stop on the way to Vaishno Devi; Legend has it that Mata Vaishno Devi shot an arrow into the earth to quench her thirst and create a spring. This natural spring is believed to possess purifying and cleansing qualities, making it a perfect location for pilgrims to take a refreshing dip before continuing their journey to the temple.
Location: Katra, Jammu
4. Bhairavnath Temple – Take In The Majestic Views
After visiting the Vaishno Devi Temple, take a short walk of 2 to 3 kilometers to reach the Bhairavnath Temple, a place of immense beauty and spiritual significance. This temple is dedicated to Saint Bhairav, who, in legend, was defeated by Maa Vaishno Devi. To complete the pilgrimage to the Vaishno Devi Temple, a visit to Bhairavnath Temple is a must, as it was proclaimed by Maa Vaishno Devi herself.
Location: Trikuta Parvat, Reasi District, Katra, Jammu and Kashmir 182301, India
Timings:
Morning: 5 AM to 12 PM
Evening: 4 PM to 9 PM
5. Baba Dhansar – Bask In Natural Beauty
Located less than 13 kilometers from Katra, Baba Dhansar is a must-visit holy place with an interesting legend. The temple is devoted to Lord Shiva and is surrounded by a series of stunning waterfalls and lush greenery. To reach the temple, you'll need to climb around 100 stairs. Baba Dhansar offers a serene and picturesque environment, making it a delightful stop on your spiritual journey.
Location: Katra, 182301
Timings: Not available
6. Himkoti – Have A Picnic
Take a break from your pilgrimage and revel in the natural beauty of Himkoti. With its splendid views of the surrounding hill stations, lush greenery, and serene atmosphere, Himkoti is an awesome spot to relax and have a picnic with your family. The place is home to awe-inspiring natural beauty, making it one of the top-rated tourist destinations in Katra.
Location: Himkoti, Katra, Jammu and Kashmir
7. Bagh-e-Bahu – Stroll In The Garden
Baag-e-Bahu, situated about 45 kilometers from Katra, offers a unique experience for those looking to unwind after visiting the various holy shrines. The garden is ideal for relaxing and enjoying its serene environment. For history enthusiasts, the nearby Bahu Fort is a must-visit. Inside the fort, you'll find a temple dedicated to Maa Kali and learn about the captivating history of Jammu.
Location: Gorkha Nagar, Jammu, Jammu and Kashmir 180006
Timings:
Morning: 6 AM to 12 PM
Evening: 4 PM to 9 PM
8. Sanasar – Go Paragliding
Referred to as 'Mini Gulmarg,' Sanasar is located around 17 kilometers from Patnitop and is a short drive from Katra. This place boasts a mesmerizing lake, lush hills, and forests, providing ample opportunities for adventure enthusiasts. You can indulge in adrenaline-pumping activities such as paragliding, hot air ballooning, and horse riding during the summer season. Visit attractions like Nag Temple, Hidden Creek, and Sanasar Lake.
Location: Katra, Jammu
9. Jhajjar Kotli – Get A Spa Therapy
Jhajjar Kotli is a popular destination for those seeking a relaxing getaway and a rejuvenating spa experience. This location is perfect for picnics with family and offers a soothing atmosphere that will invigorate your senses. Surrounded by picturesque landscapes and a serene ambiance, Jhajjar Kotli is one of the most-visited places near Katra.
Location: Kotli Jhajjar 181221
10. Raghunath Temple – Stunning Architecture And Interior Design
Raghunath Temple is a splendid architectural marvel located 8 kilometers from the city of Jammu. This temple, dedicated to Lord Rama, features impressive idols of Lord Krishna, Lord Ganesh, and other Hindu deities. The temple showcases Mughal and Sikh architectural styles, making it a unique blend of artistic influences. Inside, you can admire paintings that depict religious verses from the Holy Gita, Mahabharata, and Ramayana.
Location: Katra, Jammu and Kashmir 182320
Timings:
Morning: 6 AM to 12 PM
Evening: 4 PM to 9 PM 
11. Ranbireshwar Temple – Dedicated To Lord Shiva
Ranbireshwar Temple, dedicated to Lord Shiva, is one of the top destinations in Katra. It's among the 12 Jyotirlinga temples of Lord Shiva in India, attracting devotees during significant festivals like Deepawali, Lohri, Ram Navami, and Makara Sankranti. The temple's interior design and architecture, built with white marble stone, are commendable. Pilgrims visit this temple in large numbers during the annual mela organized during Vaisakhi for three days.
Location: Shalamar Road near Civil Secretariat
12. Dera Baba Banda – Pilgrimage Centre For The Sikhs
Dera Baba Banda is a significant pilgrimage center for Sikhs, known for its 300-year-old complex. The Gurudwara here was built by Guru Gobind Singh's favorite, Baba Banda Bairaagi, using white marble stone. The interior design and architecture of the Gurudwara are genuinely remarkable. Pilgrims flock to this place in large numbers during the annual mela in Vaisakhi for three days.
Location: Shalamar Road near Civil Secretariat
Timings: 5:00 AM – 9:00 PM
13. Nau Devi Temple
The Nau Devi Temple, also known as the Nav Durga Temple, is a Hindu religious site located in Katra, Jammu and Kashmir. This temple devoted to the nine forms of Goddess Durga, and it is a significant pilgrimage destination for devotees seeking the blessings of the Divine Mother in her various manifestations.
The nine forms of Goddess Durga worshipped at the Nau Devi Temple are:
Mata Maha Kali: Symbolizing power and fierceness, Mata Maha Kali is the first form of Goddess Durga.
Maa Mata Vaishno Devi: This form represents the divine mother and manifests love and compassion.
Maa Mata Mahakali: Mahakali is the fierce and destructive aspect of the goddess.
Maa Mata Saraswati: She embodies wisdom, knowledge, and the arts.
Maa Mata Lakshmi: The goddess of wealth and prosperity, she symbolizes abundance.
Maa Mata Chandi Devi: Chandi Devi is another fierce form of the goddess, often associated with victory over evil.
Maa Mata Annapurna Devi: Annapurna is the provider of nourishment and sustenance.
Maa Mata Ambika Devi: Ambika is a form of the goddess representing purity.
Maa Mata Vaishno Devi's Pind: This form represents the divine mother in her most sacred and natural state.
Location:
Udhampur district of Jammu and Kashmir, India.
Timings:
Morning: 5 AM to 12 PM
Evening: 4 PM to 9 PM
Getting to Katra
Katra is well-connected by air, rail, and road, making it accessible to travelers from various parts of India.
By Air: The closest airport is the Satwari Airport in Jammu, 51 kilometers from Katra. Taxis are readily available to transport travelers from the airport to Katra.
Via Train: Katra now boasts a newly constructed railway station connected to the Jammu-Udhampur-Srinagar-Baramulla Railway Link. Trains from Delhi also make the journey to Katra more convenient. Alternatively, Jammu Tawi, 53 kilometers away, is another major railway station connecting all major Indian cities.
Via Road: Katra is easily accessible by road, with state and national highways providing excellent connectivity. Direct buses are available from Jammu, Delhi, Chandigarh, Amritsar, Dharamshala, Pathankot, and other cities.
Best Time To Visit Katra
The best time to explore the scenic beauty and temples in Katra is from March to November. During this period, the weather is favorable, making it an ideal time for your visit. If you plan to travel during the winter season, carry warm clothing to stay comfortable.
Weather in Katra
Summer Season (April to June): Katra experiences warm to hot summers, with temperatures reaching up to 40°C. Despite the heat, many Hindu devotees undertake the journey during this period.
Rainy Season (July to August): While there is relatively little rainfall in August and September, high humidity can make the trip uncomfortable. Nevertheless, pilgrims continue their journey.
Winter Season (September to March): Winters in Katra begin in October and last until March. It is a fantastic time to visit, but visitors should be prepared for the cold and bring appropriate clothing.
Katra's Distance from Prominent Cities
Jammu: Katra, located about 49 kilometers from Jammu.
Srinagar: The distance between Katra and Srinagar, the summer capital of Jammu and Kashmir, is approximately 266 kilometers.
Delhi: Katra is approximately 650 kilometers away from Delhi, the capital of India. You can reach Katra from Delhi by road, train, or air.
Amritsar: The distance from Katra to Amritsar, a significant city in Punjab, is around 260 kilometers.
Chandigarh: Katra is about 275 kilometers from Chandigarh, a major city in Punjab and the capital of Haryana.
Shimla: The distance between Katra and Shimla, a popular hill station in Himachal Pradesh, is approximately 360 kilometers.
Conclusion
Katra is a unique blend of spirituality and natural beauty, making it an ideal destination for travelers seeking a fulfilling and enriching experience. Whether you're drawn to its spiritual significance, captivating landscapes, or thrilling adventures, Katra has something to offer everyone—your visit to Katra in 2023 promises to be a memorable journey filled with blessings and unforgettable experiences.
Recommended Articles
We hope that this EDUCBA information on "Tourist places in Katra" was beneficial to you. You can view EDUCBA's recommended articles for more information.