Updated November 4, 2023
About Croatia
Croatia is becoming an increasingly popular tourist destination in Europe. With its stunning coastline, awe-inspiring ancient architecture, delicious cuisine, and vibrant culture, it's no wonder why more and more people are flocking to this beautiful country. However, with so much to do and see in Croatia, deciding where to go and what attractions to add to your itinerary can take time. If you are planning a visit and want to immerse yourself in the local culture, consider learning Croatian, the country's official language. This can enhance your travel experience by helping you talk to locals and understand their rich culture. Additionally, learning some basic Croatian phrases before your trip can be very helpful in preparing for your journey.
In this blog post, we'll explore some of the best tourist attractions in Croatia that you will want to take advantage of. From majestic castles and waterfalls hidden away in the forests to quaint seaside villages where you can soak up the culture, rest assured there's something for everyone here. So whether you're a beach bum or a culture vulture – read on for our list of must-visit Croatian destinations!
Top 6 Tourist Attractions in Croatia
#1 Dubrovnik Old Town
The old city of Dubrovnik is a UNESCO World Heritage Site and one of the most popular tourist destinations in Croatia. The well-preserved buildings and architecture are a must-see, as is the city's magnificent harbor.
#2 Plitvice Lakes National Park
This national park is home to 16 beautiful lakes, waterfalls, and hiking trails. It's the perfect place to enjoy nature and enjoy incredible views.
#3 Diocletian's Palace
This earliest palace was built for the Roman Emperor Diocletian and is now a UNESCO World Heritage Site. Visitors can explore the palace's remains, including temples, courtyards, and an impressive basilica.
#4 Krka National Park
Another national park worth visiting, Krka is home to waterfalls, medieval monasteries, and pretty villages. Take a boat ride on the river to see everything this park offers.
#5 Rovinj
This picturesque town on Croatia's Istrian coast is famous for its Venetian-style architecture and colorful houses that line the waterfront. Be sure to visit the baroque Church of St Euphemia for some stunning views over Rovinj.
#6 Hvar
This sunny island is one of Croatia's popular tourist destinations, thanks to its Mediterranean climate, beautiful beaches, and lively nightlife.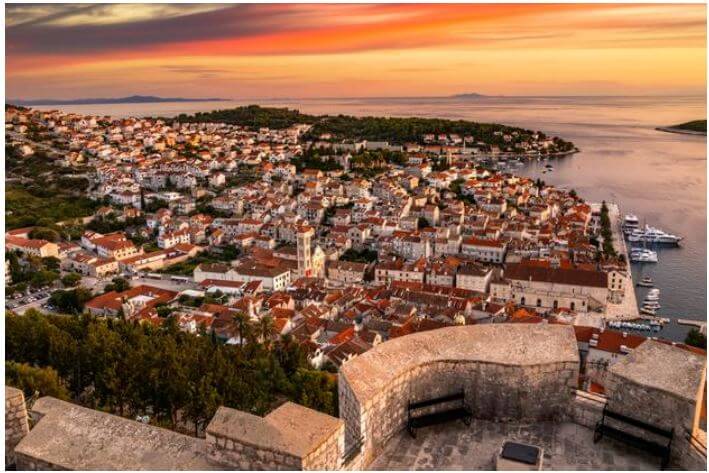 How to Get Around Croatia?
There are a few different ways that you can get around Croatia. The first option is by car. You can either drive yourself or rent a car. If you choose to go, be aware of the fact that Croatia has a lot of winding roads and mountain passes. The second option is by bus. Many different bus companies operate in Croatia, so you should be able to find one that goes to the places you want to visit. The third option is by train. Train travel in Croatia can be slow, but it is still an option.
Where to Stay in Croatia?
There are several different places to stay in Croatia, depending on what kind of experience you are looking for. If you want to be right in the middle of all the action, then staying in Dubrovnik is your best bet. However, if you want a more relaxed and quiet vacation, then Split might be a better option. Several smaller towns and villages along the coast can offer a more intimate and authentic Croatian experience. Whichever option you choose, there are plenty of unique places to stay in Croatia that suit your needs.
What to Eat in Croatia?
There are many different types of food that you can eat while in Croatia.
Some of the traditional dishes include:
Brodet: A fish stew made with various kinds of seafood.
Istarska pršuta: A dry-cured ham from the Istria region.
Štrukli: Cheese and spinach-filled ravioli-like dumplings.
Peka: A dish made by baking meat or vegetables under a bell-shaped metal lid.
Of course, there are also plenty of international restaurants to choose from if you want to avoid Croatian cuisine. No matter what you decide to eat, you're sure to find something to your liking in Croatia!
Conclusion – Tourist Attractions in Croatia
Croatia is a beautiful and diverse country with plenty to explore. Croatia is sure to please even the most discerning traveler, from its stunning coastline with pristine beaches to its rich cultural heritage. Whether you're looking for a relaxing holiday on the Adriatic Sea or an adventure-packed road trip around Croatia's many tourist attractions, there's something for everyone in this beautiful nation. So why not make your next vacation a Croatian one?
Recommended Articles
We hope that this EDUCBA information on "Tourist Attractions in Croatia" was beneficial to you. You can view EDUCBA's recommended articles for more information,