Jobs for B.Com Graduates (Freshers)
This article provides an outline of the top 10 jobs for B.com Graduates. After completing 10+2 schooling in commerce, many students pursue B.Com, a 3-year degree course that allows them to choose any niche field within the discipline of commerce. It is one of the most popular graduation courses students take after school. But the next important question is – what are the job profiles available for these commerce graduates once they have completed their course? This article will try to answer the question by discussing the best profiles available for B.Com graduates seeking jobs.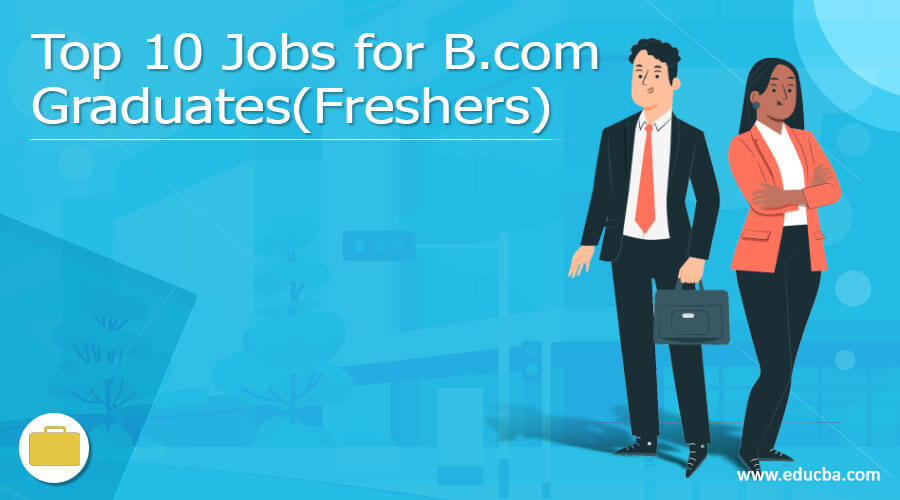 Top 10 Jobs for B.com Graduates (Freshers)
B.Com can be an ideal degree for aspiring students looking to start a career in finance and accounting. Also, these graduates become eligible for innumerable jobs with good pay, benefits, and growth opportunities. Out of the available options, the following are a few which are exceptionally good and offer a respectable career.
Accounting & Auditing
Tax Advisory Services
Financial Services
Commercial Banking
International Banking
Insurance Services
Stock Market
Manufacturing Services
Government Services
Export/ Import Companies
1. Accounting & Auditing
In this profile, candidates function as account executives, junior accountants, senior accountants, and accounts managers. The candidates learn practically about different aspects of business accounting, from journal entries to finalizing annual accounts. They must also check their respective organizations' internal accounting policies and control processes. They also do routine audits as the organization's internal auditors, who assist the statutory auditors in their cost, tax, and statutory audits. In short, they help maintain a disciplined accounts department.
2. Tax Advisory Services
Candidates with advanced knowledge of direct and indirect taxes can start their career in the field of tax advisory services, wherein they advise taxpayers on how to pay their statutory taxes and file their statutory returns with different government authorities (such as Income Tax Department, GST Department, Excise and Customs Department, etc.). There is a surge in demand for tax advisory services in India after the implementation of GST, which requires timely payment of taxes and filing of returns. This profile offers excellent exposure for graduates to more tailored tax services and, in the process, helps them earn handsome money.
3. Financial Services
The financial services sector is another employment avenue that absorbs many candidates from the commerce stream. It won't be wrong to assume that B.Com graduates have an edge in this industry, where they are appointed to some of the finest private financial services companies to build various financial products. The B.Com freshers are appointed as finance executives, finance managers, area managers, customer support, etc., based on their interests and expertise.
4. Commercial Banking
The banking industry is always on the lookout for fresh talents, especially people from a commerce background, as they understand the financial aspect of things better than candidates of most other streams. Further, the drive for digital banking also adds to the increased demand for fresh candidates in the commercial banking space, as they need more agile people to improve their services. The banks offer lucrative job opportunities to these graduates once they pass the required eligibility exam. They are employed for different profiles, such as probationary officers, accountants, relationship managers, compliance executives, customer support, etc.
5. International Banking
International banking has been growing in India in the last couple of years, increasing the demand for B.Com graduates. Many investment banks and third-party service providers hire B.Com graduates at entry-level as associates, research analysts, junior analysts, billing executives, etc. In addition to basic accounting knowledge, these banks seek people with good communication and analytical skills. It is one of the most dynamic careers for B.Com graduates, paying higher salaries than most other jobs.
6. Insurance Services
It is another traditional financial service industry that hires B.Com graduates as relationship managers, insurance agents, product development officers, etc. The insurance companies train these graduates to advocate and teach them how to sell standard products like life insurance, medical insurance, health insurance, vehicle insurance, etc. The candidates must be well aware of all the government initiatives that promote the need for insurance within society. Besides, they should also know about the tax exemptions claimed on various insurance products.
7. Stock Market
Candidates looking for opportunities in the stock market should know where to start their journey. Many firms or stock market participants, such as stock broking firms, registrars, stock exchanges, custodians, clearing corporations, investment banking firms, research institutes, etc., offer the perfect launchpad for a career in the stock market. The growth and evolution of the trading industry in India have intensified the need for talented people, especially those from commerce or finance background.
8. Manufacturing Services
Any manufacturing unit requires a considerable capital outlay and involves many financial transactions. Hence, they need smart people with knowledge of accounts and finance, which is catered to by B.Com candidates who help them efficiently administer their business operations. These graduates are usually appointed as assistant-in-charge, store-in-charge, store manager, supervisor, inventory manager, etc., based on their expertise and field of interest.
9. Government Services
The State Government and Central Government offer excellent job opportunities for fresh B.Com graduates. The different departments, such as Revenue, Defense, Railway, Public Works Department, Forest, etc., hire these graduates as probation officers, accounts assistants, divisional officers, and many more based on tests and eligibility exams.
10. Export/ Import Companies
A candidate's job in an export/ import company anywhere in the world can be highly challenging. They are engaged in planning & coordinating shipments, supervising delivery, managing customers, and ensuring compliance with export, trade, and financial laws. Thus, candidates with a better understanding of finance, like B.Com graduates, are preferred in this industry.
Conclusion
We hope the above list will answer the question – what career options to pursue after B.Com? Now, you can choose a career based on your field of interest and preferred career path.
Recommended Articles
This is a guide to the top 10 Jobs for B.Com Graduates. Here we also discuss the definition and top 10 Jobs for B.Com graduates in different areas. You may also have a look at the following articles to learn more –