Updated July 13, 2023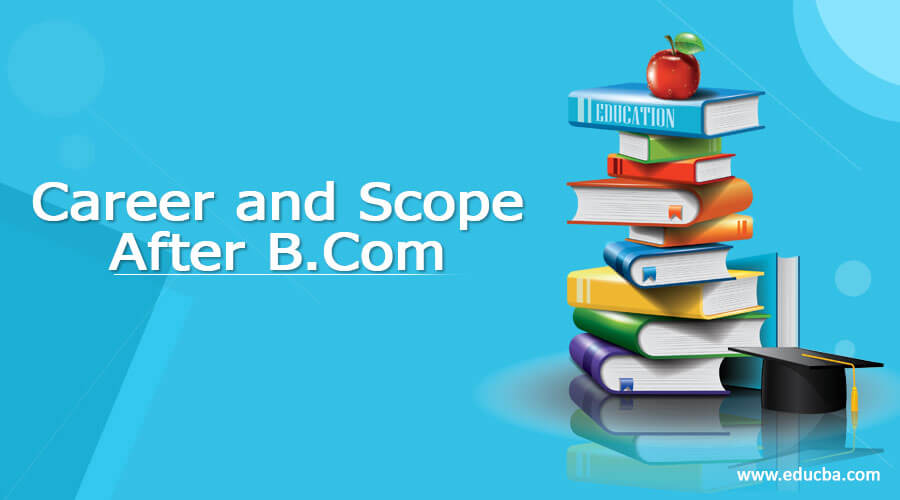 Introduction to Career and Scope After B.Com
Bachelor of Commerce or B.Com is a crucial degree for commerce students. However, it isn't enough in today's competitive world, so B.Com graduates seeking high-paying jobs must pursue additional courses after graduation. In other words, completing a B.Com degree doesn't promise a great career, and, hence, one has to pursue the right professional certificate or post-graduation course for a flourishing career after graduation. In this Career and Scope After B.Com article, you will learn about various available career options that can be taken up after B.Com.
Best Career Options After B.Com
Many career options are available after completing the B.Com degree, but very few graduates know the various routes they can pursue to build a successful career. Therefore, let us look at some career options available after B.Com that can be considered for a stable career.
Master of Business Administration (MBA) in Finance: Many options are available to a student pursuing an MBA in Finance. However, one needs to join the topmost B-schools in the country, and only then will success follow to the doorsteps. On the other hand, MBA from an ordinary institute doesn't add much value.
Masters of Commerce (M.Com): Many B.Com graduates straightaway take up M.Com as a natural follow-up degree. Any recognized institute can pursue it, and the program primarily focuses on accounting, business, statistics, economics, finance, taxation, etc. However, many students pursue M.Com and some other professional courses (such as CA) because M.Com has little or no value.
Chartered Accountant (CA): It is one of the most common career pathways followed by commerce students. The Institute of Chartered Accountants (ICAI) is responsible for conducting the CA exams, which are divided into three parts. CPT, IPCC, and Final CA. After clearing one of the two groups of IPCC, a candidate needs to register for articles with an experienced CA for at least 2.5 years. Only after completing articles and clearing IPCC can a candidate write the Final CA exam, which has two groups.
Chartered Financial Analyst (CFA): CFA is considered one of the highest recognitions in the investment industry. It is a globally recognized qualification divided into three levels of exams administered by the CFA Institute, USA. It can be pursued after completing B.Com or during the final year of graduation. The CFA charter holders are revered not only within the country but are also sought after worldwide.
Certified Management Accountant (CMA): CMA is one of the top global certifications, and it is offered by the Institute of Management Accountants (IMA), USA. The Institute of Certified Management Accountants (ICMA) reviews the course content regularly. To become a qualified CMA, one must clear two examinations, a certification demonstrating professional expertise in financial planning, analysis, decision support, control, and professional ethics.
Association of Chartered Certified Accountants (ACCA): ACCA is the world's leading and fastest-growing network of international accountants, with 162k members and 428k students across 173 countries. To become a qualified ACCA, one needs to clear 14 papers. After completing ACCA, a candidate can have career options in accounting, banking, consulting, and management. In addition, the ACCA program gives knowledge about UK GAAP and IFRS.
Financial Risk Manager (FRM): FRM is a globally recognized certification for finance and banking professionals. The FRM exam is divided into two parts, and the exams are conducted by the Global Association of Risk Professionals (GARP), USA. A qualified FRM can access career options in risk management, trading, modeling, etc.
Certified Public Accounting (CPA): CPA is another globally recognized certification for candidates interested in accountancy. CPA consists of four exams conducted by the American Institute of Certified Public Accountants (AICPA), the largest accounting body in the world. A qualified CPA possesses knowledge of the US GAAP, IFRS, GAAS, US federal tax, and business laws. Typically, students pursue CPA after completing CA, M.Com, or even MBA in finance to boost their career.
Business Accounting and Taxation (BAT): BAT is a well-researched course designed to provide a practical understanding of accounting, reporting, taxation, and compliance. These skills can be instrumental in breaking into the Big 4 accounting firms, KPO, and other hardcore accounting profiles.
List of Courses After B.Com
Below is the different list of courses after completion of B.Com:
| | | |
| --- | --- | --- |
| Course | Eligibility | Duration |
| MBA | B.Com degree + Valid score in CAT, XAT, MAT, etc. | 2 years |
| M.Com | B.Com degree | 2 years |
| CA | B.Com degree + 2.5 years of professional experience | 3 years |
| CFA | B.Com degree or Final Year of B.Com degree | 2.5 years |
| CMA | B.Com degree + 2 years of work experience | 6 months |
| ACCA | B.Com degree and above | 2 years |
| FRM | B.Com degree and above | 9 months |
| CPA | B.Com degree and above | 2 years |
| BAT | B.Com degree and above | 8-12 weeks |
Scope After B.Com
Below is the different list of scopes after completion of B.Com:
| | | |
| --- | --- | --- |
| Course | Top Recruiters | Average Salary |
| MBA | Amazon, JP Morgan, Microsoft, Accenture | INR 6-10 LPA |
| M.Com | TCS, Infosys BOP, Genpact, EY | INR 3-6 LPA |
| CA | HDFC, Deloitte, EY, PWC, KPMG, Tata, Accenture | INR 8-22 LPA |
| CFA | JP Morgan Chase, Bank of America, UBS, Citigroup | INR 10-25 LPA |
| CMA | Deloitte, KPMG International, Genpact, Cognizant | INR 8-14 LPA |
| ACCA | EY, KPMG, Deloitte, Grant Thornton LLP | INR 6-16 LPA |
| FRM | ICBC, KPMG, HSBC, Deutsche Bank, Citigroup | INR 10-18 LPA |
| CPA | JP Morgan Chase, UBS, Wells Fargo, Citigroup | INR 7-20 LPA |
| BAT | EY, KPMG, Deloitte, PWC, Adobe, Datamatics | INR 5-11 LPA |
Conclusion
All aspiring B.Com graduates or those who have already completed need to check the duration, difficulty level, scope of the course and the career they intend to pursue and then choose the course. After B.Com, all of the courses mentioned above after B.Com will help the candidates land a great job to mark the start of an incredible professional journey.
Recommended Articles
This is a guide to Career and Scope After B.Com. Here we discuss the list of top 9 Careers one must do after B.Com, along with a career and scope list. You may also have a look at the following articles to learn more –