Updated May 22, 2023
Definition of Tableau Reader
Tableau Reader is a freeware application allowing experts and content providers to share information using Tableau Desktop. This was when enterprises could use Tableau Server to control the access and dissemination of analytics content. It is a free desktop program for viewing and interacting with data visualizations. In addition, it lets people without Tableau Desktop subscriptions share dynamic material with others in the enterprise.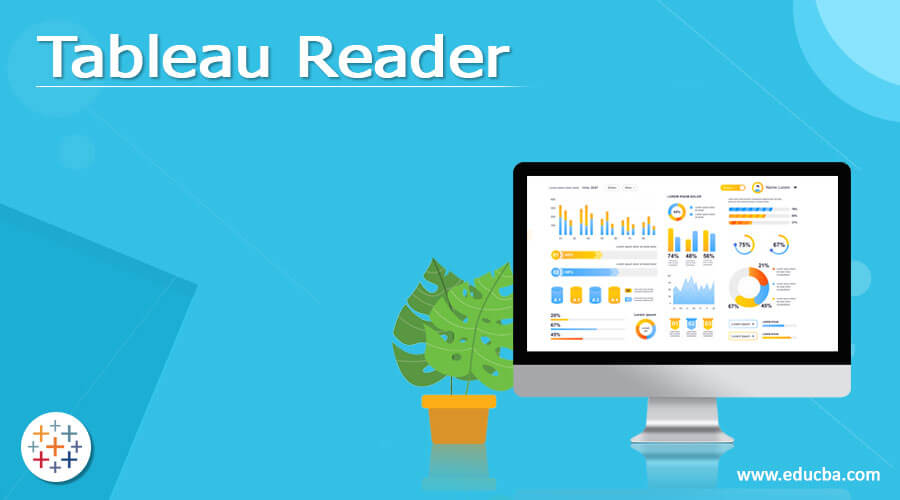 What is a Tableau Reader?
Tableau Reader is a free download; however, it is not free to deploy and maintain when used instead of Tableau Server. Its implementation necessitates the sharing and accessing of source files locally. Select Worksheet > Export > Data from Tableau Viewer to export information. Then, save the Access database by giving it a title and a location. Select a database file and the data to export in the Export Data to Access dialogue box, and select OK. Tableau Reader is to be installed on the computer.
Please open the file to see the installation guide once it downloads. Check the license agreement's conditions, acknowledge them, and click Install. We'll be dumped into a new Tableau workbook after the installation procedure is finished. Close this workbook and open the Tableau Packaged Workbook (.TWBX) file instead.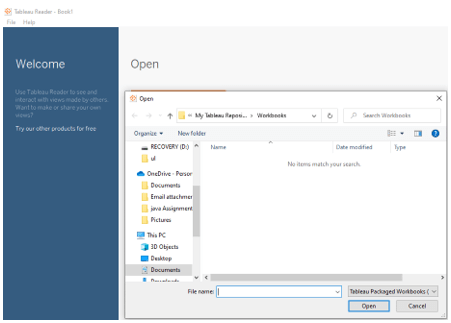 When a user updates Tableau Desktop, we must ensure that all viewers' versions of Tableau Reader are also upgraded so that they would read the latest file type.
When using a Tableau Reader?
It is a free option for Tableau Desktop for viewing Tableau projects and dashboards. Filters, utility tips, and settings are all highly interactive in this software. Only bundled workbooks are compatible with Tableau Reader (TWBX format). That implies that the Tableau worksheet and its information are bundled together in a TWBX file, which might cause security and/or file size issues. It is unable to access Tableau Server workbooks. It is available for Windows or Mac and may be downloaded via Tableau or the Tableau Public website. For instance, let's see to save an image with all of the point's text, charts, and tables:
Open Tableau Reader and navigate to the dashboard.
Click on the Export Image button.
Save the photo.

Next process,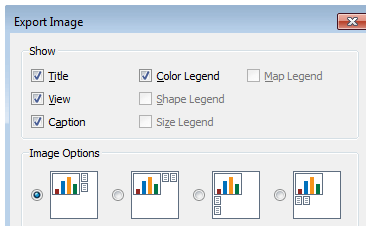 Next, to save a particular chart or table as a picture, follow these instructions:
Choose the chart or table that you want to export in Tableau Reader. When we choose it, a grey border emerges.
Hover over Export, then pick an image in the Worksheet menu.
Pick the selected image parameters in the Export Image window and click Save.
Benefits
Each user of Tableau Reader must download software.
Software updates regularly
Registration for Tableau Reader is required.
All data must be packaged and sent to users with the workbook.
Tableau reader Window Settings
One may handle Tableau file types with Tableau Reader. The recipient will require a Tableau reader to see the document if we email a file to publish the workbook. Tableau Reader is a read-only application. It cannot create/edit stories or charts. Reader solutions entail distributing packed worksheets, and the effort and time necessary to keep such an infrastructure might potentially exceed the cost of Tableau Server's hardware and software.
The reader can be used to:
Access and engage with Tableau worksheets
Show views as a slideshow
Outsource views or data
Print views
Publish views as PDF files
Note:  Reports are authenticated unless access privileges are given. Also, it reads unlimited data in a static view.
Printing and Saving
Tableau Reader is a tremendous resource for business analysts utilizing Tableau Desktop to gain organizational momentum by quickly creating effective, interactive visualizations. Now let's see how to save and print the workbooks in a reader.
Saving:
Tableau offers three different ways to save work:
Workbooks – All active workbooks are saved.
Packaged Workbooks – Saves the workbook and all reference local file data sources and images to a single file.
Packaged Workbooks – Saves the workbook and all specified local storage data sources and images to a single file.
The below screenshot shows how to save a new file in a tableau.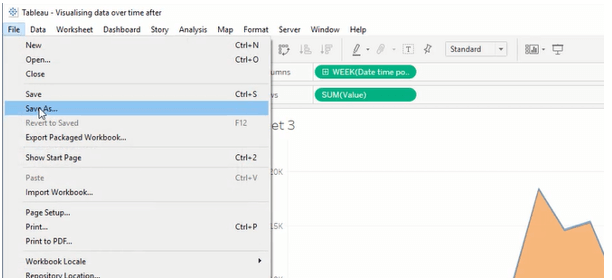 In order to quickly reconnect the next time, Tableau needs to record the connection if we repeatedly link to the same data source.
Data Source Connections can be stored in 2 distinct ways.
In Tableau Desktop, save Data Source Connection.
In Tableau Server, save the Data Source Connection.
Viewing as an Image
Any worksheet element could be saved as a graphic to share with colleagues who don't have Tableau or to incorporate in a PowerPoint presentation or document.
First, from the File menu, choose Worksheet > Export > Image.
Choose the information we wish to include in the image and the legend layout if we are including text in the Export Image dialogue box. When done, select Save.Tableau Reader
In the Save Picture dialogue box, navigate to the location where you want the image file to be saved and type a file name in the text box. Then, choose a file format from the Save as type drop-down menu. When you're done, click Save.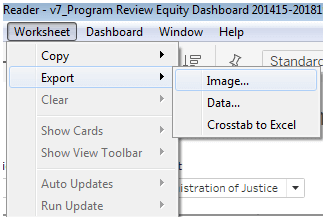 To copy the workbook's static graphics.
Options for the dashboard make a single picture file depicting the dashboard view.
Publish to PDF generates a file with all the settings we specify.
Printing:
To define the layout, print resolution, page layout, and captions, go to file> Page Setup.
Select file> Print from the File menu.
Hit OK.
Select file> Print to PDF to generate one or even more views to PDF.
To print, we need to navigate to page setup (the workbook has to fit the size)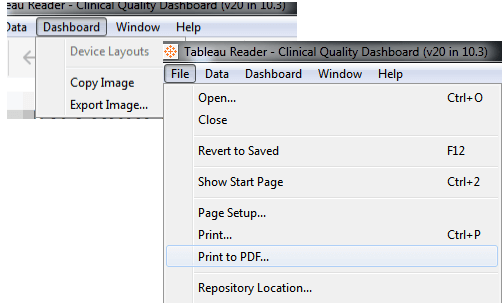 Posting to the discussion board is less secure than using Tableau Readers. However, if that's the strategy, file security mechanisms must be carefully considered and implemented to guarantee that the workbook is not unlawfully distributed.
Conclusion
Users should first make an inventory of their current use before considering switching from Tableau Reader to Tableau Server. It enables anyone to see the workbook, which can pose a security issue, something we should be aware of. Some companies use it even more than they ought, while others could benefit from including it among their end-user choices.
Recommended Article
This is a guide to Tableau Reader. Here we discuss the Definition, What is a Tableau Reader, and When to use a Tableau Reader? with benefits and window settings. You may also have a look at the following articles to learn more –