Updated May 22, 2023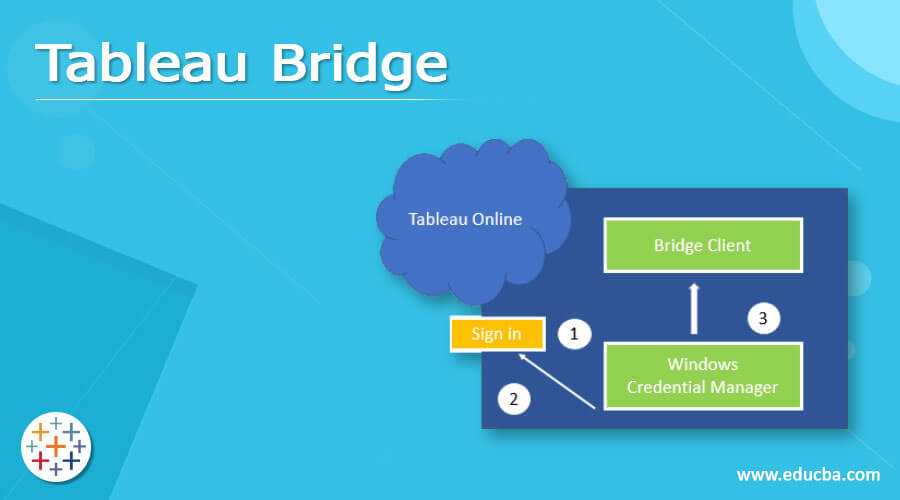 Definition of Tableau Bridge
Tableau Bridge is a Windows-based application that comes with the data on the very same system. From behind the firewall, Bridge interfaces with the Online platform, managing all scheduled extract updates and real-time queries of the published information sources. The Tableau Bridge searches data locally as reports come in and safely delivers the test results to Tableau Online.
What is tableau bridge?
Tableau Bridge is a versatile tool that allows us to connect to publicly available data sources by accessing data locally and safely uploading it Online. This maintains our information current and fresh. Bridge, which was published in version 10.3, is a mechanism to link information to an Online example. It keeps live connections to data collected on-premises. It's only accessible for 10.3 versions.
Bridge is the conduit by which Online users can access private network information including Excel sheets and SQL Server data. Both on-premises data and the Tableau Online site interact over an outgoing encrypted channel. Bridge is available to every Online authorized user, although it is most useful for site managers and multiple data administrators inside an organization as it can be used to administer customers, publish and maintain sources of data, and enable live and extract data.
How tableau bridge works?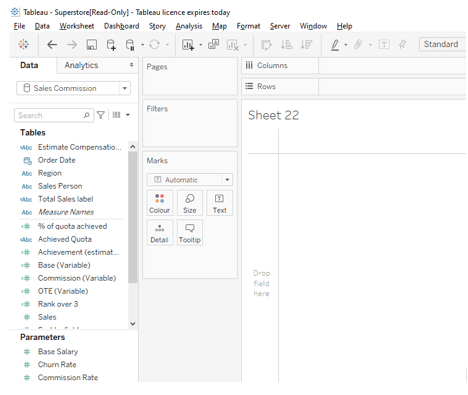 Step-1:
After that, we'll have to launch Bridge. From the main menu, choose Server, and click "Start Tableau Bridge Client." Tableau Bridge arrives pre-installed with Desktop because all we have to do now is start up. Bridge would prompt users to log in to the online site.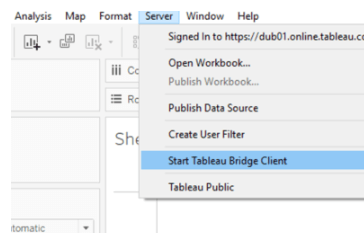 Step-2: Online" to publish.
Users will be prompted to connect to their Online account throughout the installation process. If it is complete, users will be presented with two options, as seen in the image below.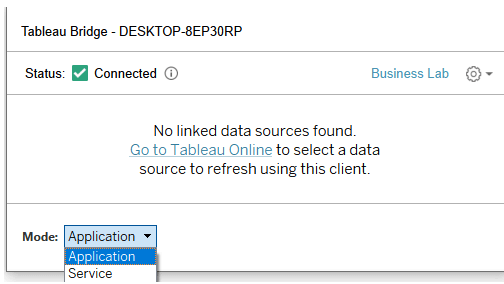 Step-3: Joining a Data source
Tableau Desktop is required to connect a data source to Bridge and to deploy an information source. The data source in this case is a confidential Microsoft SQL Server. The three different buttons on the right adjust the schedule, edit the file path on a local system, or do a quick refresh. We could examine the specifications of a Bridge Status by going to "Settings" in the navigation pane and afterward scrolling to the bottom of the resultant webpage. This should display the name of a machine that established the Bridge connection and set it up.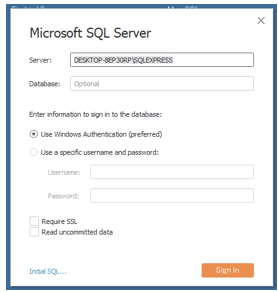 We could publish dashboards to Online while retaining a live connection to any data source using the Tableau Bridge.
Benefits: – Fully automated – zero manual republishing needed, and updates can happen at any time without needing to work all around the availability of a group member.
– Tableau Cloud has been included.
Installing Bridge
Bridge is an excellent tool for connecting data locally to Tableau Online. Bridge should be executed in a dedicated VM that is continuously on. This means that when people turn off their laptops, it didn't impact things. It also suggests that we maintain two Bridges, one for live data (data persists) and the other for the extractor. ( Extracts snapshots of a data) This decreases the chances of crashes and delays in live reporting or updates.
Step-1: Install the Bridge with the same versions as the Desktop.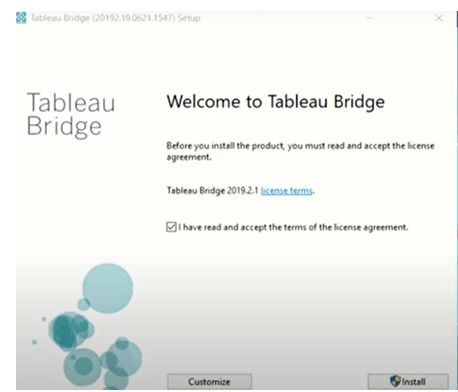 Bridge can be reached in two ways.
1. A Request for Information: Bridge conducts extract updates when the user is authenticated in this application.
2. Tableau Bridge runs as a service in this process, and users can log out at any time. However, only use live connections. Tableau Bridge has been designed to execute as a service.
Step-2: Run the Installer and log into the Online with the Following Steps:
Choose Start Tableau Bridge Client from the Server option.
Use site administrator-level access to log into the Bridge.
Select the Tableau Online site wherein we wish to publish live data if we are prompted. The bridge client appears in the settings menu and can be accessed from there.
The Bridge client is configured to run in Application mode by default. Bridge can now manage live connections if users select 'Switch to service.'
Assume the role of administrator on the Online site. Click Settings, then Bridge, from the site's menu bar.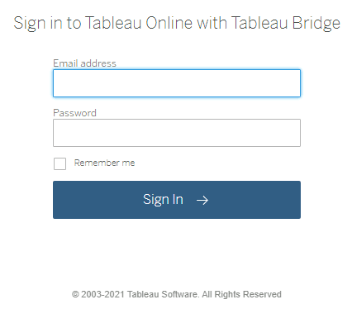 We could see this option during the publishing process after the admin had enabled support for keeping live connections. It is accessible whenever a live connection to a networked database system, such as Microsoft SQL Server or MySQL, is present in the worksheet or data source.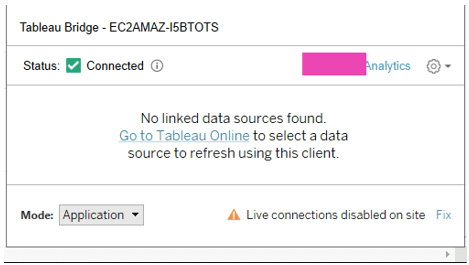 Step-3: Live connection with clients
The live requests are handled by an authorized client after we post. It's as simple as that. To get started, create an Online source of data and choose the option to maintain a live connection. Alternatively, one can post a workbook and then choose to release the data source independently, after which we can select a live connection.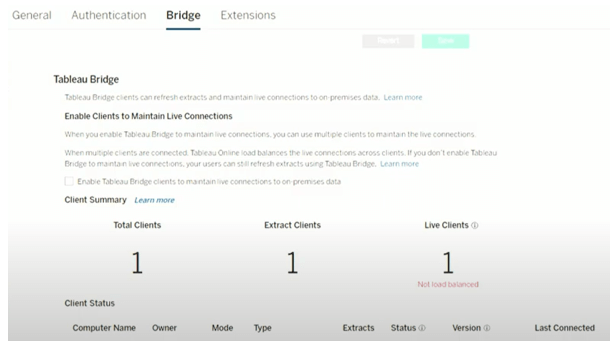 Step-4: The last step is to publish a Data Source which is explained in a working process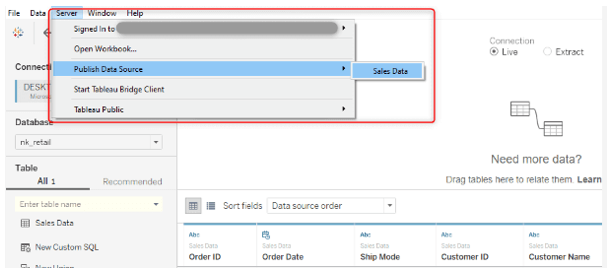 Tableau Bridge Security
Tableau Bridge connects to Online using a secured TLS connection to keep the information up to date. If a user has Desktop downloaded, Bridge will be managed to install as well. Tableau Desktop includes Bridge. The following security designs are used by Bridge:
Because all communication occurs behind the private network wall, we don't need to manage any extra exceptions.
All data sent to or from Bridge is secured in transit.
Online is a web-based visualization tool. Below are the primary points of the security:
A user's Tableau Online credentials are typed into the Bridge application to access Online. Tableau Online returns an authentication token once 1) the passwords are entered. The 3) tokens are kept in the credential's controller of the Windows operating system on the machine where the client is running. Bridge uses the tokens to perform a variety of tasks, such as getting an extract's refresh schedule.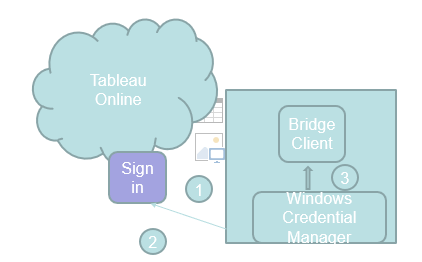 Conclusion
Tableau Bridge was discussed in this blog, and therefore how it is utilized to connect on-premise information to online sources of data is briefed. It functions as a go-between, guaranteeing that we have access to relevant information wherever and when we need it, irrespective of the private network's limits. Tableau is a popular data visualization tool, and everyone can grasp it.
Recommended Articles
This is a guide to Tableau Bridge. Here we discuss the Definition, What is the tableau bridge, How it Works tableau bridge, and examples respectively. You may also have a look at the following articles to learn more –