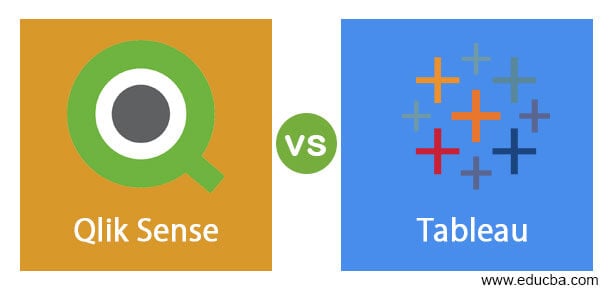 Difference between Qlik Sense vs Tableau
From the past years, Qlik Sense and Tableau have developed to a greater extent in visualization. Both enterprises analyzed that the tool integrated with ERP applications is in line, and they don't want their employees to generate any report whenever any query data is required. Tableau stands as an outstanding one to give any self-service applications at ground level. And now both the organization have fixed their views on every level by enhancing the data volume to analyze it end to end. For example, the entire platform is re-constructed to develop a Qlik sense and surpasses the first Qlik sense to give the analytic application depends on the trending microservices, which is not programmed to process huge data and can be extensible as possible. The comparison and differences of Qlik Sense vs Tableau is explained briefly in this article.
Head to Head Comparison Between Qlik Sense vs Tableau (Infographics)
Below is the Top Comparison Between Qlik Sense vs Tableau:

Key differences between Qlik sense vs tableau
Tableau is aimed to expand the data quantity and can be processed rapidly by fitting a hyperdata engine. In addition, the companies invest in speech recognition and artificial intelligence to make applications and processes more accessible. But one thing is fine: the end-user gains the advantage from consistent innovation without any strong competition and doesn't come nearly and quickly.
1. Price
Both Qlik and Tableau give a perpetual license for deployed software in a public cloud or on-premise, depending on the end-user's requirement accessing the applications. Qlik sense uses the employee token instead of the named user technique in licensing the product. Qlik sense informed that the software would be available and deployed under a single license key on any cloud platform. The price of Qlik sense can be availed for $15 per month and can also be purchased for an annual contract. It is available as a free edition and enables the user to develop multiple visualizations that can be shared among five users. The price of tableau starts from $12 per month on an annual basis and can be used by one user. But few additional modules require a single license for a single product.
2. Accessibility
The visualization of data is a core capability and doesn't fail to surprise to give an optimal user experience. The tableau makes it easy to leverage the data calculation and visualization and formatting of the dashboards. It doesn't need to switch between any modes to design and view mode. It invests in processing the natural languages, particularly in designing the BI use case. Hence the tableau gives its best accessibility feature to the end-user. When it comes to ease the creation of data resources, Qlik senses is a powerful software that narrows the associate engine created by Qlik sense which is simple to merge the data from multiple resources. It influences the conversational analysis and artificial intelligence process to access more functions where the tableau is aggressively investigating to reach its maximum efficacy.
3. Implementation
Both Qlik Sense and Tableau can be implemented in a public cloud or on-premise environment. It can be accessed as a software-as-a-service, and Qlik sense can be deployed as cloud-native microservices that can be fed into the required environment. The Kubernetes cluster can be installed on multiple clouds in the Qlik sense. Whereas Tableau is aimed at automating the data preparation process, which makes it easy to kick start.
4. Add-ons and features
The customization of Tableau and Qlik sense requires enough quantity of expertise based on the task complexity. The integrations are available in both the platform and are accessible with a range of connectors to work on the packaged applications and applications programming interface to operate on custom applications. The features and add-ons need a leapfrog advanced update in every release of the software in terms of core features. The beta testing in tableau has an extended gallery which makes it easy to find third-party additional tools.
5. Support
Both Qlik Sense and Tableau gives free support through the website, large online communities, knowledge bases. But both the companies need a separate package to give extended support, and Qlik sense provides reliable support over the call.
Comparison table between Qlik sense vs Tableau
Here are the following comparisons mention below
| | | |
| --- | --- | --- |
| Attributes | Qlik sense | Tableau |
| Features | The functionality of data storytelling, enterprise-level management and security, managed data associations, progression to create applications, effective technique on data modeling, and smart search. | The features are metadata management, commenting on dashboards, string impulses in the guided stories, patent technology, automation of updated services, and the ability to share the dashboards. |
| Clients | The Qlik sense has reliable clients are BMW, Fila, Canon, Deloitte, and Accenture. | The major clients of Tableau are Apple, U.S Bank, United Health Group, Wells Fargo, and Capital One. |
| Definition | Qlik sense is a complete data analytics tool. Here the business author applies it to create simple dashboards and has interactive applications. The novice user explores more context and freedom. It provides traditional reporting, embedded, and customized templates. So whenever any support is required, it has extensive support to guide the business. | Tableau is used as a simple data tool for visualization. It has a claim to deliver much range of use cases. The product works well with self-serviced virtualization. The reality here is the skilled business people who know to develop attractive dashboards using SQL and databases. |
| Process | The Qlik sense can inject millions of rows of information from an unlimited source with complex schemas with multi-dimensions. It can be executed to deliver the solution in a few seconds. It can remove, add, and modify and maintains the updated in minimum window. | The engine in tableau attempt to take maximum volumes of distinct data and paired with complex analytics. If the user needs increment data and maintains it updated in a small window, it is not possible in Tableau and is accessible only in the maximum window. |
Conclusion
These enterprises failed to give one constant and unique platform for data visualization. Tableau provides the pre-packaged visualized and accessible through mobile computing components. Whereas the data is processed in multiple methods in the Qlik sense.
Recommended Articles
This is a guide to Qlik Sense vs Tableau. Here we discuss Qlik Sense and Tableau key differences with infographics and a comparison table. You may also have a look at the following articles to learn more –