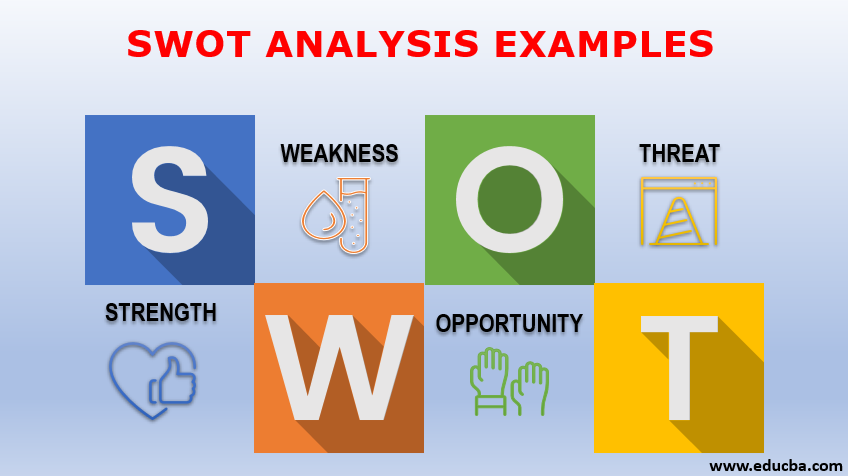 What is SWOT Analysis?
The following article will provide you an outline for SWOT Analysis. The term "SWOT" is the abbreviation for strengths, weaknesses, opportunities, and threats. As such, SWOT analysis is the analytical tool that companies use in the evaluation of their competitive position (in terms of strength and weakness) among their industry peers. Based on its recommendation, the companies eventually prepare their strategy (based on opportunities and threats) to beat the competition and grab the available opportunities.
Examples of SWOT Analysis
Here we discuss the examples below :
Example #1
Let us take the example of Starbucks, which is a globally renowned brand for coffee and other beverages. Let us conduct a SWOT analysis for Starbucks.
Strengths
It has claimed the position of the global leader in coffee and beverage retailing on the back of stellar financial performance.
It has strong brand equity which is valued at more than $44 billion.
The company enjoys great brand recall value among its consumers who perceive its products offerings to be of excellent quality at a reasonable price.
It is one of the largest coffeehouses globally and on the back of its commendable size and high sales volume the company is able to price its products even for the middle-income group which forms a huge portion of the consumer segment.
Weaknesses
Its heavy dependence on coffee beans, which is the key input, keeps its profitability vulnerable to the price volatility of coffee beans.
In the past, the company has been under the scanner of many environmentalists and social activists for procuring coffee beans from impoverished third-world farmers.
Despite its pricing catering to the middle tier of society, the price is still costly for many working consumers.
Opportunities
It can expand the supplier network which will help it to improve its braining power against the whims of its unscrupulous supplier network.
Although the company has expanded into most emerging markets, it should penetrate the tier-II cities of the emerging countries in order to further increase its customer base.
The company should expand its product portfolio to venture into the full spectrum food and beverage business which includes the like of Burger King and McDonald's
Threats
The company's profitability is always at the mercy of rising prices of coffee beans and the whimsical supply network.
The customer outreach faces strong competition from the local coffeehouses and specialty stores that offer similar products at a much cheaper price.
The company's growth in the past was primarily driven by the developed markets which are currently saturated.
Example #2
Let us take the example of Walmart, which is a retail chain of discount department stores, hypermarkets, and grocery stores operated across the world. Let us conduct a SWOT analysis for Walmart.
Strengths
It has a strong brand value among its customers.
The supermarket giant has a wide network of more than 11,000 stores spread across 27 countries.
It is able to attract customers from all classes because of its attractive pricing, which it can achieve due to economies of scale.
It offers a wide range of products coupled with an ample number of brands
Walmart enjoys the position of the market leader in the U.S.
Weaknesses
Its growth is marred by restricted geographical expansion into emerging markets.
In the past, its reputation has been tarnished due to the sales of various Chinese goods that have left them burdened with many legal cases.
Several employees and labor-related issues over the last few years have damaged the integrity of its workforce.
Opportunities
Given the widespread coverage of the internet today, they should start focussing more on the online sales business to add to its revenue.
Add more brands to its existing product portfolio to attract more customers.
Threats
It remains exposed to the intense competition given by other big retail chains that also offer a product range that is equally good at a competitive price
Despite its brand value, it faces a lot of political, social, legal, and communal obstructions in the new markets. Recently, they faced a lot of opposition in India.
Example #3
Let us take the example of Apple, which is a technology-based company known for its innovative consumer electronic products. Let us conduct a SWOT analysis for Apple.
Strengths
Its biggest advantage is its innovative product offering. For instance, MacBook, iPod, iPhone, Ipad, etc. are products that are way ahead of their time.
It is one of the leading technology companies globally and is considered to be one of the Big Four of technology along with Google, Amazon, and Facebook.
Apple enjoys strong brand value which is valued at more than $200 billion.
It has a wide network with 506 retail stores spread across 25 countries. Besides the retail stores, it also operates through online channels and trade partners.
Weaknesses
Due to its technological prowess market anticipate more innovative products from Apple on a regular basis. Meeting such high expectations is not always possible.
Some of the prospective client's decision is impacted by the fact that a large number of Apple products are not compatible with third-party software/accessories.
Apple products are primarily considered to be luxury items because of their premium pricing which is intended for high and middle-income consumers.
Opportunities
The company is contemplating venturing into the electric car segment which is expected to be launched in the year 2020.
It can leverage its advancement in the field of technology to more innovative products.
It can grow faster by tapping into the emerging market of developing countries.
Threats
Android has been growing very fast eating away Smartphone market share which currently stands at 85%.
Apple is facing strong competition from the likes of Dell, Sony, and Lenovo in the laptop segment.
Conclusion
So, the above examples give us a perspective of each of the companies and allow us to understand what can be the key challenges and growth prospects for them in the near future. It also shows that even the strongest, companies that are global leaders in their respective domain, are vulnerable to certain threats and they too are on the lookout for growth opportunities.
Recommended Articles
This is a guide to SWOT Analysis Examples. Here we discuss different examples of swot analysis which include strengths, weaknesses, opportunities, and threats. You can also go through our other suggested articles to learn more –