Updated April 19, 2023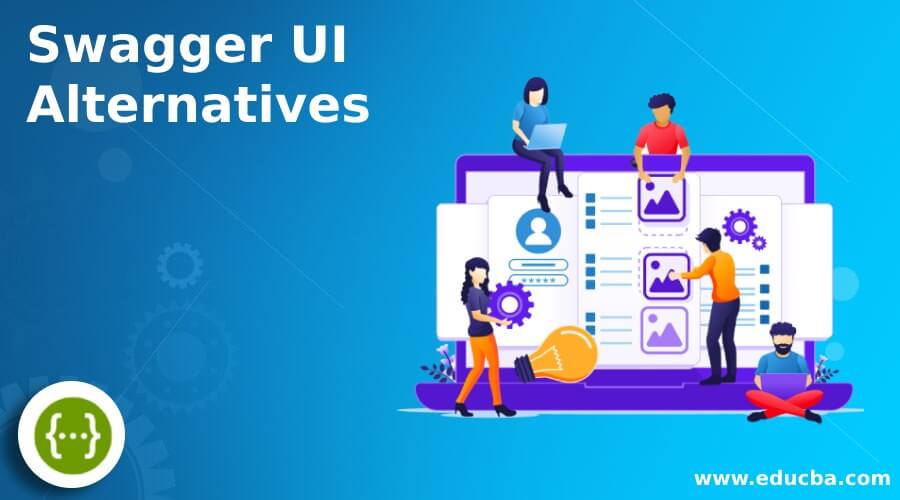 Introduction to Swagger UI
The following article provides an outline for Swagger UI Alternatives. Swagger UI is a free source web documentation project that can visually be made using open API specifications. The platform helps all departments to access and communicate with API tools and provides specific services to enable back end deployment and customer use. The key benefit of this program is that UI will function in any development environment without dependency. This app allows developers to communicate with API directly in a human-friendly way and attempt every process. Swagger UI provides a range of advanced features that are easy to use, entirely customizable, and support all browsers.
List of Swagger UI Alternatives
Given below is the list of Swagger UI Alternatives:
1. Apigee
Apigee was created in 2004 to help developers and API vendors debug, test, secure and collect analytical data on the APIs. API is a software for API administration and predictive analysis. It is an alternative to DreamFactory. With some new additions it provides all related services. It's for a modern API network that links billions of tablet, smartphone and set-top users to the web outside the browsing environment. With the support of this approach, developers can easily create and deploy new applications, bridge legacy systems with modern applications and easily supply the consumer with partners and third parties using APIs.
2. DreamFactory
DreamFactory is the most convenient way to get REST APIs of the business level with a heart rate that makes all the various data sources normal and available in one place. It is a disruptor of the whole API Life Cycle Management industry. This robust approach includes safe account management, role-based access controls, authentication and the Active Directory for all API endpoints. One of the best bits is that you can apply custom logic on request or response from any API endpoint on the server side, or easily build your own custom APIs using JS or PHP nodes.
3. MultCloud
Multcloud is an open-ended solution that can quickly integrate and centralise management storage drives for Dropbox, Google Docs, FTP, SkyDrive and many more. If the server to cloud transfer or cloud sync is underway, you can quickly shut down your browser and the cloud transfer or cloud sync task offline. You can even shut down your device.
4. Drive
Drive is a cloud storage management system. It serves much of the website's hosting facilities and soaks up other networks. Link your YouTube channel, SoundCloud, CloudApp, Social Accounts, Droplr and more with Drive. But you can only connect to one account of a provider. For all your online storage accounts, Drive offers several attributes.
You can transfer files from platform to platform, upload, save and many more. Drive is your cloud recording software. Do you use everything from your files scanning, duplicating, deleting, renaming, and dragging records where you need them? On your Chromebook, Drive is still readily available in your software and it is important. Drive provides you all the tools you need to function faster.
5. Otixo
Otixo will deliver a variety of score-services, including Package, Picasa, Twitter, Yandex, Amazon, OneDrive, OwnCloud, etc. You will be able to execute all essential options to handle your accounts when you have linked the services. The service supports pre-visualizing, copying, saving files or removing files/folders, exchanging files building new folders, with other users etc. You should set the end days and password to share your files. If you use over one distributed storage administration to manage your records, it could be precarious.
6. ZeroPC
ZeroPC has an amazing function to allow you to access and browse local storage files and folders. The service offers a "cloud desktop" for adding the associated resources shortcuts. Following that, you can open any shortcut to display and dive into activities your files built into that account. It facilitates file and video sharing of websites and others, in addition to cloud storage websites. Dropbox, OneDrive, Yandex, 4shared, Evernote, Twitter, etc. are some of the supported platforms.
7. CloudFuze
The CloudFuze stage also provides the evolutionary world of distributable storage alternatives to free, private and half-rated content management systems with a consistent network. More importantly, CloudFuze offers a secure array of storage features that allow the grouping and tracking of documents and archives that pay little attention to their whereabouts. Finally the unmistakably lightweight resilience is underpinned by CloudFuze's usefulness on a variety of gadgets.
8. Dell Boomi
Dell Boomi provides a combination phase, which can be used to establish cloud to cloud compatibility, to-reason blends and semi-rate inclusions. You can enter numerous necessary connecting segments through the visual interface, which can be sorted in order to complete work processes of consolidation. The licenced visual fashioner uses point-and-snap devices to create alliances that don't require coding learning.
9. Back4App
Back4App is a single-click open-source backend platform, which automates all backend components using the Parse system. It offers modular technologies and allows developers to easily create large applications. The platform enables users to configure and refine each application in a particular way, making it currently the most favorite app.
Recommended Articles
This is a guide to Swagger UI Alternatives. Here we discuss the introduction and list of swagger UI alternatives respectively. You may also have a look at the following articles to learn more –