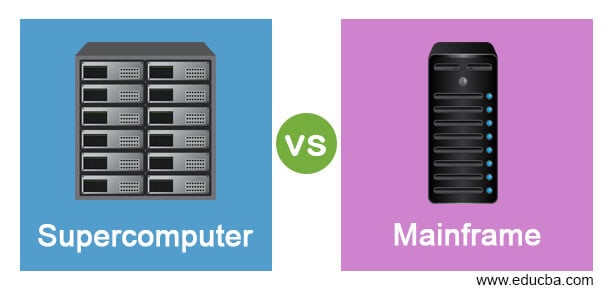 Definition on Supercomputer vs Mainframe
Supercomputers are purpose-specific computers that are designed for scientists and engineers to solve complex mathematical and scientific calculations requiring large amounts of memory and excellent speed to execute them. These are the fastest computers in the world designed to solve problems which can never be done by any other computers. The cost of Supercomputers is quite high and their processing speed goes beyond MIPS floating-point operations per second.
Mainframe computers are scalable and general-purpose computers that are primarily designed to support large amounts of data having large input, output, and storage. Mainframe computers could be as small as a simple desktop (generally used in schools and colleges) and as large as room size. But they are comparatively smaller than Supercomputers. They are not problem-specific as multiple applications can be run simultaneously in them.
Head to Head Comparison Between Supercomputer vs Mainframe (Infographics)
Below are the top 9 differences between Supercomputer vs Mainframe:
Comparison Table of Supercomputer vs Mainframe
Below given is the comparison table showing the head to head comparison between Supercomputer and Mainframe:
| | | |
| --- | --- | --- |
| | Supercomputer | Mainframe |
| | Supercomputers are used by Scientists and Engineers in order to solve very complex and large mathematical and scientific calculations. | Mainframe computers play an important role in performing the world's largest operations. Mainframe computers are used for the storage of large databases and can serve a large number of people at a time. |
| | The speed of a Supercomputer is more than that Mainframe computer. | Mainframe computer's speed is less than that of Supercomputers. |
| | Supercomputers were invented by Seymour Cray. | The first Mainframe computer was invented by the renowned company IBM. |
| | Size of Supercomputers is very large. In Fact, it is the largest computer. | Mainframe computers are smaller in size than Supercomputers. |
| | Supercomputers are mostly purpose-specific. They are used to solve any specific purpose by executing the instructions to solve it. | Mainframe computers are not much purpose-specific. They can serve to perform multiple tasks. |
| | Supercomputers are the costliest computers in the world. | Mainframe computers are less costly than Supercomputers. |
| | Generally, Supercomputers work at the processing speed of 100-500 MIPS. | Speed of Mainframe computers are less, they work at the average speed of 4-5 MIPS. Maximum speed being the 100 MIPS. |
| | Supercomputers are used for high-end tasks like nuclear weapon simulation, weather simulations, etc. | Mainframe computers are used in the sectors like finance, health, insurance, retail transactions, etc. |
| | As an Operating System, Modern supercomputers use Linux and its variants as their Operating System. | For the Mainframe computers, there is no limitation on the usage of Operating Systems. Multiple Operating Systems can run simultaneously in Mainframe computers. |
Key Differences of Supercomputer vs Mainframe
Though both the Supercomputer and Mainframe computers are used for different purposes having different priorities. Mainframes being the storage as priority and Supercomputer having speed as the main priority. It is important to understand the technical differences between the two. Some of the key differences between Supercomputer and Mainframe are given below:
Supercomputers are basically designed to solve specific scientific purposes as they are capable of running large and complex problems. It can run multiple billions of floating-point operations in a second whereas Mainframe computers are large, general-purpose, and scalable computers that are designed to solve large business problems like health, insurance, etc, and are used as a storage medium for the large databases which can serve millions of users simultaneously. It can run millions of instructions in a second.
Talking about the Operating Systems, Supercomputers use the Linux Operating System and its variants whereas Mainframe computers can run multiple Operating Systems simultaneously.
Supercomputers are the biggest computers in the world whereas Mainframe computers are also big but smaller than Supercomputers.
Mainframe Computers are comparatively slower than Supercomputers as the Supercomputers are quite speedy (specially designed for scientific and engineering tasks). The processing speed is defined in the number of operations executed in a second. Mainframe computer's processing speed is around 3-4 MIPS, the highest being the 100 MIPS whereas the Supercomputer's processing speed is at the top level which is 100- 500 MIPS.
Mainframe computers generally serve the purpose of central receiving and computer switching in computer networks and database servers. These computers are generally used in banks, ATM machines, financial institutions where repetitive operations are performed whereas Supercomputers are used for scientific and engineering purposes from physics in research to mathematics in weather prediction. They are also used in developing big applications like Virtual Reality development.
– If we talk about the purpose, Mainframe computers are used to handle input, output, and storage and they focus mainly on the problems where large amounts of data need to be input, output, and stored after processing. It generally involves simple and repetitive calculations whereas Supercomputers are used for applications that are not affected by memory and speed limitations. They focus on the problems which are quite difficult to handle and require excellent speed to execute.
The first supercomputer was developed by Seymour Cray in 1976. It was named CRAY-1. It was 6- feet high and 8- feet in diameter. More than 3000 integrated circuit boards. It was the first successful supercomputer that weighs around 5.5 tons were used in it. Several companies started developing the Mainframe computers in the year 1950-1970 but the first successful Mainframe computer was invented by the tech giant company IBM (International Business Machines) Corp.
There are many Supercomputers developed till now having the optimized size and faster speeds. Some of the supercomputers are Fugaku, IBM SUbmit, IBM Nvidia, Sunway TaihuLight in which Fugaku is the recent and considered as the fastest supercomputer whereas in the list of Mainframe computers, The most recent Supercomputer is z series in which the IBM z15 is the latest launch. HP also launches its mainframe computer which is known as NonStop.
Conclusion
The above description clearly explains what the Supercomputer and Mainframe is and the major differences between the two. Both the Supercomputers and Mainframe computers are powerful computers but they are used for drastically different purposes by different users. The invention of these giant computers performing millions and billions of instructions at an amazing speed with so much storage memory comes up as a boon to the scientist, engineers, and big businesses to strengthen their roots in computing by performing the desired operations in the technical field.
Recommended Articles
This is a guide to Supercomputer vs Mainframe. Here we discuss Supercomputer vs Mainframe key differences with infographics and comparison table. You may also have a look at the following articles to learn more –