Updated August 14, 2023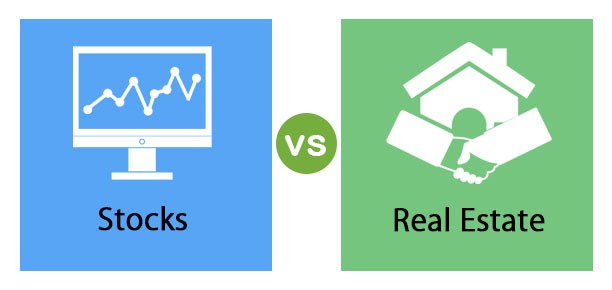 Difference Between Stocks vs Real Estate
The following article provides an outline for Stocks vs Real Estate. Today everyone wants to generate good returns on their investments, and also, there are multiple investment opportunities in the market like stocks, real estate, gold, mutual funds, cryptocurrencies, etc. Everyone invests in these investment options per their understanding of that asset class. But there is always a debate between stocks and real estate, which are better investments to get good returns or secure options; before we decide which option is good between stock and real estate, let us first understand it, and then we will see the differences between them.
What is Stock?
A stock represents a share or a part of an entity, which anyone can buy and sell on a stock exchange or privately. It is a type of security that is transferable. It is also called "shares" or "equity" in the financial world, and the one who holds the ownership of that security is called a stockholder or shareholder; this allows the stockholder to that part of the entity's assets and earnings. The activity of the buying and selling of stocks executes under government rules and regulations to protect investors from any kind of fraud. Stocks are the best investment options in the market as they outperform over a longer period. Also, shareholders get voting power in the organization to the extent of shares holding, which is very useful in case of any mismanagement by the organization.
What is Real estate?
We can say that real estate consists; properties like lands, buildings, structures, roads, Fixtures, etc. Real estate refers to the buying, selling, and constructing of real and physical property. There are majorly four types of property: residential, commercial, industrial real estate, and land. Transfers of the property give the ownership of land, air, natural resources, improvements, etc. Also, many construction companies and anyone can buy stocks of the company, and there is also another option to invest in real estate is REITs (Real Estate Investment Trusts).
Head To Head Comparison Between Stocks vs Real Estate(Infographics)
Below are the top 9 differences between Stocks vs Real Estate:

Key Differences Between Stocks vs Real Estate
Let us discuss some of the major key differences between Stocks vs Real Estate:
Stocks refer to the company's ownership to the extent of shares holding. In contrast, in real estate, the property can be purchased for commercial purposes to get some monetary benefits or personal use as well.
Stocks are highly liquid and can be sold out easily compared to real estate, while real estates are less liquid because selling a property depends on multiple factors. Also, many legal activities must be done to buy and sell the property.
If a company's earning performs well, it gives a dividend to the stockholders, wherein in the case of real estate property, it doesn't come with such kinds of benefit. Still, the property owner can generate revenue by leasing the property as it will generate some amount of money periodically in the form of rent.
The Price of the stock is volatile, and it directs impacts by the fundamentals and financial performance of the company; on the other hand, real estate property price depends on many factors like the size and location of the property, return from the property in the future (ROI), investment capacity of the buyer, etc.
Mostly the Investment objective in the case of real estate property is a very long period, wherein in the case of stocks, this could be for the short term and long term; it depends on the investor's requirement.
Mostly, banks provide loans to purchase real estate property, whereas loan facilities are not available to buy stocks.
We can measure the company's performance based on benchmark performance (e.g. S&P 500, Dow Jones Industrial Average). In the case of real estate, the price performance can be measured through the sales price of the same type of property in a certain area that will be treated as the benchmark price.
If required, Stocks can be buyback by the company on premium; there is no such case in real estate.
A stockholder gets ownership and voting rights in different situations but cannot contribute and be involved in the management's decisions. On the other hand, real estate owners can make all the decisions for their property by themselves.
Price of stocks changes every second, and investors need to be alert every time if he/she wants to purchase stocks in bulk because a small change in price can make a huge difference. However, real estate prices change gradually and directly depending on small factors. The price variation of real estate properties designates by economic conditions.
Stocks vs Real Estate Comparison Table
Let's discuss the top comparison between Stocks vs Real Estate:
| | | |
| --- | --- | --- |
| Basis of Comparison | Stock | Real Estate |
| Meaning | Stock means part or a portion of a company. | Real Estate means property like part of the land used for further development. |
| Liquidity | Stocks are highly liquid. | It is less liquid than stocks, and it can take time to en-cash, which depends on other factors. |
| Types | There are mainly two types of stocks Preferred and Common. | There are major 4 types of real estate; commercial, residential, industrial, and land. |
| Ownership | On paper, stockholders or shareholders are the company's owners but cannot own the company. | Anyone who owns the property will be the complete owner. |
| Maintenance | Maintenance cost needs to be paid in the case of stocks. | Regular maintenance is a must for property maintenance and ensures that the property is in good condition. |
| Loan Availability | There is no such loan to buy stocks. | Bank grants loans to buy real estate property. |
| Use of Assets | As such, there is no physical use of stocks. | Real estate property can be leased out. |
| Performance | We can measure stock performance by comparing it with the benchmark (e.g. S&P 500). | The sales price of a certain type of property in a certain area will be treated as the benchmark price. |
| Risk | Stocks are volatile. | Real estate is less volatile. |
Conclusion
As we have gone through both stocks and real estate differences, they have advantages and disadvantages. Real estate can be used as an investment or for personal use, where stocks are mostly bought to get quick returns by investors. Both are good options, but investors must look at various parameters before investing, like time horizon, risk-taking capacity, funds availability, etc. (For Example – If an investor wants higher liquidity, then he/she should not invest in real estate as it could take time to convert the property in cash and it also includes very tedious legal process as compared to stocks.
Recommended Articles
This is a guide to Stocks vs Real Estate. Here we discuss the Stocks vs Real Estate key differences with infographics and a comparison table. You can also go through our other suggested articles to learn more –