What is Solana?
Solana is a cutting-edge blockchain platform with significant attention in cryptocurrency and decentralized applications (DApps). It addresses the slow transaction speeds and high fees of earlier blockchain technologies. Solana is known for its innovative approach to achieving high scalability and performance while maintaining security and decentralization. Understanding the intricacies of Solana is essential for anyone interested in the blockchain space, as it represents a compelling alternative to established blockchain networks like Ethereum or Bitcoin.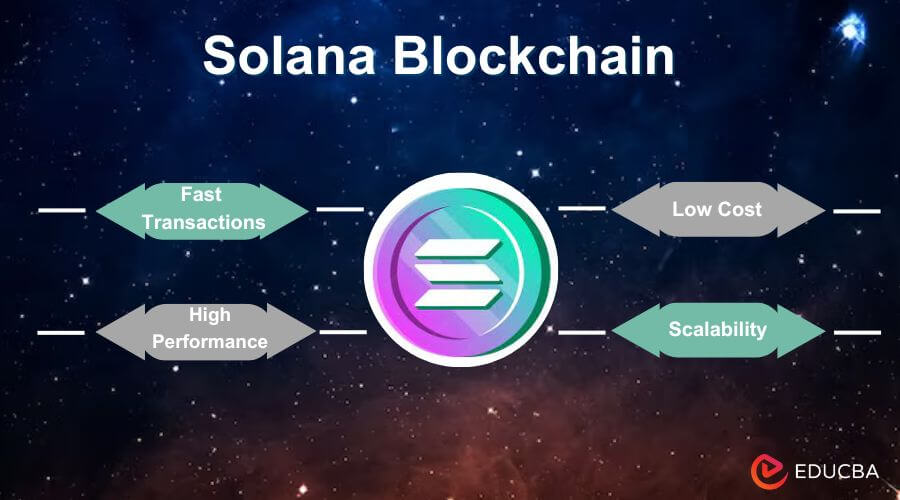 Table of Contents
Importance of Blockchain Technology
Blockchain technology has revolutionized how data and assets are managed, providing a secure and transparent means of recording and verifying transactions. It offers a decentralized and tamper-resistant ledger with applications across various industries, including finance, supply chain, healthcare, and more. The significance of blockchain technology is based on its ability to disrupt established systems and provide more efficient, secure, and transparent procedures. As a decentralized ledger, blockchain technology offers a new way to manage trust, facilitating trustless interactions between parties and reducing the need for intermediaries.
Solana's Core Technology
Solana's core technology is the fundamental element that distinguishes this blockchain platform from others. It leverages unique features to deliver exceptional performance, scalability, and security. In this section, we will delve into the key elements of Solana's core technology:
Proof of History (PoH): Proof of History is a novel concept that underpins Solana's consensus mechanism. It provides a historical record of all transactions on the network, timestamping them in a verifiable way. This enables nodes to quickly reach consensus and order transactions efficiently, contributing to Solana's high throughput.
Proof of Stake (PoS): Solana uses a Proof of Stake consensus mechanism where validators create and validate blocks based on the tokens they stake as collateral. This PoS model promotes network security and decentralization.
Solana's Consensus Mechanism: Solana uses a unique consensus mechanism known as Tower BFT (Byzantine Fault Tolerance). It combines PoH and PoS to create a robust, efficient, secure network. Tower BFT reduces the time and energy required to reach consensus, making Solana one of the fastest blockchain networks in the world.
Scalability and Speed: Solana is renowned for its exceptional scalability and transaction speed. Solana's unique technology stack enables it to process thousands of transactions per second (TPS) with minimal latency. This makes it a preferred choice for applications and projects that demand high-performance blockchain infrastructure.
Key Features of Solana
Solana offers a range of key features that make it a compelling blockchain platform. These features contribute to its rapid adoption and growing popularity among developers and users. We have outlined the most notable characteristics that distinguish Solana from other platforms:
High Transaction Throughput: Solana is renowned for its high transaction throughput, capable of processing thousands of transactions per second (TPS). This impressive throughput is achievable due to its unique consensus mechanisms and efficient data processing, making it ideal for demanding workloads.
Low Transaction Costs: Solana's efficient design and scalability result in low transaction costs, making it an attractive option for users and developers. The reduced fees for transactions and innovative contract executions are a key advantage for those seeking a cost-effective blockchain solution.
Energy Efficiency: Solana's Proof of Stake (PoS) consensus mechanism, combined with its efficient use of resources, contributes to its energy efficiency. It consumes significantly less energy than Proof of Work (PoW) blockchains like Bitcoin, aligning with the growing emphasis on environmentally friendly blockchain solutions.
Robust Security: Solana prioritizes security through its consensus mechanisms, decentralization, and active development community. Its use of Tower BFT, PoS, and PoH makes it resistant to various types of attacks and ensures the integrity of the network.
Solana's Ecosystem
Solana's thriving ecosystem is crucial to its continued growth and adoption. In this section, we will delve into the main components of Solana's ecosystem, which comprise decentralized applications (DApps) and smart contracts, Solana's native tokens, and its rapidly expanding decentralized finance (DeFi) landscape.
DApps and Smart Contracts: Solana's ecosystem features a rapidly expanding array of decentralized applications (DApps) and smart contracts. Developers are drawn to Solana's high throughput and low fees, making it an ideal platform for building various applications, including gaming, NFT marketplaces, social networks, and more. Solana's intelligent contract capabilities enable the creation of custom logic and automation within DApps, offering a robust foundation for innovation.
Solana's Native Tokens: Solana has its native cryptocurrency called SOL. SOL tokens play a crucial role within the Solana ecosystem, serving as both a means of exchange and a staking asset for validators. Additionally, SOL tokens pay transaction fees and participate in governance decisions. The SOL token has gained traction as an investment asset and a medium for transferring value within the Solana network.
Solana's Decentralized Finance (DeFi) Landscape: Solana has become a prominent platform for decentralized finance (DeFi) applications. DeFi projects built on Solana offer various financial services, including decentralized exchanges (DEXs), lending and borrowing platforms, yield farming, and stablecoins. The DeFi landscape on Solana benefits from its speed and low transaction costs, attracting users and liquidity providers seeking more efficient and cost-effective DeFi solutions.
Solana's blockchain ecosystem is rapidly developing and highly dynamic, consisting of numerous projects and initiatives that contribute to its growth. Whether you are looking to build DApps, explore investment opportunities with SOL tokens, or participate in the DeFi ecosystem, Solana offers many possibilities for you to explore and engage with.
How to Get Started with Solana?
Starting with Solana is a thrilling journey into high-performance blockchain technology. Here are the essential steps for beginners to enter the ecosystem:
1. Setting Up a Solana Wallet
To engage with decentralized applications and smart contracts on the Solana network, you'll need a secure wallet to store your SOL tokens. Follow these steps to set up a Solana wallet:
If you're looking for a trustworthy Solana wallet provider, consider using Sollet, Phantom, or Solflare. These are all reputable options that you can rely on to keep your funds secure.
Create a secure wallet and save the passphrase or recovery seed.
You must keep your wallet's public address and private keys secure. Make sure to store them safely to avoid any unauthorized access.
Take some time to navigate through the wallet's interface and explore its features. This will help you become more familiar with how it works and its overall functionality.
2. Obtaining SOL Tokens
SOL tokens are necessary for transactions, staking, and participating in the Solana network. There are several methods to obtain SOL tokens:
Cryptocurrency Exchanges: Register on a reputable cryptocurrency exchange such as Binance, Kraken, or Coinbase that supports SOL trading. Purchase SOL tokens with fiat currency or other cryptocurrencies.
Peer-to-Peer (P2P) Trading: Find sellers on P2P platforms or Solana communities to exchange SOL tokens for fiat or crypto.
Earning SOL: You can earn SOL tokens by participating in DeFi platforms, providing liquidity, or engaging in other blockchain activities.
3. Participating in the Solana Network
Once you have a Solana wallet and SOL tokens, you can participate in the Solana network:
Explore Solana DApps: Discover and utilize decentralized applications on Solana, including DeFi, NFT marketplaces, and gaming apps.
Staking: Consider delegating your SOL tokens to earn rewards from a validator and help secure the network.
Join the Community: Stay updated on the latest ecosystem developments and opportunities by engaging with the Solana community through forums, social media, and developer platforms.
Contribute: If you are a developer, Solana provides various resources and tools for building DApps or contributing to existing projects on its network.
Starting with Solana is an accessible process. As you engage, you can explore diverse and innovative projects within its ecosystem. Solana is a popular option for blockchain technology users and developers due to its speed and scalability.
Solana's Recent Developments
Solana's rapid growth and development, marked by numerous noteworthy projects, partnerships, and increasing adoption, will be showcased in this section.
1. Notable Projects and Partnerships
Solana's wide range of projects and partnerships drive innovation and adoption. Some key developments include:
Serum: Serum is a decentralized exchange (DEX) and ecosystem of DeFi products built on Solana. It offers advanced trading features and cross-chain compatibility.
Mango Markets: Mango Markets operates on Solana, providing decentralized margin trading and liquidity.
Audius: Audius is a music streaming platform integrated with Solana to offer artists more control over their music and revenue distribution.
Chainlink: Solana has partnered with Chainlink to deliver decentralized oracles and data feeds to its ecosystem, increasing intelligent contracts and DApps' capabilities.
Alameda Research: The cryptocurrency trading firm Alameda Research has been instrumental in supporting Solana's growth and liquidity.
2. Solana's Growth and Adoption
Solana's blockchain network has experienced significant progress and acceptance, as evidenced by:
Increased Validators: The Solana network is now more secure and decentralized, with a significant increase in the number of validators.
Expanding Developer Community: Solana's developer community is thriving, with many exciting projects and DApps built on the platform.
High-Profile Investments: Solana has gained investment from venture capital firms and prominent crypto enthusiasts, increasing its credibility and resources.
Global Expansion: Solana's adoption has gained worldwide recognition and usage, attracting users and projects from various sectors.
Solana's recent progress highlights its swift ascendancy as a significant participant in the blockchain arena. It places a strong emphasis on innovation, scalability, and partnerships. These developments signal its potential to continue disrupting various industries while providing a high-performance blockchain solution for multiple applications.
Challenges and Concerns
Although Solana offers a compelling blockchain solution, it faces several challenges and concerns that must be addressed.
1. Scalability and Centralization Risks
Despite its impressive scalability, Solana faces potential centralization risks as it grows.
Centralized Validators: As the network expands, there is a risk of centralization among a smaller group of highly capitalized validators, which could compromise the platform's decentralization.
Bandwidth and Storage: Running a Solana validator node requires significant bandwidth and storage, which may lead to limited participation and centralization.
2. Regulatory Challenges
The regulatory environment concerns blockchain projects, and Solana is no exception. Some regulatory challenges include:
Legal Uncertainty: The regulatory landscape for cryptocurrencies and blockchain technologies is constantly evolving and can present legal risks and uncertainties for both Solana and its users.
Compliance: Ensuring compliance with anti-money laundering (AML) and know-your-customer (KYC) regulations can be challenging, especially for decentralized projects on Solana.
3. Competition in the Blockchain Space
The blockchain industry is highly competitive, and Solana faces rivalry from established and emerging blockchain platforms. Competing with other platforms poses several challenges for Solana:
Ethereum: Ethereum remains a strong competitor, particularly in smart contracts and DeFi, due to its large user base and developer community.
Other Layer-1 Blockchains: Solana competes with other layer-1 blockchains such as Binance Smart Chain, Polkadot, and Avalanche. Each blockchain offers unique features and use cases.
Solana must tackle these challenges to sustain its progress and significance in the blockchain industry. The Solana community, in conjunction with its development teams, must collaborate to address these issues and enhance the platform's infrastructure and ecosystem.
Conclusion
Solana stands out as a high-performance blockchain platform with remarkable scalability and speed. Many decentralized applications and innovative projects make it attractive for developers and users. However, challenges such as centralization risks, regulatory complexities, and fierce competition in the blockchain space should not be underestimated. Solana's rapid growth and notable partnerships demonstrate its potential. Still, ongoing efforts to address these challenges will be crucial to secure its place as a disruptive force in the blockchain industry. Solana's journey is worth watching as it continues to shape the future of decentralized technology.
FAQ
Q1. What are some notable projects on Solana?
Answer: Notable projects include Serum (a DEX), Mango Markets (a margin trading platform), and Audius (a music streaming platform).
Q2. Is Solana energy-efficient?
Answer: Yes, Solana is more energy-efficient than Proof of Work (PoW) blockchains due to its PoS consensus mechanism and efficient design.
Q3. What is Solana's future outlook?
Answer: Solana has a promising future with continued growth, development, and adoption. However, to maintain its success in the blockchain industry, it must address certain challenges.
Q4. How can I stay updated on Solana's developments?
Answer: Stay informed about the latest updates by joining Solana's community, following official social media channels, and participating in forums.
Recommended Article
We hope that this EDUCBA information on the "Solana blockchain" was beneficial to you. You can view EDUCBA's recommended articles for more information,