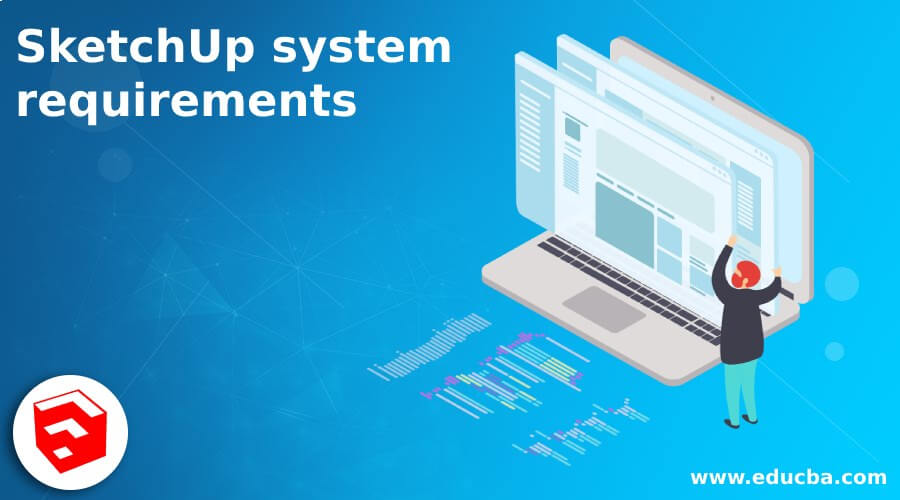 Introduction to SketchUp system requirements
SketchUp system requirements can be understood as basic requirements of this software that are necessary for its smooth performance in different aspects. For example, system requirements may include numbers of supporting operating systems and their versions, required hard disk space, processor capacity, and Ram offers by SketchUp and so on. If you know the basic requirements of this software, you can use this software very easily and get good working accuracy and fast speed of it. I will tell you about each and every related aspect of the system requirements of this software for explaining this topic in this article. So let us start our discussion.
System Requirements
Systems requirements include two types of requirements for any software and the first one is Hardware requirements, and the second one is software requirements. Same as SketchUp also has some specifications as hardware and software requirements of it, and after getting knowledge about them, it becomes easy to install and run it.
Hardware and Software Specification for SketchUp?
As you know, we can use SketchUp on a web platform as well as on a computer device, so in both cases, you need a mouse and keyboard. Mouse helps you use almost every function of this software, and with the help of the Keyboard, you can use shortcut keys and type your desired text to specify something on your project work while working with this software.
If you are going to use SketchUp for the web, then your computer should have an internet connection for opening SketchUp software on the recommended web browser, and recommended browsers for this software are Chrome 59+ or Firefox 52+.
You can also use SketchUp on Chromebook, and for that, you need to meet the following minimum requirement. However, I want to tell you that those minimum requirements will not give you the best working experience of this software, so it is better to go with the recommended one.
| | |
| --- | --- |
| Minimum requirement | Recommended requirement |
| There must be a processor of 2.1 + GHz Intel Processor specification below; this will not work. | 2.8 + GHz Intel processor can be used for better performance of this software |
| 4GB RAM is necessary. | 8GB + RAM will be good for your working with this software. |
| 700 MB is the minimum required hard disk space for it. | At least 1 GB will be good for available hard disk space if you continuously want to work with this software. |
| Intel HD integrated graphics card with 512 MB video memory at least. | Discrete Graphics cards will be good for it, such as AMD Radeon R9 M37X 2048 MB |
Multicore Processor: SketchUp will run on multiple-processor machines in the future, but currently, it is using only one processor. It doesn't support hyper-threading or multi-threading at the current time.
3D Mice: 3D Mice is one of the options which you can use as Logitech 3D motion controllers from 3Dconnexion for creating the model in SketchUp. If you want to have more information about this 3D motion controller feature, then you can visit the website of 3Dconnexion.
High DPI support: SketchUp has a DPI awareness feature that means it can adjust the sizes of icons and elements of drawing so that they can correctly match with the high DPI screens. If you adjust the DPI of your computer orScale it (In Microsoft Windows only up to 150%), then you will have to restart SketchUp software for seeing changes made by you.
Operating Systems
For SketchUp 2021: SketchUp 2021 is its latest version of SketchUp, and with its release, Trimble has removed its support for Mac OS 10.13 (High Sierra) and for Windows 7 and 8. In place of Mac's older version, it has support for Mac OS 11.0 (Big Sur).
For SketchUp 2020: If you want to go with SketchUp 2020 version, then it is not supporting Mac OS X 10.12(Sierra) operating system, and when you sign in for this version on the web such as Warehouses, then it will take you to an external browser for completing signing process.
For SketchUp 2019: SketchUp 2019 version, it does not support Mac OS X 10.11 (El Capitan), and you need to sign in with the Id of Trimble to access it. SketchUp 2019 subscription or go with the free trial option. If you are looking for SketchUp desktop 2019 classic licenses, it does not require any sign-in process.
For SketchUp 2018: The sketchUp 2018 version is not compatible with Mac OS X 10.10 (Yosemite). This version is no longer for download, and it is available freely on all modern web browsers with the name SketchUP Free.
Unsupported environments
It is no longer available for 32 bit operating systems of Microsoft Windows or Mac OS. It currently supports only 64-bit operating systems.
It has no longer actively test features or bugs on the older versions of Microsoft Windows such as Windows 7, Windows 8. While it is running properly on these versions but there may be some issues with not tested features. Windows Vista and older versions are also not its supported list of operating systems.
SketchUp 2018 has an issue that leads to crash it on Mac OS Mojave within the first 10 to 15 minutes.
Boot Camp, Parallels, and VMware have not supported environments for this software.
There are hardware restrictions in shared environments, so we can't reliably predict that how SketchUp will perform in this environment. Presently SketchUp is not supported by Remote Desktop Connection (RDC) on any type of platform.
This is all about the system requirement of SketchUp software, and you need to know all these things to start working with this software.
Conclusion
Now you can prepare your systems for installing and running SketchUp software on it. Just go with recommended requirements to have good performance of this software while working on it. Moreover, you can enhance its working ability by using some plugins software of it. It also offers you a free trial version to check its performance with minimum requirement specifications.
Recommended Articles
This is a guide to SketchUp system requirements. Here we discuss each and every related aspect of the system requirements of this software. You may also have a look at the following articles to learn more –