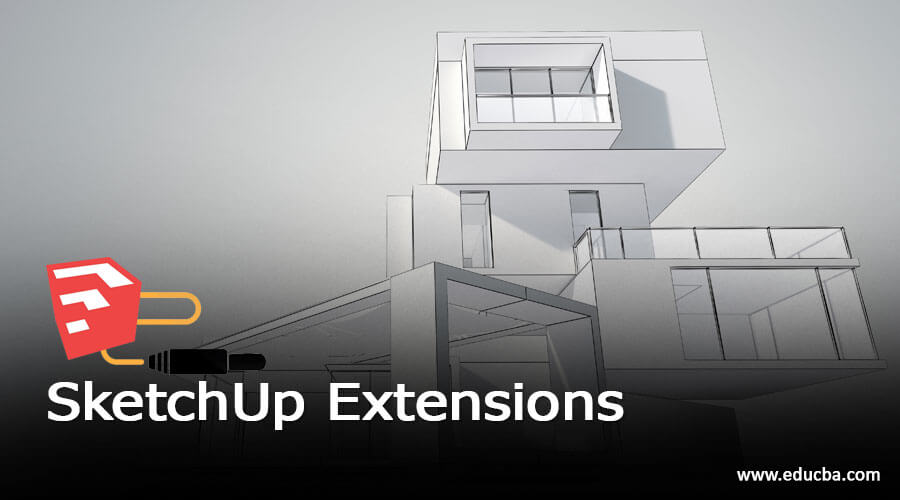 Introduction to SketchUp Extensions
SketchUp Extensions are different types of software that are used for enhancing the working ability of SketchUp through several ways. You can have different types of extensions from the Extension Warehouse of this software or can also download extensions from an external source. There are different ways for installing both types of extensions (from SketchUp Warehouse or External source). You will find a number of good extensions in the market for performing several tasks in an advanced manner, such as you can use a Joint Push/Pull extension for push/pull two or more surface or complex surfaces. Here is will tell you how you can install any extension in this software and work with them.
How to Install Extensions in SketchUp?
For installing extensions in SketchUp, go to the Window menu of the menu bar, which is at the top of the working screen, and click on it. You will find Extension Manager in the drop-down list of it. So click on this option.

You can also find Extension Manager with this icon on the working screen in the tool panel section.

Once you click on it, this Extension Manage dialog box will be open. Here for installing your downloaded plugin or extension from an external source, click on the Install Extension button of this dialog box that is at the bottom of the box.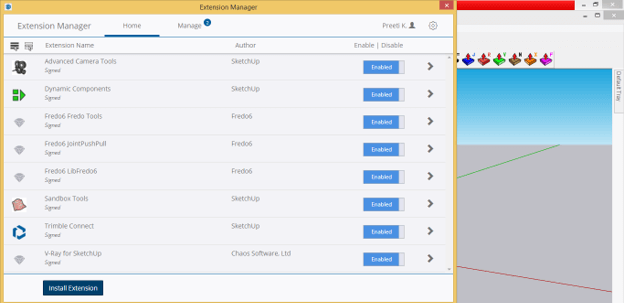 Now an Open dialog box will be open. Here in this box, choose the .rbz file of your downloaded extension from its saved location on your personal computer. Here in this dialog box, i have some extensions of Fredo 6. So i will select one of them and click on the Open button.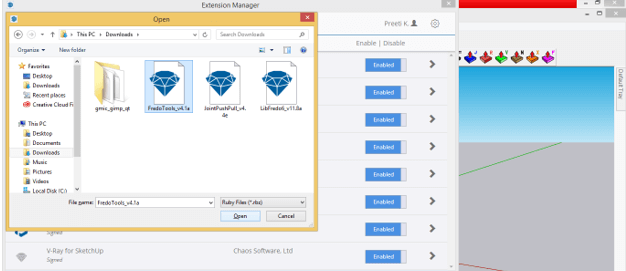 I have already installed them, so you can see some extensions here in the list. Make sure the extension which you want to use should enable in this dialog box, and for enabling them, you just have to click on Enable button in front of that extension.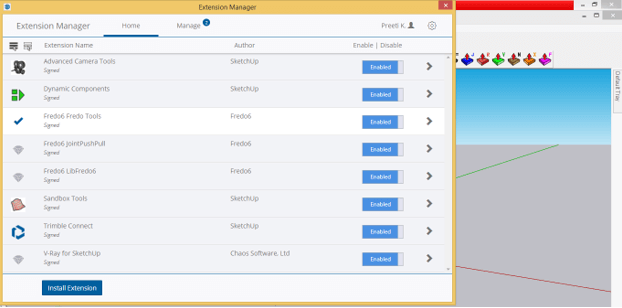 In the Manage tab of this dialog box, you can check Updates for installed extensions timely and update them for having new features of them.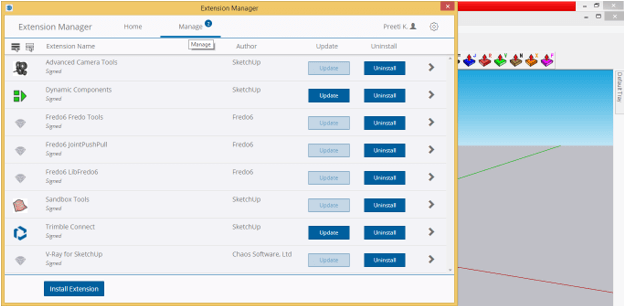 Once any extension gets installed in SketchUp, you have to restart SketchUp software, and a panel of that extension will come on your working screen. Like here is the panel of Joint Push/Pull tool, different panel of V-ray on the working area.

You can place them on the tool panel area at your desired section according to working suitability because panels of extensions are movable.

Now let me tell you how you can install any extension from the Extension Warehouse of SketchUp. You will find this Extension Warehouse option in the drop-down list of the Window menu.

Once you click on it, you will have a dialog box of Extension Warehouse. Here in the search box of it, I will search for Mirror extension. So I will simply type Mirror in this box. You can search your desired extension here also by the same way.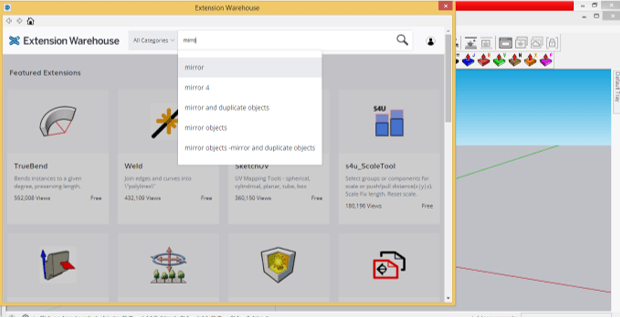 And after searching, we will find these results. You can download any one from this list. I will click on s4u Mirror 4 extension.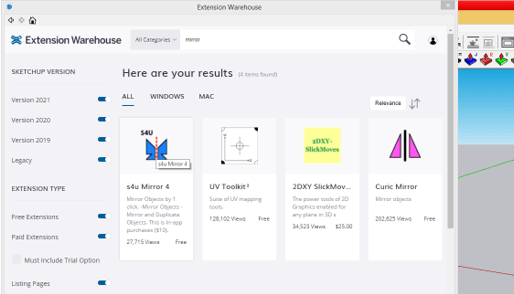 Once you click on it, you will go on its download page. Here you will have a demo video through which you can learn how you can use this extension in SketchUp.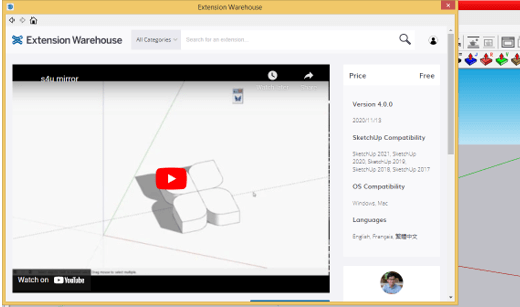 Scrolling down on this page, you will have the Install button, so click on it.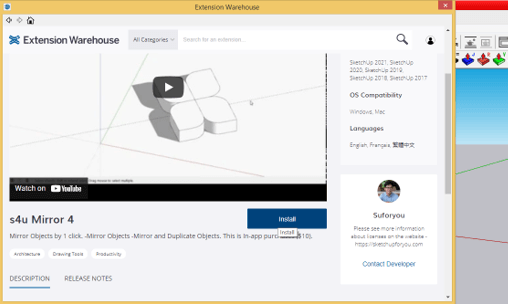 And after accepting the terms and conditions of it, you can install it.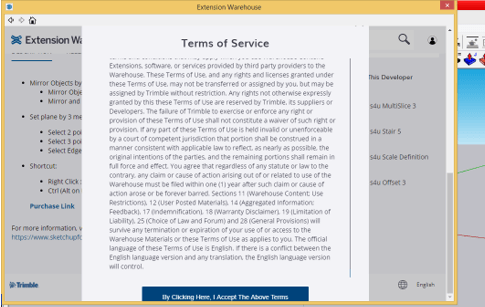 It will automatically install and show you this type of message after installation.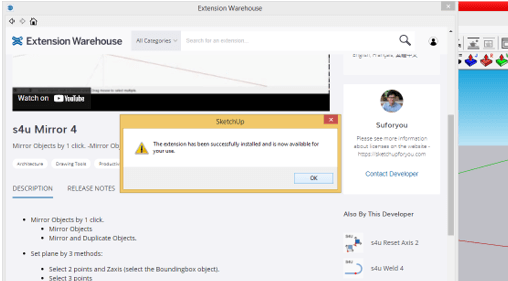 You can again go to the Extension Manager dialog box and make sure this extension is enabled here. If it is disabled, then make it enable by clicking on Enable button (which will disable the button in the case when that extension is disabled) to start using it.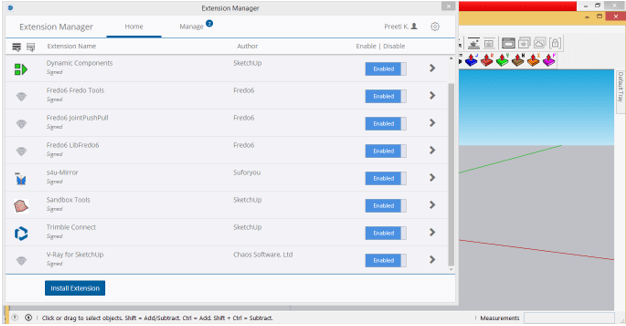 You will have a panel of extensions with its icon anywhere on the working screen, or you can check it in the list of Extensions menu of the menu bar. Here we have a Mirror panel on the working screen, and also it is in the Extensions menu list.

How to work with Extensions in SketchUp?
Let me tell you about how you can work with extensions. I will tell you the very basic aspect of the working methodology of some of the extensions which i have in my SketchUp. This is a Mirror extension, and with this extension, you can mirror any object in your desired direction.
Let us first create an object for this purpose, and i will select it completely and then make it a component.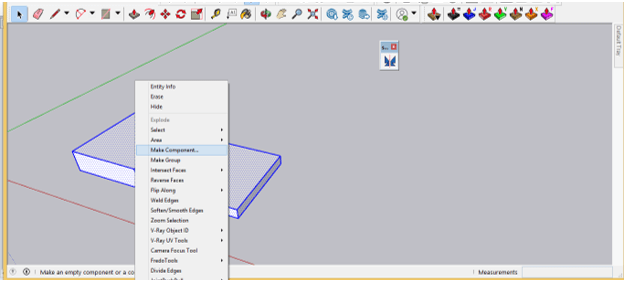 Now take the mirror tool from the panel of this extension.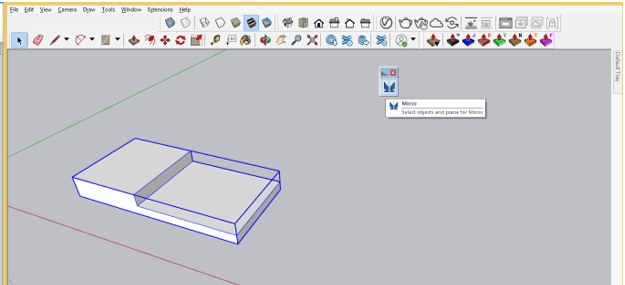 Now specify the first point by clicking on that point which will be the first point of the mirroring plane.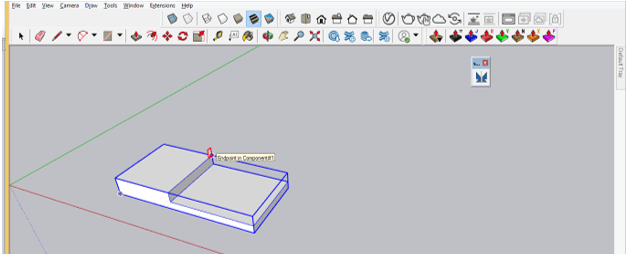 Then make a click on the second point for specifying the second point of the mirror plane.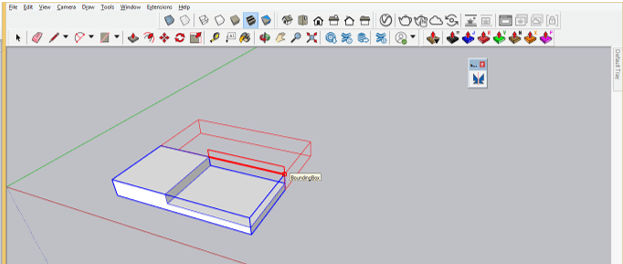 And it will mirror it in the direction of the chosen plane. It will erase the source component after mirroring it (If you want to remain source component as it is and make a copy of it in mirror direction, then first copy the source component and paste it on the same place by using 'paste in place' option. Now when you mirror it, the copied object will mirror in the direction of the mirror place, leaving the source component as it is).

There is one more extension which is very useful during working on any project. This is a Joint Push/Pull with which you can push/pull two or more surfaces of any component at the same time. Just select those surfaces which you want to push-pull and take the Joint Push Pull tool from a panel of this extension.

And you can extrude two surfaces like this.
There is a number of extensions which you can have in Sketchup, and start working with them to enhance your working quality.
Conclusion
I told you how you could install any extension in SketchUp from an external as well as an internal source of SketchUp itself. Now you also have knowledge about how you can handle panels of different extensions and take them into your use for performing a particular task. So just start working with them to have more and more knowledge about them.
Recommended Articles
This is a guide to SketchUp Extensions. Here we discuss the Definition, How to Install Extensions in SketchUp?, How to work with Extensions in SketchUp?. You may also have a look at the following articles to learn more –