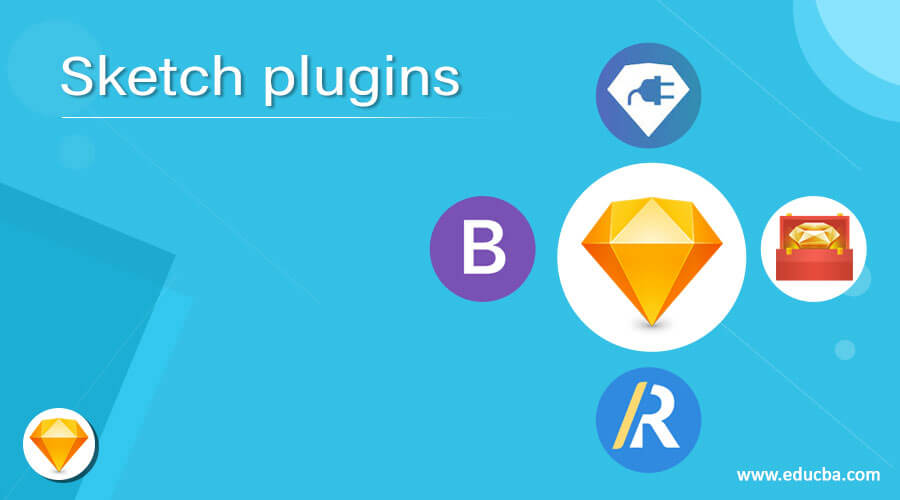 Introduction to Sketch Plugins
Sketch Plugins works as a booster agent for it. By having a different type of plugins software of Sketch, we can enhance its working ability and add a high level of features for getting the best output in vector graphics editing work. You can find a number of plugins of this software that can easily install and use for a specific type of work. We will tell you some of the popular plugins of Sketch with all their important aspect and how you can get them to start work with them. So let us get start our discussion on these plugins one by one.
Plugins of Sketch
We are going to tell you about some plugins of Sketch such as Sketch Runner, Sketch Plugin Manager, Sketch Toolbox, Zeroheight, Chain, and Sketch Material.
1. Sketch Runner
With this plugin, you can apply shared styles in your design, run and install other plugins, insert symbols to your design work and many more things you can do with it.
You can use it for faster design work in Sketch, and for having it, you can visit on sketchrunner.com. Here you can have all the other important details related to it.
You can try it for free for a limited time of period, or if you want to purchase it, you can visit on the official website of it.
Controlling your symbols and styles is pretty easy because it offers a separate window for each.
It has features for managing your design systems, such as it offers Batch rename components, you can jump to any symbol for editing that and so on.
You can easily search any symbol and insert them into your project work.
2. Sketch Plugin Manager
It is generally used for keeping all your installed plugins up to date, and It currently supports OS x 10.12 Sierra only.
It has Catalog features that connect this Manager with Sketch Plugin Directory so that you can browse and install plugins available on its official website.
With this software, you need not to check updates of your installed plugins; it checks all installed plugins whenever you start Sketch, and you can review all updates before accepting them.
It works as a hub from where you can manage all your installed plugins and get information about their features.
3. Sketch Toolbox
With Sketch Toolbox, you can browse popular plugin that is available for Sketch and download as well as installed them in a single click.
It helps you in the browsing of the plugin and automatically keeps all plugins up to date so that you can be in touch with all the latest features of that plugins.
In upcoming features of this plugin, you will have better organizing power for different installed plugins and metadata for each plugin; you can sort plugins on the basics of newest, currently trending, and most started.
Customization of keyboard shortcuts is also in upcoming updates of it. You can visit on sketchtoolbox.com for having more information about it or for downloading it.
4. Zeroheight
It creates a central hub for engineers, designers, products and marketing teams so that they can connect everyone who is working on that design system. Due to better connection, you can get maximum efficiency in the output of your work.
It provides synchronization for design and brings tools together, which are a requirement of your team. Handling tools becomes easy for everyone while working on a connected project.
It transforms your work as per guidelines shared by your teams and offers a good environment for working together for best practices.
The plus point of this software is that it is a free plugin and allows you to create asset libraries and style guide for good collaboration.
5. Chain
As its name shows, it creates a chain between something; yes, it creates dynamic color relations in huge files of Sketch for making a change in colors globally and saves your time for doing this change in each and every file one by one.
While working with it, you just have to select layers that you want to chain, reference color, and transformations you want to apply in all files and then make correction in color by managing parameters of hue, saturation, brightness, and alpha values.
With dynamic connection, you can make changes in a number of linked layer. You just have to make your desired change in the reference layer, and the change done by you will affect all linked layer.
6. Sketch Material
With this plugin, you can generate any component from the Google material design system, and the generation of complex material components becomes easy for you, such as table, chips and so on.
This plugin offers many advanced features that collaborate with material that we use to design different objects, components, or elements.
You can install it for having a wide range of libraries of different types of materials to give a realistic look to your designed components.
7. Bootstrap Grid
This is one of the component generator plugins and generates Bootstrop grids inside files of Sketch.
You just have to draw a rectangle for drawing grids, and this plugin will automatically create a grid inside this shape.
You can use hotkeys or shortcut key for performing this task with this plugin, such as for options window press Ctrl + Shift + W then for setting grid with last configuration press Ctrl + shift + G or for setting default Bootstrap grid press Ctrl + Shift + D.
You can use default gird settings or do custom settings as per your requirement for getting your desired result.
It also has different type of good features that make it comfortable to its user, such as multi-selection for the grid.
Conclusion
We told you about some of the important plugins of Sketch, and you can use them for enhancing the designing quality of your project work. There are some other plugins in the market for a different purpose; you can try them too as an additional feature of Sketch.
Recommended Articles
This is a guide to Sketch plugins. Here we discuss some plugins of Sketch such as Sketch Runner, Sketch Plugin Manager, Sketch Toolbox, Zeroheight, Chain, and Sketch Material. You may also have a look at the following articles to learn more –