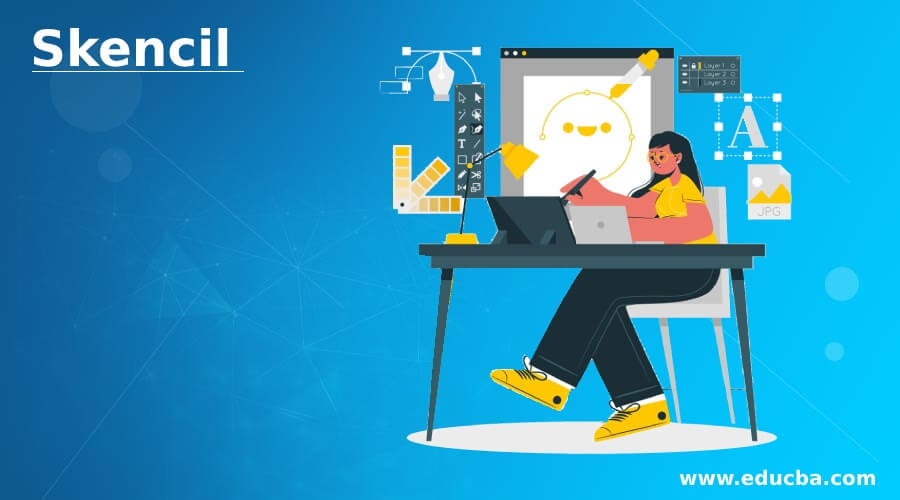 Introduction to Skencil
Skencil can be defined as vector graphics editing software as well as Open source software which was released on October 31, 1998, through GNU Lesser General Public License. Sketch 0.5.0 was the first public version for the public use of this software which was based on Python language but for speeding some terms used with C language. This software is compatible with Linux operating system. The next successful release was written in wxWidgets, and after this, Skencil has good color management, which also includes CMYK color space supporting functions, has multiple windows interface, and also has increased capability for the different file format.
How Does Skencil Works?
The present stable release of Skencil software is 0.6.17 and is used for various type of illustration work because it is vector graphics editing software.
We have many tools for doing different types of illustration work, transforming shapes and text, and many other vector art-related terms we can do in this software.
With transformation, we can also do scaling, rotating of all these objects.
We can also do color management tasks, such as you can blend with colors, fill gradient in any artwork, and some other color management-oriented work we can do.
Uses of Skencil
There is much use of skencil in different graphics related field, and as we know, Skencil is a vector graphics editor, so we use it for various types of vector art and editing work.
We can make a different type of art work by using shape tools and typographic by making a different type of transformation in text.
We also use it to export and import different types of file formats to make our work easy in this software.
Features of Skencil
We have many good features of this software, and it is necessary to understand them for getting more knowledge about this software.
The very first features of this software include that it has tools through which we can draw geometrical shapes such as we can draw a rectangle which you can convert into rounded corners rectangle for a different type of illustration work, you can draw circles, ellipse, pie circle by using the same tool for a curve or circular requirement in illustration, you can draw different anchor point curves which is Bezier curves and manipulate it according to work requirement with handling points.
The next important feature of this software is it can write ESP files in it to use this type of file to make our work easy with different features. We can also export and import different file format with an improved version of Skencil. Due to compatibility with the different file format, it makes our vector graphics editing more effective.
Advantages and Disadvantages of Skencil
Although this is open source software and we have a number of advantages of this software, but along with advantages we also have the disadvantage of this software, and for getting more refine knowledge about this software, we must go through pros and cons of this software.
Advantages:
Here we will see important advantages of this software which have good space for graphics designing users.
Skencil is based on Python, so it can extend in different ways, which starts from user scripts and goes up to plugins.
We have other plugin collections for skencil, such as Christof Ecker's plugin for skencil, which offers graphs, Turtle Library, Transforms Scripts, and many more things to add new features to this software.
It offers plugins that help in the management of brightness and contrast of art work in this software as well as in the manipulation work of color.
You can increase the range of auto-shapes of this software by adding a plugin that gives you handling points to make changes in these shapes.
It also offers some tools and features through which we can convert text into a curve. You can also align text with your desired path in it.
We have Import Filters through which skencil can read different file formats such as adobe illustrator (.ai), Corel CMX, Scalable Vector Graphics (SVG) and many more. All these file formats related to vector graphics.
Through Export Filters, skencil can write the various graphics format such as adobe illustrator, SVG (scalable vector graphics) and PDF (portable document format) files.
Disadvantages:
Along with many advantages of this software we also have some disadvantage of it. About which you must have knowledge for better choice among vector graphics editing software.
It offers single User account that means you need a different account of multiple user or group users.
Limited features with a free account.
You cannot test templates with a free account.
The next disadvantage of it is that it is compatible with Linux on i386, m68k, Alpha, Sparc and PowerPC. You can also run it on Mac OS X and Solaris 8, 9.
Currently, it is not supported to Microsoft Windows, but in the unstable release, which is 0.7, it may become with compatibility of Microsoft windows.
We can do text transformation in skencil, but for the proper working of it with the transformed text, you need an X-server capable of scaling and transforming fonts.
The current version of skencil only supports True color visuals, which have depths of 15, 16, 24 or 32 bits and Pesudo Color visuals of 8-bits.
Conclusion
We have analyzed Skencil software with all important aspects of it. Now you can easily go through the pros and cons of this software to identify what good features of it helps you in your vector illustration work are.
This is a guide to Skencil. Here we discuss the introduction; how does skencil works? uses, features, advantages and disadvantages. You may also have a look at the following articles to learn more –