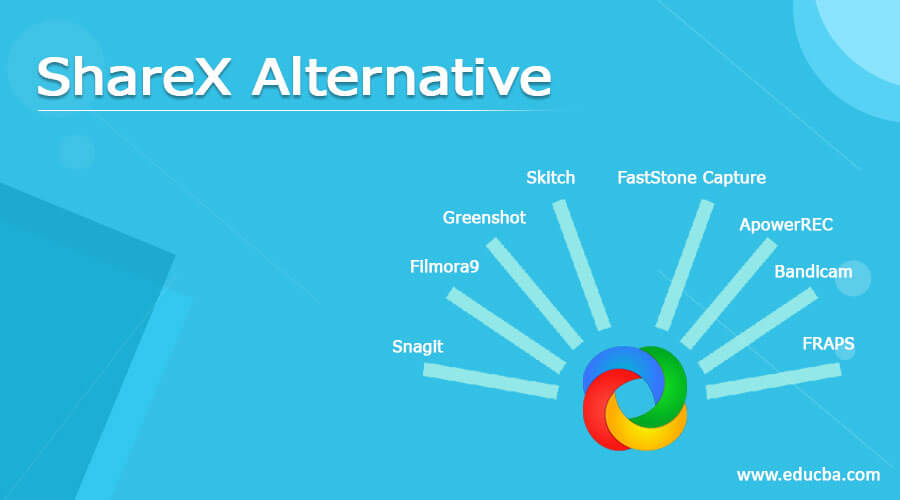 Introduction to ShareX
The following article provides an outline for ShareX Alternative. Taking a Windows screenshot may be as simple as hitting the Prt Scr key and pasting your clipboard contents into an image editor. But sometimes you want to do something else – such as just capturing a part of your screen or sharing your images on the web – and when a third-party screen recorder comes in handy. One such tool is ShareX, which is available in standard or Microsoft Store applications – and in either case, it is free of charge. ShareX offers several options for screen capture: scroll capture, complete screen, area, window, etc.
Top 8 ShareX Alternative
Given below are the top 8 ShareX Alternative:
1. Snagit
Snagit is a powerful screen capture tool that provides more than standard built-in screen capturing capabilities with most versions of Windows while allowing better editing and customization once you have captured exclusive images. This tool is ideal for people who regularly compile tutorials or website reviews or create software. Snagit is a powerful screen-capturing and easy-to-use software that cannot edit the video recording after recording but is not free. Indeed, this is one of the best options for ShareX to work as a screen capture and recorder. Snagit enhances your images effectively with remarkable effects.
2. Filmora9
Filmora is another best option for ShareX. This simplifies video editing and enables users to create incredible videos. One of Filmora's best features is its wide range of more powerful editing tools. The recording function is also free of charge for all users. Filmora presents two new editing methods using cams and instant cutter tools. The pleasantly intuitive and incredible designs of Filmora make creating great videos easy for individuals.
3. Greenshot
Greenshot is a Microsoft Windows and Mac OS free and open-source screenshot program. Greenshot is software that can take many features on the screenshot. Before exporting, it to an image file, printer, email attachment, or clipboard, the captured screenshot can be interpreted and changed using the integrated image editor. Greenshot is available in various languages, and users contributed most of the translations. The easiest way for the screenshot is to interpret, illuminate, and obscuring (Blur) parts. The Internet Explorer can even capture entire web pages. Greenshot has several screenshot features. The region capture allows you to select a screen area. "Last region capture" is used to re-capture the same picture area previously captured. Creates a screenshot of a selected window from the "Capture Window." The entire screenshot is captured by "Capture full screen."
4. Skitch
Skitch is one of the apps you don't know what to do first. It is in the Evernote family, so productivity is the first thing. You will then discover you can doodle pictures and share them with a la Snapchat friend. And that's the beauty of this super practical application. Skitch is a multifunctional tool that enables you to mark almost any document. If you're a user of Evernote, you can synchronize your Skitches with an Evernote notebook. Still, you can also use the Evernote application to modify documents on your phone if you don't use Evernote. It was around for a while, but a recent redesign has improved it.
5. FastStone Capture
FastStone Capture is a  lightweight, powerful, yet fully equipped video recording tool and screen. You can read and write down everything on your screen, including windows, complete screens, objects, menus, rectangular/fixed areas, freehand, and scrolling web pages. You can also capture all screen activities, including on-screen changes, speaker audio, microphone speech, mouse movements, and highly compressed clicks.
6. ApowerREC
ApowerREC can record anything on your desktops, web meetings, live streaming videos, etc. You can capture your activity with the audio on your full screen or in a customized area, and it can keep videos synced with audio. In addition, it is also possible to capture a webcam or webcam screen and record a video chat or tutorial video in the software.
7. Bandicam
Bandicam is a closed-source software developed by the Bandisoft company, which could capture screenshots and record screen changes. Bandicam is software for screenshots and captures screens. There are three modes in Bandicam. One is the screen mode for recording a specific area on the PC screen. The other mode is Game Record, where the OpenGL or DirectX target can be recorded. Finally, the device mode recording records webcams and HDMI devices.
8. FRAPS
FRAPS is software with extensive features, including recording games and videos and live streams, screenshots, and other related performances of your game. One of the most popular things about the program is that it lets you record other things like film. Having said that, it is much more than a recording tool because it is also used for synthetic testing to help you understand how various games play on your PC. With the tool's benchmarking function, you can easily determine your game's best graphics while it helps you solve performance problems. The recording option on PCs that use DirectX and OpenGL is still its most popular function for gamers and nongamers.
Recommended Articles
This is a guide to ShareX Alternative. Here we discuss the introduction and top 8 alternatives of ShareX in detail. You may also have a look at the following articles to learn more –