Updated April 7, 2023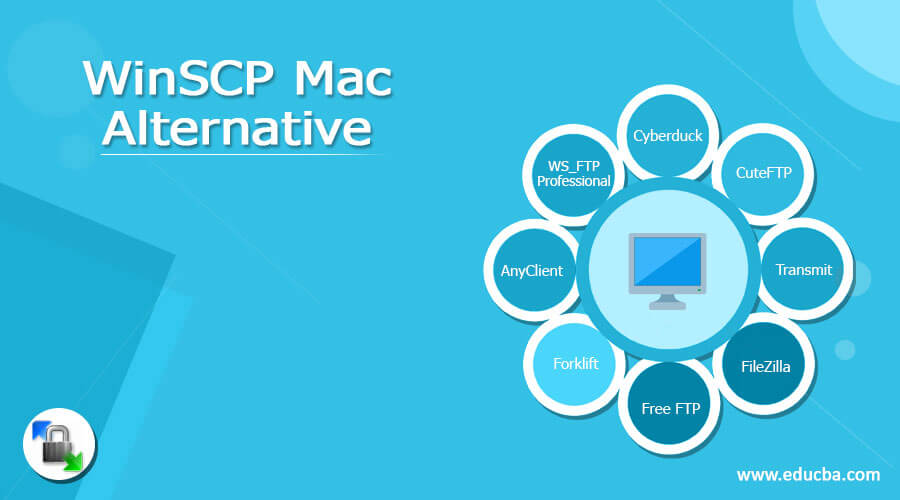 Definition of WinSCP Mac
WinSCP Mac is very much essential for Mac users since WinSCP is not directly supported in Mac Operating System and Mac Users resort to other means to use WinSCP client in their computer. Hence Mac users are always looking for alternatives that will outperform WinSCP, a powerful file transfer software client.
There are around 10 major alternative software clients for WinSCP and the open-source community has developed some more alternatives for Mac and the users can deploy whichever product suits their environment. In this article let's go through details of such alternatives.
What is WinSCP for Mac and Why Alternative?
WinSCP is client software that transfers files in a secured manner between the remote host and local computer. It mainly uses FTP (File Transfer Protocol), SFTP (SSH FTP), SCP (Secure copy protocol), Amazon S3, WebDAV client protocols. It runs only on Windows OS.
Mac users are impressed with the power of this software and they use another interfacing software layer called "Wine" to simulate the windows environment in Mac and start using WinSCP. This kind of simulation always gets into trouble here and there and Mac users are looking for stable alternatives.
Top 8 Alternative of WinSCP Mac
Alternative of WinSCP Mac are given below:
1. Cyberduck
This client is considered to be the best alternative to WinSCP by many users. It is a free client designed for Mac and Windows and it supports additional Mac features.  This client allows editing of remote files, encrypts data, provides a simple interface, supports all the protocols of WinSCP, interfaces with multiple code editors, has simple operational features, supports many other advanced features.
Though it has performance issues and advertisement popups in unofficial copy, this client is pushed as the best alternative for Mac users.
2. CuteFTP
It is not an open-sourced and free client like other platforms. It comes with a license cost but compensates with niche advanced features. It works on both Windows and Mac. Some of the premium services include
Users classification as Power users, Client users, and Secured users for better monitoring
Supports all file transfer protocols viz., FTP, SFTP, WebDAV
OTP (one time password) to authenticate valid users and filter hackers
Automation features to schedule activities and trigger data backup/ data syncing.
Handholding of new users through the wizard
Impressive colorful editor
Compartmentalized downloading facility.
Supports sharing files from any mobile devices
Several advanced Features with end-to-end support
Though this client lacks in file comparisons and support from IaaS service provider it is a handy tool for those users who need to copy a huge volume of data to an FTP server
3. Transmit
It is another hot favorite client for Mac users and exclusively designed for Mac. This client scores over other clients in a. Performance, b. Interface, c. Simple and user friendly operations, d. Security, e. Cloud connectivity. Transmit supports multiple file transfer protocols, has its own editor, provides a shortcut for easy access, supports languages other than English.
It has no Linux and Windows versions and has an advertisement popping issue. It is a licensed client software not free like other tools.
4. FileZilla
It supports all the three major operating systems viz, windows, Mac, and Linux. It is a robust, reliable, highly secured, efficient, and open-sourced client platform and it is best suited for transferring large files. It supports all file transfer protocols, enables editing/searching of remote files, provides bookmarking features, etc.
Advertisement popups, the absence of scheduling features, and dull interfaces are some of the weaknesses of this client.  This client is the most popular client among its peers and it is preferred for its stability and ability to move large-sized files without any glitch.
5. Free FTP
Free FTP is a highly user friendly client software with simple operation steps yet powerful in Performance. Files can be dragged and dropped into server locations with a simple click operation. It has got an effective mechanism to monitor the file transfer progress and alert the users when required.
It's basically free software but has a licensed premium version for niche users.  It supports all file transfer protocols, has authentications at folder/ file level, displays the status in the status bar, maintains files history of the transfers for future tracking, and facilitates compression of data for easy backup.
The premium version has several features such as a. Inbuilt Code Editor, b. operations preview, c. Help Libraries, d. facility to develop scripts in Java, PHP, CSS and Python e. security. It is supported only in Windows and Mac users will have to use the wine layer to work on Free FTP.
6. Forklift
Forklift is another effective replacement for WinSCP and it is simple to operate and powerful in performance. Backed up by effective interfaces, it offers a faster method of transferring files to servers.  Dual-pane viewing, a specialty of this client, enhances user experience. All the file transfer protocols are supported like many other clients. It supports the Batch Editing feature to save time taken.
It works on MacOS and does not have a scheduler facility.
7. AnyClient
A stable, fast, simple to use, free FTP Client, supported in Mac and Windows platforms. It has got security issues and has limited options in the operation.
8. WS_FTP Professional
It's a highly secured file transfer client supported only in the Windows operating system. It uses very high-level encryption while transferring files to servers.  This client provides a user friendly interface and easy operation steps. Files can be transferred from the search engines as they are located on various websites while browsing. It supports automated post-transfer operations such as archiving, deletion, renaming of files.  It works on contemporary web servers like IIS and Apache and transfers fie at a faster rate than others.
It is a costly solution and Mac users will have to deploy the wine layer.
Conclusion
Mac users have plenty of options now to select FTP clients which will work directly on MacOS without any simulation layer. They can weigh various parameters like security, speed, ruggedness, operational efficiency, presence of special features while selecting a client and pick a free or premium model.
Recommended Articles
This is a guide to WinSCP Mac Alternative. Here we also discuss the definition and top 8 alternatives of WinSCP Mac along with a detailed explanation. You may also have a look at the following articles to learn more –