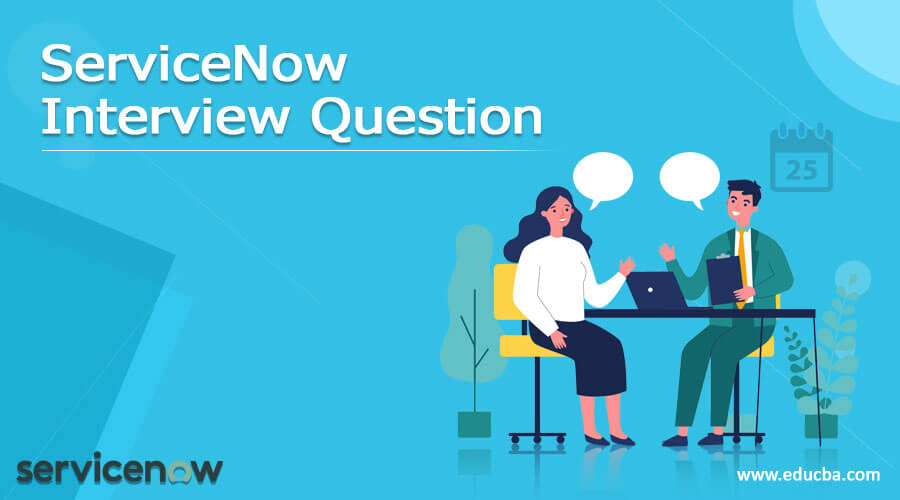 Introduction of ServiceNow Interview Question
ServiceNow is a cloud-based enterprise that offers technical management support software as a service (SaaS). The firm is specializing to enable users to manage projects, teams and customer interactions via a variety of applications and plugins in IT Services Management, IT Management, and ITO M (ITBM). ServiceNow's products offer a service model which helps users to identify the root cause of their problems and to correct self-service problems. The service model is shown as the functions, activities and processes of the products ServiceNow, separated by cloud services
Top Interview Question of ServiceNow
Let see the interview question of Service now
1.What Does the Term Business Role Means?
The company rule is scripting on the server. It works when any record is inserted, modified, deleted, shown or queried. The important point to maintain in order to create a company rule is when and with what action it should take. You can use the 'on display,' 'on before,' or 'on after' business rule when action is taken.
2.Explain the Data Policy Concerning ServiceNow?
By assigning read-only attributes to all fields, you can implement online data policies. Conditions of data are nearly like policies for UIs. The difference is that only for data entered by using a standard browser does UI policy apply. Data policies may, on the other hand, apply rules to any data that is entered in the system.
3.What to You Mean by Record Producer?
A record manufacturer of a catalog item to help you create the Service Catalog task-based records. For example, with the help of the record producer, you can create a change record or a problem record. The service catalog provides an alternative way to create records.
4. in ServiceNow How Many Types of Search Options Are There?
There are 5 types of search option in the ServiceNow.
• Search scenes: It's a personalized module created by administrators only
• Knowledge base: This will help you find out knowledgeable article
• Lists: This is help you find out records in a list
• Global Text search: Help you save from one search field in multiple task tables.
• Navigation filter: Enables the application navigator to filter objects.
5. What Does the Word Coalesce Means?
Coalesce is a feature of a field we use to map field mapping transforms. Coalescing in a field (or a number of fields) allows the field to be used as a single key. If a match is found using to coalesce field, the current record will be updated to import information. A new file is inserted in the database if a fit is not found.
6.What Do You Mean by Domain Separation?
Domain separation is a means of separating information into logical domains. For example, an ABC client has two companies that use ServiceNow only. You don't want to see data of another company from one company. Here, we can set up domain separation so that records can be isolated from both companies.
7.What is Gauges?
A gauge can be seen on the website of a ServiceNow and may include up-to-date data on current records in the ServiceNow tables. On the basis of a report can be a gauge. It can be placed on a website or a content page.
Have you known the word client script?
Client script is client side browser and this run on client side, so there are some types of client script which are
OnChange()
OnLoad()
OnSubmit()
OncellEdit)
9. What is Transform Map?
The import record to ServiceNow imports set table to the target table is transformed by a transform map. The links between areas shown in the Import Set table and fields in a target table are also determined.
What do you mean by scorecard,
A scorecard measures an employee's performance or a business process.It represents progress over time graphically. An indicator includes a scorecard. First, the indicators you want to measure are defined. By adding targets, breakdowns (score by group), aggregate and time series, you can increase scorecards.
10. What Is Dictionary Override?
Dictionary Overrides allows you to override a number of functions in an extended table of a field. For instance, from the task table, a change table is extended. The task table contains a field called status and is set as read-only. It will be only read-only when we use this field in changing form. We can only make this unread by using the override of the dictionary. Similarly, the expanded table can set other properties for the fields.
11. What Is an Updated Set?
An updated set is a personalization group. It captures changes to a user's customization or configuration and can then be moved by these updates. For example, if we have made some changes in the configuration of our development environment and want changes in our test environment, all changes in an updated set can be saved and the update set to the test environment can be moved instead of changing manually in a test environment.
Conclusion
That concludes our list of the most popular  ServiceNow interview questions and answers. Reading this list will undoubtedly help you in tightening up your interview preparation. I hope you will find this article helpful.
Recommended Articles
This is a guide to ServiceNow Interview Question. Here we also discuss the introduction and top interview question of servicenow along with an explanation. You may also have a look at the following articles to learn more –