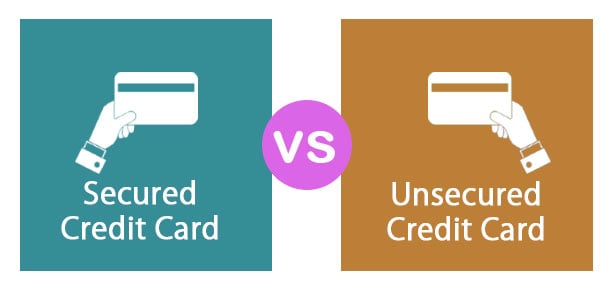 Difference Between Secured vs Unsecured Credit Card
A secured credit card is a type of credit cards provided to its buyers only on the availability of some financial banking in the form of collateral before owning one. This collateral, as the name suggests, provides a layer of security only in case of default.
An unsecured credit card is provided to its buyers without any commitment of collateral and made more easily available to the people in general. The unsecured cards form a part of the sub-prime market.
Borrowers of both Secured vs Unsecured Credit cards can make use of these in all the outlets and places where they are acceptable. They have credit limits which provide the spending limit to the cardholder and needs to be repaid to maintain a good credit score.
Head To Head Comparison Between Secured vs Unsecured Credit Card (Infographics)
Below is the top 8 difference between Secured vs Unsecured Credit Card

Key Differences Between Secured vs Unsecured Credit Card
Both Secured vs Unsecured Credit Card are popular choices in the market; let us discuss some of the major Difference Between Secured vs Unsecured Credit Card
The key element defining each of the credit cards is the depositor collateral that is fixed for the type of card offered. This makes a secured credit card different from the other standard cards available for purchase. The credit limit that a customer thrives for in case of a Secured Credit Card has to keep a minimum of that deposit or other collateral at least equivalent to the same limit. This collateral is only to be used in case of last resort and not for the regular monthly payments of the credit bills.
Many customers want to avail a secured credit card to improve their credit scores. Since the chances of default and failure in repayment are lower, the cardholder ends up meeting the credit card bill requirements. In the case of unsecured credit cards, since you do not have to commit any collateral, it means the lender has already assessed your credit history and is confident about your repayment ability.
There are many customers who want to avail unsecured credit cards, as they want to extend their credit limits. Keeping a deposit as a backup does not allow them to increase their credit limits often. Also, they want to use the same amount of deposit as a term deposit, which can give them some returns and not lie idle. In case of secured credit cards, the credit limit can be extended when positive payments are made on a regular basis keeping the deposit intact.
In case of regular positive payments towards the secured credit card, there are chances that the bank offers to upgrade to two options – increasing the credit limit or converting the card to unsecured credit card. Having an upgrade to the unsecured card would mean that the entire security deposit amount or the collateral in full would be returned to the cardholder.
Secured vs Unsecured Credit Card Comparison Table
Below is the 8 topmost comparison between Secured vs Unsecured Credit Card
The Basis Of Comparison Between Secured vs Unsecured Credit Card
Secured Credit Cards
Unsecured Credit Cards
Collateral
Secured Credit Cards can be given to those having some deposit as a backing to the card, or back with any collateral like property.
No Collateral is associated with it
Ease of availability
Not easy to get a secured credit card.
Easy to obtain
Credit Score
This card is mostly given to such customers who do not have much history about their credit and no credit score attached.
The card is provided only on checking the credit history of the prospective buyer
Credit Limit
The amount of deposit or collateral held is the credit limit available to the cardholder
A credit limit is based by accessing the credit health using the traditional factors – credit score, payment history and future ability of payment
In case of default
The collateral or deposit that is used to obtain the card will be seized
There is no property or deposit held that can be seized in case of any default in payment.
Interest Rate and Other Benefits
Higher interest rates. Not many benefits offered. On regular payments of the spent and a good cycle maintained the buyer might be offered an up gradation or change to unsecured credit card
Lower Interest Rates.

Benefits include Rewards Program, Cash backs etc.

Annual Fee
Mandatory to be paid at the beginning of the year
It can be waived in case there is a term to make a minimum expenditure in a month or year
Examples
Secured Loans – Mortgages, Car Loan
Unsecured Loan – Education Loan
Conclusion – Secured vs Unsecured Credit Card
Credit cards are one of the best ways to keep a good credit score. One possible way is to keep the credit utilization ratio- the ratio of the outstanding credit card balance to the credit card limit. It basically measures the amount of credit limit being used.
Secured credit cards do require a security deposit; however, are the safest when compared to the unsecured credit option. It provides a way to improve the credit scores, and in turn your credibility in the market, by making the timely payments for the due amount. In case if you have an excellent credit score, you can opt or continue with unsecured credit cards. However, if you have a fair credit score, you will still qualify for the unsecured card but the interest rates over the period will become unfavorable and the ease of owning depletes.
Recommended Articles
This has a been a guide to the top difference between Secured vs Unsecured Credit Card. Here we also discuss the Secured vs Unsecured Credit Card key differences with infographics, and comparison table. You may also have a look at the following articles to learn more.
Financial Analyst Course- All in One Bundle
250+ Online Courses
1000+ Hours
Verifiable Certificates
Lifetime Access
Investment Banking Course

Financial Modeling Course

Business Valuation Course