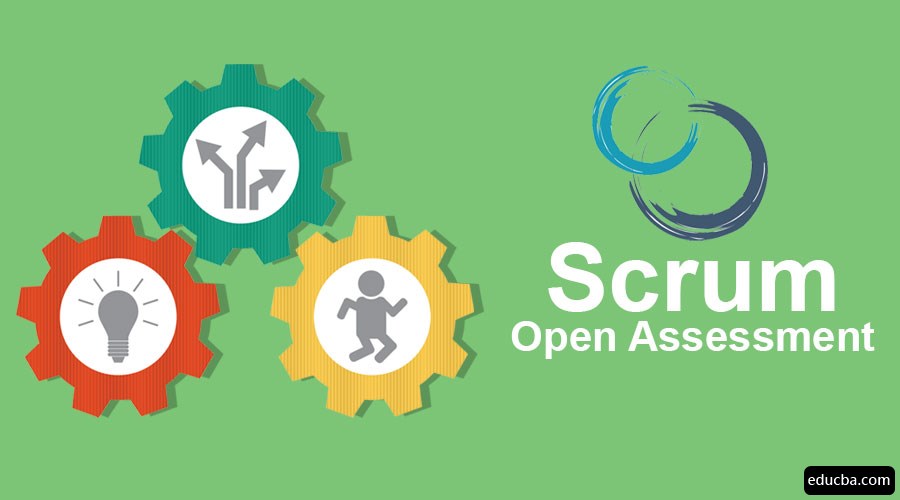 Introduction to Scrum Open Assessment
Scrum is a methodology related to agile management used to manage knowledge and work, especially for software development. It has wide applications in various fields and is now being explored by traditional project teams across the globe. It is made for moderately sized teams of three to a maximum of nine members, where work is broken into small chunks that can be completed within iterations called sprints. It does not take more than 30 days/a months to complete the entire work. The time taken to completely execute it is two weeks, and if it exceeds it then, it is re-structured in meetings called daily scrums. The framework that provides an image of how scrums are being implemented is called a Scrum framework. In this topic, we are going to learn about Scrum Open Assessment.
There are many tools and methodologies used in a scrum by the software development community, and one of them is open assessment. Open assessment is a method that helps make impactful assessments where everyone is eligible to participate and contribute. Most open assessments are developed by Opasnet, which is a Wikipedia web-workspace specially designed for open assessments. Open assessments allow an individual to gauge the basic knowledge of a scrum. This includes a scrum team and its structure and the fundamentals of a scrum.
The scrum open assessment is a tool used for verifying one's basic knowledge of the Scrum framework. This tool will allow you to form a foundation of your present scrum knowledge, on which you can work for further improvement. It is one tool for those preparing to take any of the professional scrum assessments. It consists of a set of questions that help get an individual's foundation right.
Fundamentals of Scrum
Here are some of the fundamentals of Scrum given below
Allows everyone to participate and contribute: An open assessment is an open system. Every individual is allowed to participate and contribute to the improvisation of the scrum. Every contributed point and every contributor are paid attention to. This helps in getting a broader perspective of the project being worked upon, and all the contributors with valuable points to make are identified along with their contribution being recognized.
Question and answer session: Initially, an individual is asked to answer a set of questions related to scrum and its framework. His/her result then is an indicator of the level of knowledge regarding scrum that s/he has. This level forms the foundation of Scrum knowledge for the individual, and the work being done further is built upon it.
Makes realize where one stands: The set of questions being answered along with the result indicates where the individual stands currently, as far as his knowledge of scrum is concerned and how much of effort s/he has to put in to reach the acme. It also helps carve away towards perfection and the kind of planning that needs to be done to prepare the way and work schedule to achieve the desired level of Scrum knowledge.
Helps in validation and verification: Scrum open assessment leads to also validate and verify an individual's scrum knowledge. It helps in validation by marking a certain level of knowledge that the individual holds. It verifies the individual's knowledge by marking his/her incorrectly answered questions and help him/her rectify them.
Helps in professional preparation: If an individual decides to take up any professional scrum certification or test then, this kind of assessment of great help. It helps the individual prepare until the minimum level, at least which forms the foundation for the individual, and s/he can start working on his/her scrum knowledge from there onwards. Once s/he reaches his/her desired level of Scrum knowledge, the idea of taking up a professional certification/test can be pursued.
Requirements of Scrum Open Assessment
Software degree/experience: Agile and waterfall management are used predominantly in the software sector. Therefore, a software degree is a must, or at least some experience in the software sector is mandatory. Only then can an individual relate to these practices?
Professional Certifications: A professional certification in this area is an added bonus in the corporate sector. It can immediately get you a role of your choice in this line in the corporate/ software sector. A professional certification along with a few years of experience is a great combination for getting highlighted in the world of corporates.
Expertise: After assessing your level of knowledge through the scrum open assessment, you can work on the foundation formed to achieve either your desired level of knowledge or else expertise in this area. Gaining expertise in a certain area helps your career grow leaps and bounds and takes you a lot ahead in your professional life when compared to your peers.
In the current scenario, there are a lot of project management vacancies, and they require such experience or else professional experience. Salary is not a constraint in the industry for the right candidate. It is an area with ample opportunities.
Recommended Articles
This has been a guide to Scrum Open Assessment. Here we have discuss the Fundamentals and the Requirements of Scrum Open Assessment. You can also go through our other suggested articles to learn more –