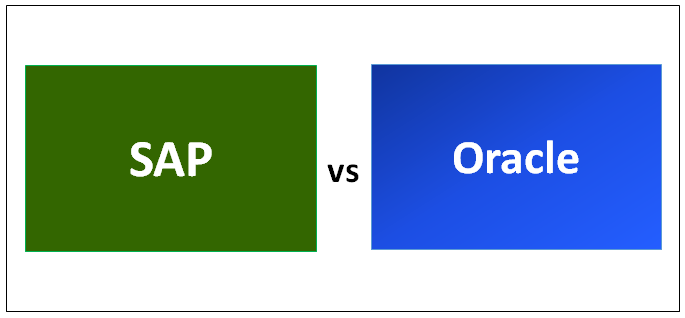 Difference Between SAP vs Oracle
SAP stands for Systems, Applications, and Products in Data Processing, which is famous for its Enterprise Resource Planning and Data Administration applications. Oracle from Oracle Corporation is known for a wide range of its cloud-based and platform/ service-based applications. While Oracle is used for relational database management systems in the organization level, SAP offers a variety of tools for data to flow and to be applied for business administration processes.
Oracle RDBMS is a database management system that is based on a multi-model scheme. It is produced and marketed by Oracle Corporation. Oracle RDBMS is commonly used for various tasks like running online transaction, perform data warehousing. Many of the new RDBMS things arrive from the Oracle first, since it is the database technology leader. The latest generation, Oracle Database 18c, is available in the hybrid-cloud environment. It offers a wide range of options and features in several areas of development, security, management, scalability, etc.
SAP ERP consists of several modules to handle almost every functional area of a business process like financial accounting, controlling, sales & distribution, material management, human resources, etc. SAP ERP collects and combines data from the separate modules to provide the company or organization with enterprise-level resource planning.
Oracle database is very much reliable that can cope with huge database sizes and massive application workloads. Although working with a complex piece of software is not an easy task, but Oracle design with RDBMS is well equipped to handle this complexity. Oracle database is portable and available on different operating system platforms including the same documentation and same code base.
SAP ERP has multiple advantages that assist in smoother enterprise-level operations. It allows easier global interactions and integration, resulting in which diverse cultures gap be filled automatically. Also, it provides real-time information, thus it reduces any possibility of redundancy errors. SAP R/3, an ERP software provided by SAP brings a new trend of enterprise software, ranging from mainframe computing to the three-tier architecture of database, application and user interface. In creating synchrony of all business process, SAP ensures that the functions of management are made easier from the integration. SAP ERP is also an asset in the sense that it functions in real-time, as opposed to earlier traditional systems that could not operate in real-time, slowing down the process of management. SAP ERP model runs on a programming language for the fourth generation which is referred to as ABAP (Advanced Business Application Programming).
Oracle has successfully demonstrated the world's fastest RDBMS performance on multiple platforms. Its database performance tuning is an interesting concept for many developers all over the globe. There are multiple technologies like Oracle RAC and Data Guard which help in scaling the database vertically and horizontally. Along with the standard products, Oracle also provides many tools, utilities, and abilities that come along with the server, but the key is that it is simple to use and works well for most OS platforms.
Head To Head Comparison Between SAP and Oracle (Infographics)
Below are the top 8 difference between SAP vs Oracle:

Key differences between SAP and Oracle
Below is the list of points, that explain the key differences between SAP and Oracle:
SAP ERP is a well-known solution for Enterprise Resource Planning whereas Oracle is the most famous technology provider, especially for RDBMS.
SAP ERP deals with business functional areas like Accounting, Sales & Distribution, Material Management, Finance, etc whereas Oracle RDBMS deals with key data areas like Data warehousing, Database workloads, etc.
SAP ERP has been synonymous with large corporations like Microsoft whereas Oracle RDBMS is available from simple versions which can be quite well employed for personal to enterprise-level solutions.
SAP ERP breaks away the traditional information system management which considers processes independently whereas Oracle deals with RDBMS which can work on the multi-model scheme, to ease the database design process.
SAP R/3 is one of the classical examples of SAP ERP whereas Oracle Database 18c is the latest RDBMS released by Oracle Corporation.
SAP ERP utilizes ABAP as a standard language whereas Oracle RDBMS can be accessed via a standard language called SQL.
SAP ERP is an asset in the sense that it operates in real-time unlike traditional systems whereas Oracle RDBMS can be termed an asset in a sense that it can be scaled down to personal use from the confines of enterprise firms.
SAP ERP domain lies in real-time business management system whereas Oracle RDBMS strength lies in Database Management.
SAP ERP development may include Oracle as a database system as it can be integrated with several databases whereas Oracle RDBMS can be one of the key components of Enterprise Resource Planning for a business firm.
SAP ERP integrates business applications whereas Oracle RDBMS is utilized in enterprise environments for data-level functionality.
SAP and Oracle Comparison Table
Let us look into the detailed comparison between SAP vs Oracle.
| | | |
| --- | --- | --- |
| Basis Of Comparison Between SAP vs Oracle | SAP | Oracle |
| Sector | Enterprise Resource Planning | Database Management System |
| Functionality | Real-time management of business processes | Manages data in enterprises |
| Languages | SAP ERP runs on ABAP language | Oracle RDBMS is accessed via SQL |
| Definition | SAP ERP provides a set of tools to facilitate information flow in business. | Oracle RDBMS is the multi-model database management system. |
| Key area | SAP ERP is Application + Database | RDBMS is just plain Database, with no application |
| Functional area | Sales, Distribution, Accounting etc. | Data warehousing, transaction processing, database workloads etc. |
| Product | SAP R/3 | Oracle Database 18c |
| Cost | SAP ERP implementation cost is considered higher. | Oracle RDBMS implementation cost is lower as compared to SAP ERP. |
Conclusion
Once anyone has a clear picture of the difference between SAP and Oracle RDBMS, he/she can check their online training programs which are structured according to the skills to streamline business processes. Under SAP ERP, aspirants can be given training on Finance and be controlling, Material management and HR and others. Similarly, in Oracle RDBMS, aspirants would hone the skills of configuring, installing, designing and managing the RDBMS.
SAP ERP provides an enterprise solution for a business process which can include database capabilities as well. On the other hand, Oracle RDBMS can provide a data-solution, which is one of the components of Enterprise Resource Planning.
It all depends on the requirement and budget planning. SAP ERP would give the business a comprehensive solution for all your enterprise-level needs, whereas Oracle RDBMS operate on multiple operating systems or platforms, would provide a solution for all data related requirement. The difference between SAP and Oracle is pretty visible, it is just that business requirements should be aligned with Customer satisfaction and budget.
Recommended Articles
This has been a guide to the top differences between SAP vs Oracle. Here we discuss the key differences between the Python vs Matlab with infographics and comparison table. You may also have a look at the following articles –