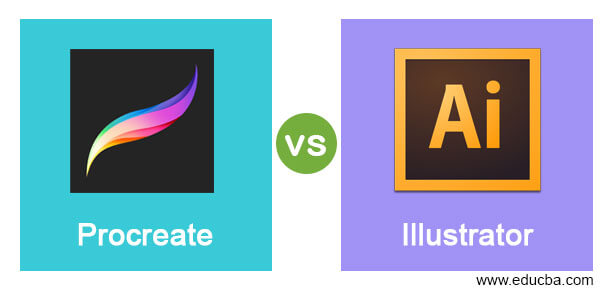 Difference between Procreate vs Illustrator
Procreate is a raster graphics editor but it also works for intuitive digital illustration and focused on digital painting for making that illustration or painting alive. It is designed for iOS and iPad OS and offers a number of designing for doing illustration work in a better as well as smooth way whereas Illustrator is vector graphics editing tool and used for designing of the high level of illustration work by a professional vector graphics editor. It also has several designing tools as well as features that can easily incorporate with vector design parameters. So let us delve into both software.
Head to Head Comparison between Procreate vs Illustrator (Infographics)
Below are the top 8 differences between Procreate vs Illustrator:

Key Differences between Procreate vs Illustrator
Both software has their own working methodology and they do their work in a very effective manner so let us discuss special features of this software for collecting more information about them.
There is one good thing about Procreate that you can purchase it by making a one-time payment and then there are no additional charges for advance features and other accessories of this software. You can have it by just making a payment of $9.99 and in this package, you will have all tools and advance features.
If you want to buy a single app of Illustrator then you can have it by paying $239.88 as an annual subscription plan and will have all advanced features, supports in this package or if you want to purchase the whole Creative cloud app then you have to make a payment of $599.88 as yearly plan and after this subscription, you will have all updates of creative cloud desktop app with other additional features. Adobe offers a free trial period to their users so that they can understand their software first and same as in illustrator's case you will have a free trial for a limited period.
There are number of file formats that are supported by Procreatesuch as .psd, .png, .jpeg, .tiff, .gif, .mp4, .pdf, .hevc and .procreate (native file format of Procreate that means it will use this extension as default file format for saving any work designed in it.). Illustrator also supported several file format which make it compatible with other software such as .png, .jpeg, .jpg, .pdf, .svg, .eps, .ai(its native file format). You can export Ilustrator file into .dwg, .dxf, .bmp, .css, .tiff and many other file format.
In Procreate you will have almost 190 brushes for creating effective digital illustration and these brushes offers you an adjustable data panel for making changes in them according to the requirement of your work.
In Illustrator you will also find a number of brushes design with adjustable parameters panel and other features of this software that make it more effective are you can combine shape in a different manner by using Pathfinder and by using other techniques of it. It also incorporates with typography design not only typography but also has 3D effects for making some of the 3d shapes.
These were the main differences of both software which are enough to understand Procreate and illustrator deeply.
Procreate vs Illustrator Comparison Table
With both software, you can do a high level of illustration but they offer their own features for providing you a user-friendly environment. So let us discuss their characteristics first.
| | | |
| --- | --- | --- |
| Basis | Procreate | Illustrator |
| Definition | Procreate is raster graphics editing software but designed for dealing with creations of digital painting as well as the artwork. | Illustrator is a vector graphics editor which has all the necessary features for the creation of high-quality digital artwork. |
| Developer and Initially released date | Procreate was developed by Savage Interactive as digital painting and raster graphics editing software on March 16, 2011. | Illustrator was originally designed by Apple Macintosh and its development started in 1985 but it was released for public use on March 19, 1987, by Adobe, and today it is a part of the Creative cloud application of Adobe. |
| Latest version | For overcoming the issue of the previous version, Savage Interactive launched its latest version on December 22, 2020, which is named as 5.1.5 version it. | Its latest version was launched by Adobe on March 19, 2021, and named Illustrator CC 2021. |
| Operating Systems | iPad Mini (its all version), iPad Pro (its all version), iPad Air (it all version), iPad (2017, 2018), and iPhone are those operating systems on which you can run this software. | You can run it on Windows 10 and Mac OS 10.12 Sierra and later versions. |
| Availability | www.procreate.art is the official website link of procreate by visiting here you can have a download page of it or also have other related information from here. | All details and downloading link of Adobe illustrator are available at www.adobe.com./products/illustrator.html |
| Supported language | For making itself more understandable it supported several languages such as English (United States), English (United Kingdom), Chines traditional, Chines simple, French, Turkish German,, Portuguese, Russian, Italian, Spanish, and Korean. | Adobe Illustrator is also multilingual software and available in many different languages such as English (United State), English (United Kingdom), and many others. you can check this detail from its official website and switch to your desired language through the Creative Cloud desktop app. |
| Type | It can be categorized under Raster Graphics editing software because it works on raster images. | You can list it under Vector Graphics Editing software because we can create vector artwork in this software. |
| License Type | It can be list under the Proprietary License scheme that means it is not free software. It charges some amount under some terms and conditions. | It has Proprietary License same as Procreate. |
We discussed a number of facts about Procreate and Illustrator so that I can explain to you the fundamental necessities and capabilities of both software. Now I will tell you about other facts about which you should know to understand both software.
Conclusion
Now you can understand Procreate and Illustrator because I explained to you all the possible facts and features of both software. You can analyze these facts in taking a decision that which one is good for you. I will suggest first try both software so that you can understand their user interface and how smooth anyone of them is?
Recommended Articles
This is a guide to Procreate vs Illustrator. Here we also discuss the Procreate vs Illustrator key differences with infographics and a comparison table. You may also have a look at the following articles to learn more –