Updated June 7, 2023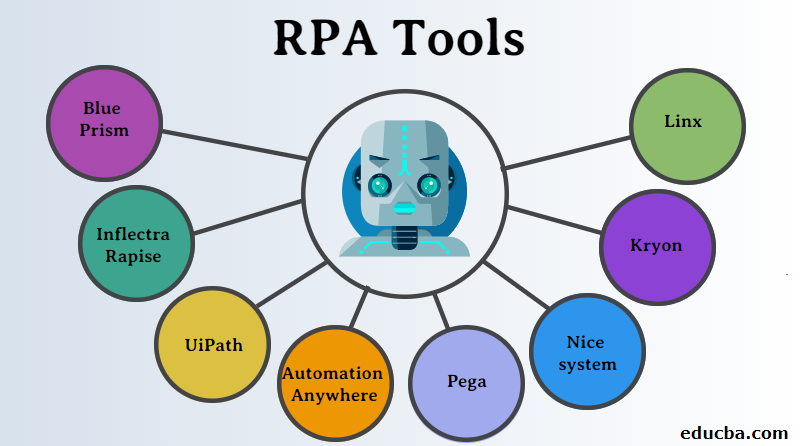 Introduction to RPA Tools
RPA, which means Robotic Process Automation in the present industry RPA(Robotic Process Automation) is a new Technology. So the technology is new, but we have to implement that how. So basically, we need RPA Tool to implement RPA. Robotic Process Automation is a smart way to perform functions that can be readily categorized using AI. RPA, which means Robotic Process Automatic, parts are stands for the different things which is –
Robotic: Robots are machines that imitate human activities.
Process: To do a significant activity, we need sequence steps. Let's take an example of making your favorite recipe.
Automation: Any process that a robot does not involve humans.
Types of Robotic Process Automation
Attended Automation: These tools involve human intervention while performing automation methods.
Un-Attended Automation: These tools are clever and have the capacity for decision-making.
Hybrid Automation: These tools have both capacities attended and unattended.
Top 8 Robotic Process Automation(RPA) Tools
Here we will be going to understand the top Robotic Process Automation Tools.
1. Blue Prism
It can be used with any application on any platform. You should have programming abilities to use this tool, but for designers, it is user-friendly. This instrument is ideal for small and medium-sized companies. Blue Prism supports a model for multi-environment use. Network and software credentials are guaranteed security.
Pros of Blue Prism:
Execution is at high speed.
Blue Prism is an independent platform.
Cons of Blue Prism:
Blue Prism is High At a Price.
To use Blue Prism, you suppose to know the Programming language.
This was an official site of Blue Prism – https://www.blueprism.com/
2. Inflectra Rapise
Rapise offers hybrid company scenarios assistance. The system can automate mobile, web, or desktop apps. The programmers and non-designers both are friendly. Rapise is a solution on the spot. This instrument is ideal for small and medium-sized enterprises. Inflectra Rapise has functionality like play and record. Calls and email processing of REST and SOAP (Gmail, MS Office 365, private mail servers)
Pros of Inflectra Rapise:
Friendly with Non-designers.
In the Inflectra Rapise, certification and training are with backup.
Inflectra Rapise is fast in execution.
Cons of Inflectra Rapise:
It only has a Windows platform.
Pricing of Inflectra Rapise is $1,599 / Unlimited development license; unlimited support and upgrades 1 year for upgrades on purchase. Unlimited.
3. UiPath
UiPath provides all key capabilities. It offers Citrix assistance. For non-developers, it is user-friendly, too. It has difficult procedures to manage. And this tool is ideal for businesses of any size. They can be automated more quickly. Automation through Citrix is 8 to 10 times faster too. UiPath provides only one platform.
Pros of UiPath:
We don't need any programming skills to operate the Uipath.
In the UiPath, we have an option for Drag and Drop.
It is free of cost and also provides good features.
Cons of uiPath:
The bad thing about the Uipath is it provides limited Functionality of Coding. This was an official site of – https://www.uipath.com/.
4. Automation Anywhere
All key capabilities are provided by Automation Anywhere. It offers cloud and on-site services. For medium and big businesses, this user-friendly instrument is ideal. Provides encryption, authentication, and credentials to ensure safety. Automation anywhere provides analytics and real-time report. Automation Anywhere provides the platform Independences.
Pros of Automation Anywhere:
It is user-friendly.
It provides all the capabilities.
Cons of Automation Anywhere:
For the pricing, you suppose to call them.
5. Pega
Pega is a tool for the management of business processes. It can be used on servers of the desktop. It only offers alternatives or services based on the cloud. It works with Windows, Mac and Linux. This instrument is ideal for big and medium-sized enterprises. The execution data is not stored in a database; everything is stored in the memory. This tool allows you to distribute your job to desktops, servers, and staff.
Pros of Pega:
It operates faster due to the event-controlled strategy.
It is a sturdy and reliable tool.
Cons Of Pega:
In Pega, there is no on-premise solution.
6. Nice system
Nice system RPA tools are known as Virtual Advisors for the NEVA-Nice employee. It is an intelligent and repetitive tool that helps staff. The nice system provides an attended and Unattended automation server. This system is designed for the back office, finance, HR, office staff, etc.
Pros of the Nice system:
The nice system provides advanced analytics.
7. Kryon
It offers three automation options. Hybrid, unattended, attended. A smart tool and decision can be an unattended answer. The attended instrument will provide you with velocity, precise work, and effectiveness. Kryon has a scalable system. It offers the facility for recording. This contributes to productivity improvement.
Repeated and time-consuming duties are performed efficiently.
8. Linx
Linx provides rapid development and deployment of automated processes and tasks with the no-code platform. It also provides drag-and-drop IDE designers, which boosts the development speed. It is easy to use. It has in-built components for services and programming functions. Linx can be integrated into any  OLEDB, ODBC, NoSQL Databases, and SaaS Automation tools. It is primarily famous for its 5 times faster speed of automating tasks than traditional software development tools.
Conclusion
In this article, we have seen different RPA tools used to automate tasks at a higher speed; with that, we also have seen types of Robotic Process Tools.
Recommended Articles
This has been a guide to RPA Tools. Here we discuss the basic concept with different RPA tools available in the market. You can also go through our other suggested articles to learn more –