Updated March 27, 2023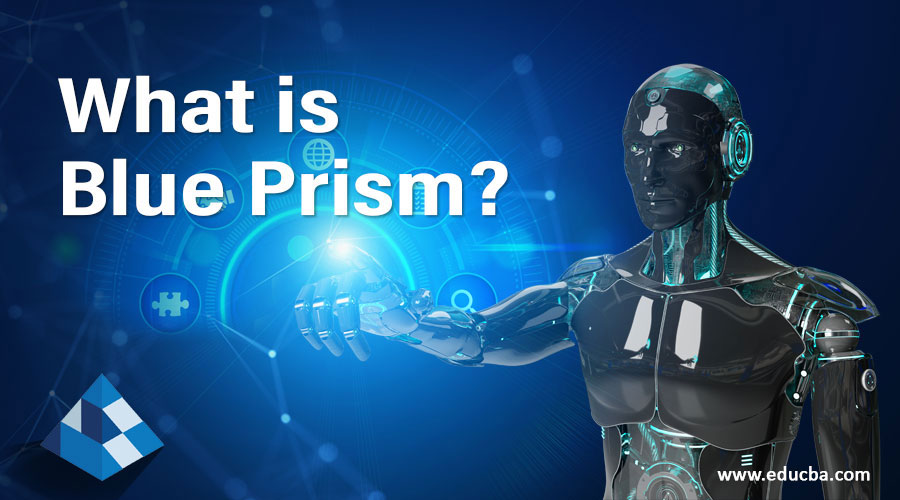 Introduction to Blue Prism
Blue Prism is one of the companies based out of the UK which works on Robotic Process automation. This company works on providing solutions, software which mainly deals with the automation of processes that are assumed to be clerical back-office jobs and do the tasks exactly like humans. Automating processes like clicks, navigations, typing, etc. in a sequential manner will allow it to achieve building multiple systems which can take care of automating regular tasks so that developers can focus on accomplishing more complex tasks. In this article, we will go through a lot of fundamentals on Blue Prism like understanding what it basically stands for, its different components, and the benefits of using it. So, let's get started!
Objectives of Blue Prism
Let us look at the objectives of Blue Prism as a company in a snippet and then move to different components of Blu Prism. The genre Robotic Process Automation or in short form RPA was coined by Blue Prism itself and is one of the largest shareholders in this genre to date and this is the fact that they are still the pioneers of RPA software development.
The main intention behind the development of RPA was to introduce a huge "digital workforce" and enable an organization to be agile, and though the process of automation, the rule-based working principle improves the accuracy of work in the long run. RPA makes sure that it provides security, flexibility, complaint process, resilient systems, and scalable solutions.
Why do We Need it?
In today's world, it has a lot of relevance in each aspect of the type of organization where we don't want repetitive jobs to be carried out by humans. In this section, we would go through some use cases where it has set their foot in easing out the process for us!
Once data is manually entered into the system manually, we need to re-enter it into another system manually again. And this is the ground where it plays a vital role in easing out the re-entry process into ERPs.
This has found a way in integrating disparate systems by connecting them at a user interface level, which would be able to save millions of dollars and IT time if these standalone, legacy products would have been integrated into the normal processes.
Data and report requests coming from multiple owners, vendors, or customers might require a system to extract the data and format it. It lends its hands to automate such rule-based tasks.
Components
Now that we have a fair understanding of what it is and where it is used in the professional world, let us have a look at the components which provide a set of libraries, tools, and runtime environments for RPA. In Blue Prism every software robot has 2 parts:
Process Studio
Object Studio
Let us go through each of these components one by one to have a deeper understanding of Blue Prism. First, let us start with Object Studio. This is the place where an object known as Visual Business Object (VBO) is created to interact with other applications. With the creation of VBO, one can expect consistency and scalability in their process. Once the VBO is created there is a lesser time investment for the creation of Bot for the subsequent process. And finally, bot maintenance becomes super easy as the system changes are required at only one place instead of for each process.
Now let us look at Process Studio and then dive into the key differences between these 2 components. Process Studio is more or the same as a traditional flowchart. This is the place in Blue Prism where the actual process is created. This provides additional features like allowing business logic, control loops along with variables and object call to b sequenced and tested for efficient business workflow. In this, we form a logical structure through the creation of various stages and connecting them through links. The stages created can be even personalized by double-clicking and adjudge the properties.
Though essentially both are pretty much similar, they do have tangible differences between them. Some exclusive "stages" are only accessible in Object studio and not in process studio. There is no concept of Main Page in object studio, unlike Process Studio, but it does have 2 default pages. Lastly, the pages in Object Studio are organized as a flat group instead of a hierarchy like Process Studio.
Benefits of Using Blue Prism
Now that we got an overall understanding of it, let us look at the advantages Blue Prism brings in so that one can confidently use these in everyday life!
It doesn't require prerequisite IT skills for implementation. The only concept of process is enough for implementation.
It easily is pulled off in a sprint of 4-6 weeks and is hence widely used in the industry.
It provides robust and suite rich in analytics for keeping it up to date with recent trends in analytics.
One can build processes which re highly efficient and end-to-end automated.
The provision of a multi-tiered encryption algorithm ensures secure connectivity, data storage, and access.
One can easily take advantage of the customized digital front end integration with back-office automation for improvement of human-robot interaction and hence, in the end, increase productivity.
Conclusion
Now one would ask if Blue Prism is available for free when it provides so much value to us. Yes, it does have license fees, but one can easily try the free trial license which offers single-instance, cloud-based infrastructure on Microsoft's Azure workplace. This license is intended for short-term use with the installation being easy and quick deployment for first-time users. Lastly, it is an essential software on most of the industry nowadays which aims at cost reduction along with increasing productivity and in future times it is going to be the go-to software for all RPA tasks!
Recommended Articles
This is a guide to What is Blue Prism? Here we discuss the basic concept, why do we need Blue Prism along with its components and benefits in detail. You may also have a look at the following articles to learn more –