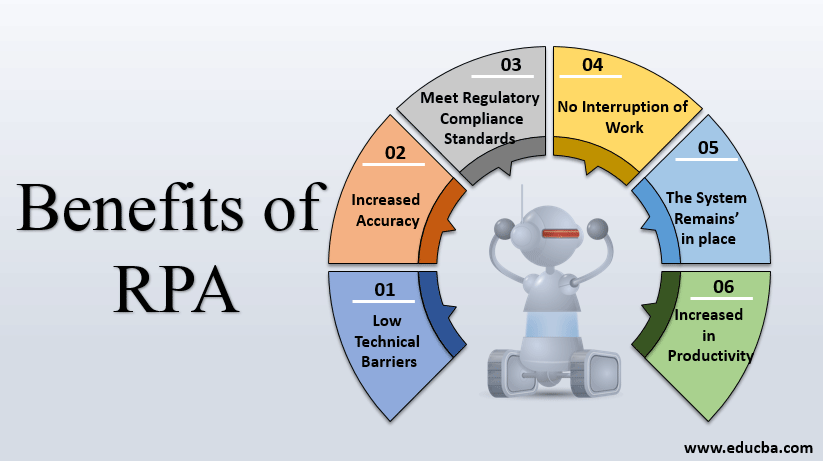 Introduction to Benefits Of RPA
Benefits of Robotic Process Automation (RPA) are used in specialized computer programs called robots that are used to automate the structured data or information used for business purposes. They have many processes in different domains. Each process needs to have separate validation.
Data Structured or Information Use:
Just assume that a robot is sitting in front of a computer viewing the system application as same as like a person using the computer. Whereas robotic software automation cannot be involved in any form of the physical robot; thus, the software robots can replace human intentions by interacting with the applications software, which produces the results in the same ways as that of a person.
Working as virtual assistants, bots have to execute tremendous tasks after getting time for the employees who can concentrate to work on various processes that produce revenue for generating the workflow in any organization. The best part of robotic automation processes is that even the non-technical and technical background can be used for developing the software robotic applications.
Based on business requirements, we need to proceed with analyzing the information provided and check for the feasibility of the processes and calculate the duration of the robotic process to automate.
The methods used to process each process need to be viewed, analyzed, and checked for each process's feasibility.
The steps involved to develop robotic process automation (RPA).
Various Benefits of Robotic Process Automation
Robotic process automation is a user-friendly tool that can be accessed easily, and there are few methods we do have the license required.
The steps involved for business process Benefits of RPA are as follows:
1. Low Technical Barriers
It's very useful for non-technical programmers to get skilled in this software technology and must not configure the robot. As its a free programming language, there can be any non-technical staff that are used to for the purpose of drag and drop to design the coding, which can be set up as a bot in the software environment to implement; these can be recorded in their own steps that can be automated in a process through a which it can be recorded. There are many features that can be recorded and can be accessed properly.
2. Increased Accuracy
Bots are very flexible and can be executed in any form of the process, which is very consistent in their feasibility than can support errors rather than human interventions.
3. Meet Regulatory Compliance Standards
Bots need to be structured and can be decided with proper documents that they have been configured to follow and provide a demo implementation of the process for each step. Furthermore, if there are any processes that need to be reviewed, bots can be processed as required. Finally, the controlled nature of bot work makes them suited to meeting even the strictest compliance standards.
4. No Interruption of Work
Operations can be performed 24/7 as these bots can work tirelessly with automation techniques that are required by staff to manually generate the bits for initiating the business techniques that are required. If there is a human need to intervene, it needs to be taken and make a proper decision to resolve a to process the work. Robots are very useful in the process that can be processed according to each process required by the client. There won't be any disturbance if the processes start executing.
5. The System Remains' in Place
Unlikely, specific automation can be initiatives that may require an extensive resource that develops to integrate the process across multiple software applications. RPA involves the number of distributions for all the systems that are underlying into robotics. Robots work across the presentation layer for the executing application provided just as a human does their work. this is very useful for systems provided in API's that may not be available immediately, or if there is any situation where the organizations cannot have to develop the resources in a deep learning of integration with existing software robotic application.
6. Improvement in Modeling the Employee's Exposure in the RPA
Robots reduce the efficiency of the work that humans do daily so that we can concentrate on different accepts of the work to be completed on time. They are more useful in offloading the manual works done by each employee, where the specific task can be overwritten by much strategic information provided to workers.
7. Increased in Productivity
Process cycle times are more feasibility and can be completed in manual working hours. The importance of the RPA is that it can be easily handled by anyone while processing in the technologies. As RPA is advancing even further, the future generation of the technologies can bring many additional values to future generations. Advanced levels of cognitive analysis such as machine learning, deep learning, and artificial intelligence are more intelligent in the processing of data, while the bots will allow the data or information which are structured and needs to be structured, even if in an unstructured format.
Conclusion – Benefits of RPA
Advance future in RPA. Due to the future generations of these technologies are more likely to get improved, and the importance of these values of the development in any process and will be taking it up to the next level. Advanced level of cognitive analysis of intelligent robots is also getting used such as machine learning, deep learning and artificial intelligence of data, while the bots will allow the data or information which are in a structured format and needs to be in structured, even if it is in an unstructured format. Machine learning allows bots to recognize patterns and information of data over time; this means that the bot does not need human intervention between executing the process. A bot can learn and acts automatically, and then the process of each step continues until the process is completed.
Recommended Articles
This is a guide to Benefits of RPA. Here we discuss the introduction and benefits of robotic process automation respectively. You can also go through our other related articles to learn more-