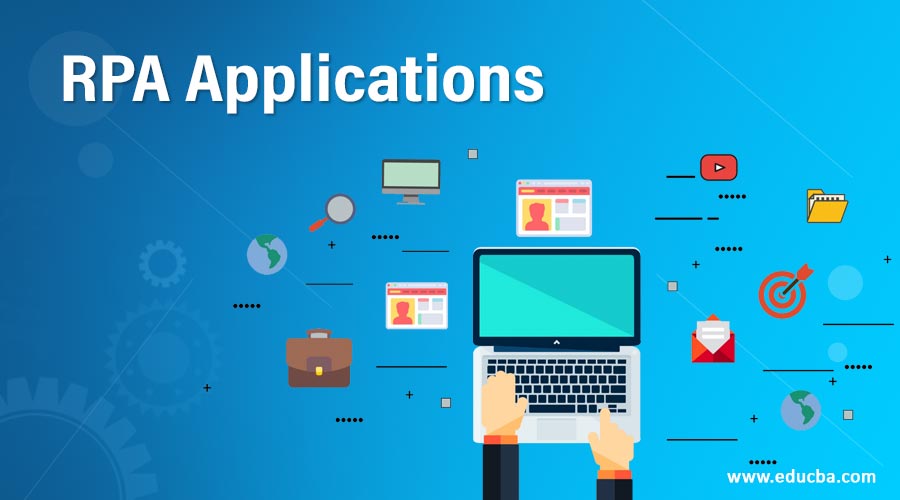 Introduction to RPA Applications
RPA applications are the business use cases that can be implemented through robotic process automation technologies. RPA enables automation and faster processing of the business application through robotic software and configurations. RPA applications ensure consistent business productivity by automating tasks that are associates with rules-based processes and are recurrent in nature. There are several industry-specific RPA implementations feasible related to the banking and finance industry, Insurance, healthcare, retail, telecom, and educational business domains. RPA uses the software-based bots to process the workflows and depended on the steps of the business applications. There several software vendors such as Blueprism, OpenRPA, and Pega Robotic Automation.
Top 11 RPA Applications
There are several RPA applications used in the industry to automate the business processes. We will discuss some of the popular applications and uses of the RPA technology. Following is a pictorial representation of RPA applications.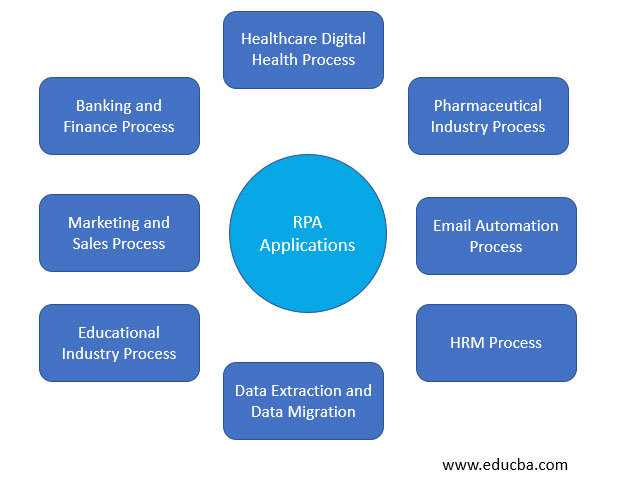 1. Marketing and Sales Process Automation
Marketing and Sales process automation is a primary uses case for RPA that helps to automate each component of the sales application dealing with Lead generation, prospecting, campaign management. RPA can collaboratively be used with Artificial Intelligence (AI) and cognitive technologies for sales forecasting. RPA applications are also used in Market and client research, Customer relationship management (CRM) such as customer onboarding process. and Brand monitoring. The RPA application helps to boost productivity in sales and increases customer satisfaction. Moreover, RPA applications provide managed governance and data security enabling continuous business.
2. Price Tracking and Comparison
RPA technologies are highly in demand and implemented in the financial and retail industries. There are software bots use to extract the data from several sources and systems of multiple competitive products and compare the price data to generate automatic reports and alert notifications based upon the business rules for setting the pricing. The RPA bots can identify the optimal and best pricing through the automatic tracking and comparison technique. RPA application implementation enables enterprises to achieve competitive intelligence and price monitoring that resulting in growth in market share by real-time competitor web monitoring.
3. Procure to Pay
RPA applications can be used with Procure to pay to make the seamless and time-efficient process of procurement of goods and services. Settlement of accounts payable invoices with integrating various enterprise resource planning software (ERP) and accounts system with RPA technologies to automate the business works flow. Some of the RPA application enables automation of approval and notification process for procurement. The RPA bots eliminate most of the manual processes along with data and process integration gaps between the interrelated systems.
4. Data Extraction and Migration
RPA is commonly used in the data management process that helps in automating data extraction and data migration process. Most organizations use their or external workforce to process the data manually such as data entry, data format conversion, and data replication tasks. RPA can enable the process of migrating data from one system to another. Such CRM system data can be migrated to an ERP system with the RPA bots.
5. Data Quality Check
Data quality check is the process of checking data and business validation rules validations that are automated through RPA bots. These are very useful for quality and reduce the risk of data inconsistencies and mismatch issues across the systems. RPA also helps in some testing and quality assurance aspects of the software that are rules-based testing and set up with an adequate testing environment along with the test data.
6. Invoice Generation
Invoice generation is the process that every business uses it as part of the financial aspects. RPA is a key technology implementation to automate the invoice generation process. It ensures the quality and accuracy of the invoices that are sent across to the customers and vendors efficiently. RPA bots connect to various CRM, SRM, and sales systems to collect the data and generate the invoices in a timely manner configured by the business houses.
7. Email Automation
There are several implementations happing for automating the mass email for digital promotions or email marketing. The RPA application uses the email-based software to automate the process of sending bulk emails with less time and avoids the risk of manual errors. RPA also applies to the email, helpdesk requests, order entry, invoices, bills, recurring statements or reminder emails associated with several services and product industries. Email RPA can be integrated with mostly used email service engine such as outlook, google email or other email exchange services along with the MS Excel, MS Word, SharePoint, Google sheets, active directories that are used in the organizations.
8. Accounts Reconciliation
Accounts reconciliation is a recurring and important task in the accounting and finance industry. The business uses RPA bots and technologies automation tools to process the reconciliation for accounts by comparing various documents such as statements, balance sheets, cash books, and receipts.
9. Report Generation
Another popular use of RPA technologies is the report generation process that reused in the business to track and reconcile the business process and performances. Some of the Popular report sales and revenue reports, opportunity tracking reports. RPA bots are integrated with several business applications and Business intelligence (BI) systems to generate the report in on-demand or a recurring basis.
10. Payroll and Human Resource Management
RPA is applicable to most of the Human resource management (HRM) process automation such as employee onboarding, generating the payroll, calculating the compensation and processing payment, generating and sharing the payslips, and other documents. RPA helps expedite the process with automated workflows and approval processes.
11. Compliance Management
RPA can be used with compliance management in the industry like health care, The modern day's digital health, digital banking, and finance, pharmaceutical industry, insurance businesses produce enormous data. RPA bots help the organization in the audit and compliance validation process that is very crucial for business governance.
Conclusion
RPA applications help the workforce associated with other productive business works by saving time and reducing manual dependency overheads. It helps to improve the quality of the process and reduces the risk of manual errors. RPA applications are evolving with advanced features and new business domains are integrating into these applications.
Recommended Articles
This is a guide to RPA Applications. Here we discuss an introduction to RPA with top 11 applications in in detail explanation. You can also go through our other related articles to learn more –