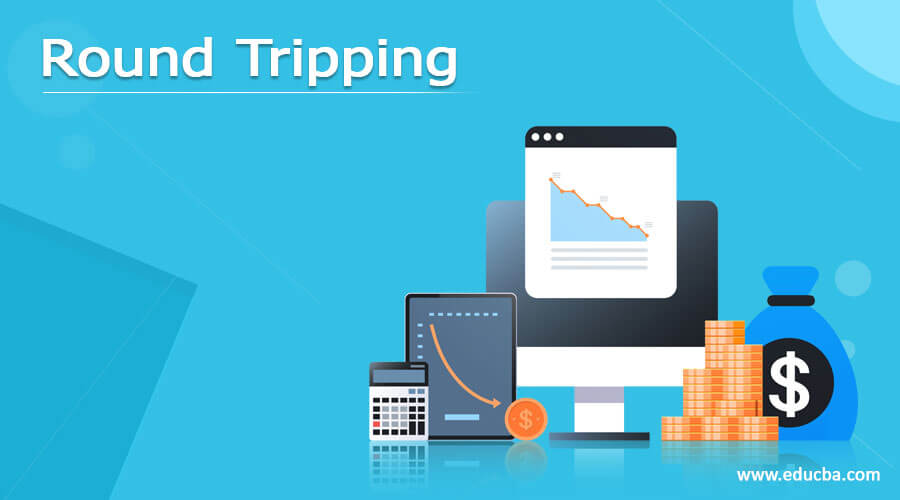 What is Round Tripping?
The term "round tripping" refers to the unethical practice of buying and selling the same securities repeatedly in an attempt to manipulate the observers to believe that the stakes are in high demand, which is not the case. Moreover, round-tripping tends to interfere with the technical analysis of volume data by making fake trading volumes.
It may also refer to a series of transactions among companies that intend to bolster their revenues but that, in the end, don't result in any real economic benefit for any of the involved companies. Finally, it can be seen as a form of barter that involves a company that sells a commodity to another company while agreeing to repurchase it at about the same price, which means no profit, no loss but an enhanced topline.
Key Takeaways
Some of the key takeaways of the article are:
Round tripping refers to the unethical practice of deceptive accounting to manipulate observers into believing something which not the case, such as revenue growth, high volume trades, etc.
It involves repeated buying and selling of securities or assets to inflate trading volumes and topline figures to scam various stakeholders.
It has been the reason behind several high-profile scandals, such as the Enron collapse.
Features of Round Tripping
Some of the main characteristic features of a round-tripping transaction are as follows:
It attempts to inflate trade volume through the simultaneous purchase and sale of securities/ commodities repeatedly repeated over time.
It inherently doesn't have any tax effect on the involved companies, as the net value of the transactions eventually ends up being zero.
The fictitious transactions have no material implications for revenue or business operations.
While these transactions are primarily unethical, not all are illegal. So, at best, these transactions can be termed to be disingenuous.
Why does Round Tripping happen?
Round-tripping transactions create an illusion of high trade volumes without any net impact on the financial outcomes (net income or earnings) of the securities or companies involved in the transactions. The following are some of the driving factors for round-tripping transactions:
The involved companies give the impression that they are busy doing business and growing faster than their competitors.
It helps the companies attract potential investors on the back of the increasing volume and growing topline.
The entities can evade taxes using a large volume of trades among shell companies established in some other countries.
Example of Round Tripping
Let us look at the illustration to understand round-tripping works in the real world.
The collapse of Enron in 2001 is one of the most famous cases of round-tripping. The company moved various high-value stocks to off-balance sheet (OBS) special purpose vehicles (SPVs) in exchange for promissory notes or cash, making it look like the company was generating a healthy profit by hedging the assets on its balance sheets.
These illicit transfers were backed by the company's stocks, resulting in a great disaster and colossal collapse. In addition to illegal and deceptive accounting practices, the company also fooled Wall Street and the investors into believing it was still one of the world's largest, most profitable, and most secured financial institutions while struggling to manage its book.
Later, the Securities and Exchange Commission (SEC) started an investigation to investigate the activities and found several guilty people who were imprisoned. The accounting firm that managed Enron's accounts was also prosecuted and guilty of participating in misleading bookkeeping activities. The firm was also charged with obstruction of justice by destroying documents that would have implicated members of the board (MoB) and various high-ranking company employees.
Source: Britannica
Advantages of Round Tripping
In most cases, round-tripping is seen in a bad light as it is often used to cheat observers and book profits illegally. However, in some rare instances in which it is done in good faith, round-tripping can result in the following advantages:
Governments use round-tripping in times of recession to expand the flow of money in the market.
Large organizations often employ these transactions as a tool for tax planning to the extent of tax savings, not tax evasion.
These transactions often pump liquidity into the market in adverse economic conditions.
Governments use it in their policies to pull back money illegally routed from home countries to foreign countries.
Disadvantages of Round Tripping
Some of the significant disadvantages of round-tripping are as follows:
First, it results in an illusionary growth story that manipulates investors into believing that the company is a growth-making entity.
Stock market players and insider traders illegally use these transactions to inflate market capitalization.
Many organizations use it for illicit activities, such as money laundering, tax evasion, etc.
It inherently violates the accounting principle of substance over form. In other words, the economic implication of a transaction is more important than its legality.
Conclusion
So, round-tripping is a market manipulation practice involving misrepresentation or illegal accounting activities that inflate various vital financial figures to scam different company stakeholders. In most cases, it artificially increases volume and revenues without adding economic value to the stakeholders. As a result, many companies engaged in round-tripping activities have been prosecuted and punished for their wrongdoings.
Recommended Articles
This is a guide to Round Tripping. Here we also discuss the definition, features, examples, and why it happens, with its advantages and disadvantages. You may also have a look at the following articles to learn more –