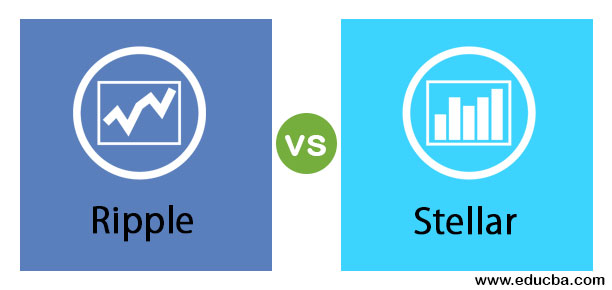 Difference Between Ripple vs Stellar
The cryptocurrencies market is flooded with many currencies. Some look similar, while others have slight differences. For example, stellar and Ripple both are ranked amongst the top 15 cryptocurrencies in performance. The main aim of Ripple and Stellar is to initiate cross-border payments and make them easy and cost-effective.
What is Ripple?
Ripple is the name of the company. Ripple does not work on blockchain like other cryptocurrencies. It works on its network. XRP is just a digital asset, i.e. the token is transferred through a system known as Ripple network. The development of this technology happened in Ripple labs in the US.XRP can be thought of as a joker card in the deck.
The main purpose of the invention of Ripple is to connect all the digital payments assets and the banks and transfer them. X Rapid is a symbol of to use of XRP assets. It is filling up the gaps between all the fiat currency (Fiat is any money declared by the government and does not have a fixed value) in all the transactions taking place across the globe.
XRP and X rapid are based on some algorithm back end known RCPA (Ripple Protocol Consensus Algorithm). Unlike other cryptocurrencies that work on blockchain, Ripple works on RCPA technology. The consensus in itself means agreement. It works as a storage system in ledger form. All the information is stored in this RCPA ledger.
This RCPA is frequently checked and managed by many independent bodies across the globe. They are called nodes which are the checkpoints. Any person or a bank can be these node points. In addition, there are trusted nodes that are given by Ripple, known as Unique Node List (UNL). Ripple suggests following them as they are trusted. The payment in Ripple can happen in any currency, including Bitcoin.
What is Stellar?
Stellar Development Foundation has founded Stellar, which is the name of the network. The currency of Stellar is known as Stellar lumens or simply Lumens. Stellar is based upon a blockchain network (A network of connected devices) to connect financial institutions. No matter what bank one uses on and convert currency, payments. A lumen is a unit of a Stellar network, just like bitcoin.1 lumen is similar to 1 Bitcoin. Stellar coding is much similar to that of Ripple. However, it is not a fork of ripple (A fork means building up of new blockchain by using the same codes of the old blockchain). Stellar has its stellar consensus protocol.
e.g. Ram lives in the US, and Sham lives in India. So ram wants to transfer $1000 to Sham.
By the Traditional Way: It would be transferred from one bank to another, consuming 5-6 days. This includes fees at all the exchanges and also bear the currency fluctuations.
By using Ripple: Ram buys Ripple himself goes to bank services that utilize xRapid services. The asset exchange and the xRapid services are supposed to be at both end originator (Ram) and Terminator (Sham) financial institution company. Within seconds (4 secs the average transaction time compared with hrs for bitcoins), these are covered in Indian rupees, says Rs73000 to Sham. So, Ripple works both as a platform and a currency in itself.
Before getting into differences, let's check a few similarities:
Same founder
Use for international transactions
Both use edger systems
Head to Head Comparision Between Ripple vs Stellar (Infographics)
Below are the top 9 differences between Ripple and Stellar:

Key Differences Between Ripple vs Stellar
Let us discuss some of the major key differences between Ripple vs Stellar.
1. History
Jed McCaleb and Chris Larsen founded the company OpenCoin in 2011, an originator company for Ripple. In 2012 Ripple gets released. Jed McCaleb launched the Stellar network in 2014. That means the parent for both is the same. Stellar was built after Ripple kept it as a building stone. Previously stellar was built to fill back the limitations of the previously founded Ripple, but then, later on, stellar became a currency in itself.
2. Target Audience
Stellar aims to target individuals at the user levels. Stellar is originated to help all needy audiences and increase their client base, helping out as many individuals as possible. Ripple wants to target financial institutions and banks. All the large corporations and financial institutes dealing with a large scale the network
3. Type of Organization
Ripple is a profit-making organization, while Stellar is a non-profit organization. This is because the founder wanted to do something for unbanked people who have no access. So created a non-profit organization. He has also given free lumens to the needy.
4. Software
Ripple works on a closed source, so everyone doesn't get permission. Stellar runs on open source, which means it is available to all. Being open, any individual can make changes accordingly as per requirements and use it.
5. Control
Ripple has its network and doesn't work on a decentralized network like blockchain. These are the biggest cons of Ripple. In the case of Ripple, it is only the developers how much to release and how much not. It is the same as investing in a bank. However, Stellar has a decentralized network like the blockchain technology and so doesn't have many restrictions.
6. Inflation
Ripple is deflationary, and Stellar is inflationary about 1 % per year. This is because stellar has a fixed flow rate to supply money anywhere in the world in a reliable, easy, and cheap way. Therefore, it has fixed nominal inflation.
Ripple vs Stellar Comparison Table
Let's discuss the top comparison between Ripple vs Stellar:
| | | |
| --- | --- | --- |
| Basis of Comparison  | Ripple | Stellar |
| History | Founded in 2012 by Jed McCaleb. | Founded in 2014 by Jed McCaleb. |
| Target Audience | FinTech companies and big organizations. | Every individual |
| Type of Organization | Profit-making organization | Non-profit organization |
|  Software | Closed source | Open-source |
| Control | Centralized control | Decentralized control |
| Inflation | Deflationary | Inflationary |
| Trading at (6th Nov 2019) | $0.299930 | $0.083134 |
| Market cap at (6th Nov 2019) | $12,521,461,484 USD | $1,599,200,999 USD |
| Partnerships | MoeyGram, Kotak, Induslnd, Axis bank, SBI Remt, etc | AnchorUSD,Wrex,Rehive,Smrtlands,etc |
Conclusion
There is huge testing going on in various companies for ripple. Few of the institutions use the Ripple network but do not use the currency. The plan for Ripple is to expand its networks in many prestigious firms well. Each investment has its own set of risks. If you see the charts, both have profred in the same way in the past. None of them is 100 percent safe. In spite of having the same founder both work for different client set and has a different ideology
Recommended Articles
This has been a guide to the top difference between Ripple vs Stellar. Here we also discuss the ripple vs stellar key differences with infographics and comparison table. You may also have a look at the following articles to learn more-