Updated November 18, 2023
Introduction to Richest People
In a world where economic prowess and innovation reign supreme, the fortunes of a select few shape the global financial landscape. The top 10 Richest people are at the pinnacle of fortune, with success stories spanning fields as diverse as technology and banking to fashion and philanthropy. This article delves into the lives and accomplishments of these billionaires, providing insight into the forces that shape our interconnected and dynamic world.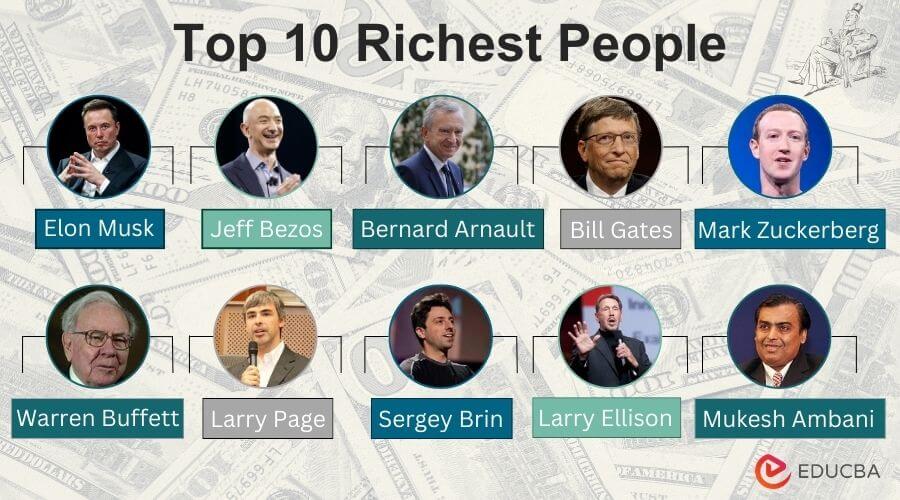 Top 10 Richest People in the World
Here is the list of the top 10 richest people in the world:
1. Elon Musk
Date of Birth: June 28, 1971
Net Worth: $241.2B
Education: Bachelor's degree in physics from the University of Pretoria (South Africa) and briefly attended a Ph.D. program at Stanford University (United States) but left to pursue entrepreneurial ventures.
Nationality: South African (born) and Canadian-American (naturalized).
Elon Musk is a tech entrepreneur, investor, and visionary known for his transformative work in various industries. He co-founded Zip2, which was sold for over $300 million, and later founded X.com, which became PayPal. Musk's biggest successes emerged through his ventures, such as Tesla, revolutionizing electric cars; SpaceX, advancing space technology; and Neuralink and The Boring Company, driving innovation in AI and tunnel infrastructure, respectively.
His innovative vision and disruptive ideas have garnered global attention, and his public persona on social media often generates headlines. 
Musk's ventures involve ambitious goals such as SpaceX's mission to colonize Mars and Tesla's efforts to redefine sustainable energy. His proactive engagement on Twitter and bold, future-oriented initiatives have solidified his reputation as a tech pioneer.
2. Jeff Bezos
Date of Birth: January 12, 1964
Net Worth: $167.8B
Education: Bachelor's in electrical engineering and computer science from Princeton University (United States).
Nationality: American.
Jeff Bezos is a business magnate and entrepreneur, best known as the founder of Amazon, the world's largest online retailer. Amazon, founded by Bezos in 1994 as an online bookstore, has since expanded into a diverse range of products and services. Under his leadership, Amazon became a global e-commerce giant, branching into areas like cloud computing (Amazon Web Services) and streaming (Amazon Prime Video).
Bezos' innovative approach to business includes introducing Kindle e-readers, acquiring Whole Foods Market, and establishing Blue Origin, a private aerospace manufacturer. In 2021, Bezos stepped down as Amazon's CEO but remains closely involved as the company's Executive Chairman. His impact on e-commerce and technology and his ventures into space exploration have made Bezos one of the most influential and wealthiest individuals globally.
3. Bernard Arnault
Date of Birth: March 5, 1949
Net Worth: $191.9B
Education: Bachelor's degree in engineering from the École Polytechnique (France).
Nationality: French.
Bernard Arnault is a French business magnate and the chairman and CEO of LVMH Moët Hennessy Louis Vuitton SE, the world's largest luxury goods company. Arnault oversees an extensive portfolio of high-end brands, including Louis Vuitton, Christian Dior, Givenchy, and Dom Pérignon.
Under Arnault's leadership, LVMH has become a powerhouse in the fashion and luxury industry, continuously expanding its influence globally. His strategic acquisitions and emphasis on craftsmanship have solidified LVMH's position as a leader in luxury goods. With his sharp economic acumen, Arnault, a prominent figure in the worldwide business community, has played a crucial role in establishing the modern luxury industry.
4. Bill Gates
Date of Birth: October 28, 1955
Net Worth: $116.4B
Education: Dropped out of Harvard University (United States) but later received an honorary degree.
Nationality: American.
Bill Gates, an American entrepreneur, software developer, and philanthropist, co-founded Microsoft in 1975. He played a crucial role in revolutionizing the personal computer industry by developing the Windows operating system. Gates' leadership and vision enabled Microsoft to become one of the largest technology companies in the world.
In 2008, Gates shifted his focus to philanthropy, co-chairing the Bill & Melinda Gates Foundation with his then-wife Melinda. The foundation is renowned for its global efforts to improve health care, reduce poverty, and enhance education. Gates' impact on the tech industry and his dedication to philanthropy have established him as a key figure in business and humanitarian efforts. His vision and contributions continue to shape the trajectory of technology and global health initiatives.
5. Mark Zuckerberg
Date of Birth: May 14, 1984
Net Worth: $118.7B
Education: Dropped out of Harvard University (United States) to focus on developing Facebook.
Nationality: American.
Mark Zuckerberg gained fame as the co-founder, chairman, and CEO of Meta Platforms, Inc., establishing himself as a prominent American entrepreneur (previously known as Facebook, Inc.). In 2004, Zuckerberg co-founded Facebook and turned it into the world's most popular social media platform. Over the years, he also expanded the company's influence by strategically acquiring other social media platforms like Instagram and WhatsApp.
Zuckerberg has earned recognition for shaping the social media landscape and significantly contributing to the advancement of online communication. His visionary leadership has led Meta Platforms to explore emerging virtual and augmented reality technologies. However, his influence has not been without controversy, with debates surrounding privacy concerns and the role of social media in society. Zuckerberg's entrepreneurial journey and Meta's evolution continue to shape the digital landscape, making him a prominent figure in the tech industry.
6. Warren Buffett
Date of Birth: August 30, 1930
Net Worth: $119.8B
Education: Bachelor's degree in business administration from the University of Nebraska–Lincoln (United States) and a Master of Science in economics from Columbia University (United States).
Nationality: American.
Warren Buffett is a renowned American investor, business magnate, and philanthropist. He is famously known as the "Oracle of Omaha." Buffett is the CEO and chairman of Berkshire Hathaway, a multinational conglomerate holding company, and has established himself as one of the most prosperous investors in history. His exceptional investment strategies and business acumen have earned him the reputation of being one of the most successful investors of all time.
Buffett's investment philosophy revolves around value investing and long-term thinking. Berkshire Hathaway's diverse portfolio includes significant holdings in well-known companies such as Coca-Cola, Apple, and American Express. Known for his down-to-earth demeanor and wit, Buffett has shared his investment wisdom through annual shareholder letters and is a respected figure in the financial world. In addition to his business success, Buffett has donated a portion of his wealth to philanthropy, particularly through the Bill & Melinda Gates Foundation. His investment and business strategies have impacted entrepreneurs and investors globally.
7. Larry Page
Date of Birth: March 26, 1973
Net Worth: $114B
Education: Bachelor's degree in computer engineering from the University of Michigan (United States) and a Ph.D. in computer science from Stanford University (United States).
Nationality: American.
Larry Page is a well-known American computer scientist and entrepreneur who co-founded Google. Along with Sergey Brin, he founded Google in 1998 and revolutionized internet search, transforming the company into a global technology giant. As the CEO of Google, Page played a pivotal role in developing products such as Google Search, Maps, and Android.
Page is recognized for his visionary approach to technology and innovation. Beyond Google, he has been involved in ambitious projects, including developing self-driving cars through Alphabet Inc. (Google's parent company) and exploring innovative solutions in various fields through Google X (now part of Alphabet's subsidiary, X Development).
Page's commitment to innovation solidifies his leading status in tech.
8. Sergey Brin
Date of Birth: August 21, 1973
Net Worth: $109.4B
Education: Bachelor's in computer science and mathematics from the University of Maryland (United States) and a Ph.D. in computer science from Stanford University (United States).
Nationality: American.
Sergey Brin, alongside Larry Page, is a co-founder of Google. He is a computer scientist and an entrepreneur. Born in Russia, Brin moved to the United States, where he met Page while pursuing a Ph.D. at Stanford University. Together, they developed the search engine to evolve into the multinational technology company Google. As Google's President of Technology, Brin played a crucial role in the company's early development and the creation of innovative products and services. Beyond search, Google has expanded into various areas, including Android, YouTube, and Google Glass.
Brin's impact extends beyond Google; he has been involved in Alphabet Inc. (Google's parent company), where he focused on ambitious projects through the subsidiary X Development. Brin's dedication to pushing the boundaries of technology has contributed to Google's status as a global leader and innovator.
9. Larry Ellison
Date of Birth: August 17, 1944
Net Worth: $145.3B
Education: Attended the University of Illinois and the University of Chicago but did not graduate.
Nationality: American.
Larry Ellison is an American business magnate and co-founder of Oracle Corporation, a leading multinational computer technology corporation specializing in database management systems. Ellison played a pivotal role in building Oracle into a major player in the software industry, providing a range of products and services.
Ellison's interests in sailing and aviation extend beyond his association with Oracle. He co-founded the Oracle Team USA, a sailing team with significant success in America's Cup competitions. Ellison also founded the aerospace company Planetary Resources, focusing on asteroid mining.
Ellison's leadership and influence in the technology sector and his ventures in other industries have contributed to his reputation as a dynamic and innovative entrepreneur.
10. Mukesh Ambani
Date of Birth: April 19, 1957
Net Worth: $91.5B
Education: Bachelor's in chemical engineering from the Institute of Chemical Technology (India).
Nationality: Indian.
Mukesh Ambani is the chairman and main stakeholder of Reliance Industries Limited, one of India's largest companies. Under Ambani's leadership, Reliance has diversified into various sectors, including petrochemicals, refining, telecommunications, and retail. He is one of the richest people in the world.
Ambani has been a key figure in transforming India's business landscape, particularly through the expansion of Jio, Reliance's telecommunications venture, which disrupted the Indian telecom market with affordable data and voice services. The company has also made significant strides in retail with the development of Reliance Retail. Ambani's influence extends beyond business, and is known for his philanthropic efforts. His initiatives have positioned him as one of India's most prominent and influential business leaders.
Conclusion
These individuals are magnates in their respective fields, demonstrating the dynamic and transformative nature of worldwide prosperity. From pioneering technological advancements to strategic business leadership, their influence spreads across sectors, affecting economies and shaping the future. The top 10 Richest people highlight the intricate interplay of entrepreneurship, vision, and social impact, leaving a lasting impression on the constantly changing global wealth and influence sphere.
Recommended Articles
We hope that this EDUCBA information on "Richest People" was beneficial to you. You can view EDUCBA's recommended articles for more information.