What is a Resignation Letter?
Leaving a job can be a bittersweet moment. While there is the thrill of new opportunities and personal growth, it can be challenging to bid farewell to familiar routines and colleagues who have become like family. However, writing a resignation letter can make the process smoother and less stressful. A resignation letter is an official procedure to inform the organization of your plan to leave the current role. 
A well-written resignation email reflects your professionalism and leaves a good impression, making your transition to your next career move smoother and more seamless.
To help you with the same, we have provided various templates of resignation letters for different situations below.
Key Highlights
Writing a resignation letter is an essential part of quitting a job.
Depending on the situation or company policies, there are different types of emails, such as notice-specifying, immediate, or simple ones.
In the letter, it is crucial to include clear information about your intention to resign, the notice period, and a brief expression of gratitude to the company.
Avoid any negative comments, inappropriate language, or bragging about your new position in the resignation email.
Resignation Letter Examples
Let's look at the following examples of resignation letters to better understand before proceeding into its details.
Example #1 A Simple Resignation Letter
A simple resignation letter briefly states that you will be leaving your post and does not include many details about the course of your resignation. Here is an illustration of the same.
James Wilde
Assistant Accounts Manager
123 Street
New York City, ST 123456
(123) 556-6778
[email protected]
January 10, 2023,
Dear Henry
I am writing to inform you that I will be leaving my position as Assistant Accounts Manager at XYZ Limited by next month, March 15, 2023.
I am incredibly grateful for the opportunity you gave me to work at XYZ Limited, which has helped me grow professionally and personally. Truly appreciate your encouragement and support throughout my tenure here.
Please let me know if there is anything I can do to assist during this time of transition.
Sincerely,
James Wilde
Example #2 A Resignation Letter With Two Weeks Notice
Sending your resignation email two weeks before your last day at the office gives management ample notice to consider your request and find a replacement. Here's an example of what your resignation email could look like:
Dear Henry,
I am reaching out to inform you that today, March 25, 2023, I have decided to resign from my position as Sales Manager at Williams & Son's Limited. The notice period would be two weeks, and my last working day would be April 8, 2023.
The last three years have been incredible for me, as I have had many opportunities to work on significant projects that have helped me to upgrade my skills and knowledge. I appreciate you for providing me with these opportunities.
Please let me know how I can assist you and the organization during this transition.
Sincerely,
Jonson Thomas
Example #3 A Letter Of Immediate Resignation
If you need to resign immediately due to an emergency, you can send a letter of immediate resignation. Remember that most workplaces have strict policies about resigning without notice, so you must have a compelling reason for doing so. Here's an example of what a short resignation email might look like:
Dear Mr. Mathew
I regret to inform you that I must resign from my position as Management Head with George Securities, effective immediately, due to unforeseen circumstances.
I apologize for any inconvenience this may cause and genuinely appreciate the opportunities you have provided me during my tenure here.
Please let me know how I can assist you during this process.
Sincerely,
John
Resignation Letter Template
A resignation letter template is a document that provides the proper format and outline for writing your resignation letter. It provides a basic outline that you can modify to suit your specific situation. By using a template, you can ensure that your resignation letter is clear, concise, and professional.
Here's an example of a simple resignation letter template:
Dear [Employer's Name],
I am writing to inform you that I have decided to resign from my position as [Your Job Title] at [Company Name]. My last day of work will be [Date].
I have enjoyed working with such a great team and gained valuable experience during my time here. However, I have made the decision to move on to other opportunities.
Please let me know how I can assist in making a smooth transition during my departure.
Thank you for the time I've spent working here and for all your support.
Sincerely,
[Your Name]
How to Write a Resignation Letter?
Writing a resignation letter may seem daunting, but it's necessary when leaving a job. Follow these steps to write a great resignation email:
1. Use a Business Format
Start your letter with the employer's name, business address, and date. Make sure to use appropriate spacing and margins.
2. State Your Intent
In the first paragraph, clearly state that you plan to resign. Keep your tone formal and straightforward. Avoid implying that you might stay if offered more money or benefits.
3. Give Your Last Day
Include the date of your last day of work. This helps your employer prepare for your departure and find a replacement if necessary.
4. Show Gratitude
Thank your employer for the opportunities they gave you and the support they provided. Share positive memories and acknowledge the company's role in your growth.
5. Wrap Up
Conclude your letter with a friendly tone, inviting your employer to contact you for help with the transition. Leave your personal contact information and sign off with "Regards" or "Sincerely."
Remember, it is a professional document, so keep your language formal and polite.
What Should you Include in your Resignation Letter?
There are a few things you should make sure to include in a letter. They are as follows: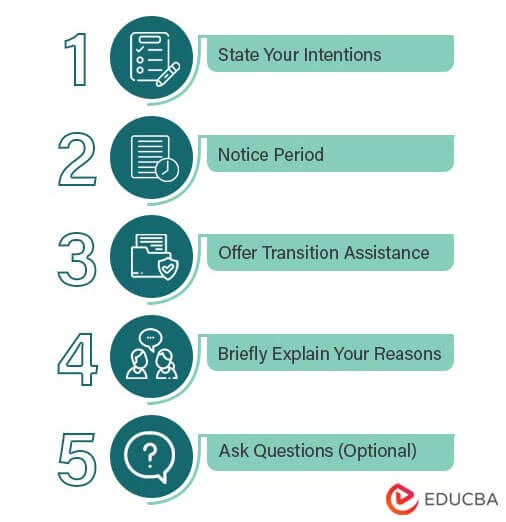 1. State Your Intentions
Clearly state in the letter that you are resigning from your current position. This lets the employer know that you are serious about leaving.
2. Notice Period
Check the company's policy before writing the letter to know how much notice period is required. Provide the required notice period or more to give your employer enough time to find a replacement.
3. Offer Transition Assistance
Offer to help with the transition by providing any necessary information, training, or documentation to make the process smoother for your employer and colleagues.
4. Briefly Explain Your Reasons
It is courteous to briefly explain why you are leaving the job, whether due to personal reasons, a new opportunity, or a career change. Keep it simple and professional.
5. Ask Questions (Optional)
If you have any questions about your final paycheck or other benefits, you can include them in the letter. You can also request an exit interview if necessary.
What Shouldn't you Include in your Resignation Letter?
When drafting a resignation letter, it is crucial to avoid including certain details. These are the things you should leave out: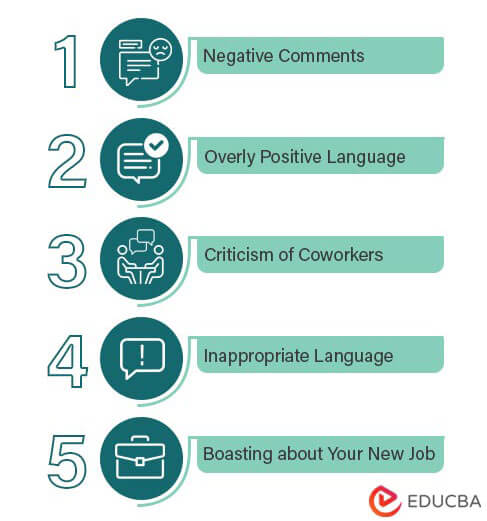 1. Negative Comments
Even if you disagree with some managers in the office, avoid criticizing them in your letter. Keeping a professional tone is important to prevent negative consequences such as poor reference. It is best to maintain a neutral and courteous tone.
2. Overly Positive Language
Using excessively flattering language about the company after expressing your dissatisfaction can be interpreted as insincere or disrespectful.
3. Criticism of Coworkers
Avoid being negative or critical towards coworkers in your letter or resignation email. It is better to express your thoughts in private or during exit interviews.
4. Inappropriate Language
Ensure that your letter is respectful and avoid using offensive language, regardless of your reasons for leaving. Write your letter while in a positive state of mind to avoid getting overly emotional.
5. Boasting about Your New Job
Refrain from mentioning your new position or how happy you are to leave in your letter. Avoid stating details such as salary or benefits. If there is a counteroffer from your company, it is better to discuss it in person.
Final Thoughts
When leaving a job, it can be tough. You put in a lot of effort over the years, so don't damage your reputation now. Instead, depart on good terms with minimal fuss. To do this, simply write a proper resignation letter.
Your work life is about to enter a new phase, so get ready and start drafting your resignation email!
Frequently Asked Questions
What should a resignation letter include?
When drafting a letter, include certain elements to ensure it is professional and effective. These elements include:
Date: Begin your letter with the date you are submitting it.
Recipient: Address your letter to the appropriate person, usually your supervisor or manager.
A resignation statement: Clearly state that you are resigning from your position, including the effective date and your reason for leaving (if desired).
A statement of gratitude: Express appreciation for the opportunities you had while working for the company and the skills you acquired while on the job.
Your final day of work: Provide the date of your last day. It should align with the notice period specified in your employment contract or company policy.
Contact information: Include your contact information, such as your phone number and email address, so your employer can reach you if needed.
Is the resignation letter to HR or the boss?
Your manager is the person you have been directly reporting to, and they will be responsible for managing your departure from the company. Therefore, addressing your resignation email to your immediate supervisor or manager rather than the HR department is important.
If you are still determining who to address the letter to, you can check your employment contract or company policy or speak to a member of the HR department for guidance.
What happens if a resignation gets rejected?
Resigning from a job can be emotional; handle it professionally to maintain a positive relationship with your employer. Be clear and respectful in communicating your intentions. If your resignation gets rejected, talk to your supervisor or manager to understand why. Your employer may need you to continue working on important projects or may offer incentives to retain you.
Recommended Articles
We hope that this EDUCBA information on Resignation Letter was beneficial to you. For further guidance on Human Resource-related topics, EDUCBA recommends these articles: