Updated April 10, 2023
Introduction to Red Hat Enterprise Linux Server
Red Hat Enterprise Linux server is an operating system that can be easy to understand, and simple to manage and it can be implemented on the self-support system in the cloud or as a guest. It can organize the hardware assets for all the fundamental pre-requisite and also it can manage all the main hardware platforms and large numbers of trading and conventional applications. It has been released in a server version for x86-64 and the Fedora Linux server serves as the upstream origin. It is an open-source operating system wrapped with software tools and services that have been outlined for corporate and career utilization.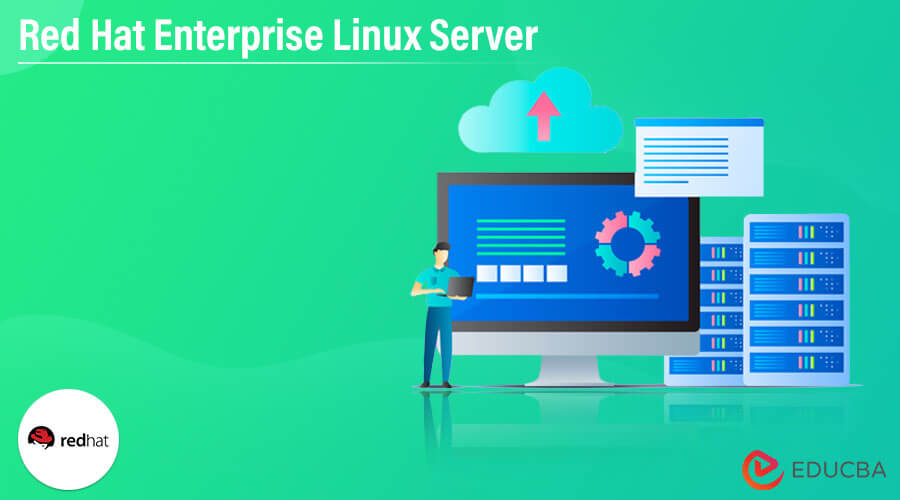 Key Takeaways
It provides enhanced stability over hybrid and public clouds.
The edge management capability of it can carry the services which give users the capability to observe and scute the remote deployment.
The RHEL 9 security release of it can have protection over the hardware level security.
What is Red Hat Enterprise Linux Server?
The Red Hat Enterprise is indicated as an open-source Linux operating system having software tools and services outlined for customer use. The Enterprise Linux dispersal has been constructed for corporate users which can take care of purchases, updates, and also applied support. Enterprise Linux can move business-critical applications that can order security, high accessibility, geo commemoration, live repair, and complete system return. The heavy work, like enterprise resource planning, customer relationship management, and large data interpretation can previously be managed by the huge exclusive.
Red Hat Enterprise Linux Server Value
Given below are the red hat enterprise linux server value:
1. Knowledge Values
Reference Architectures: It can browse comprehensive technical studies reporting solutions that were constructed, tested, and standard which can make sure that we can be able to execute steadily from the inception.
Documentation: This can help to search product documentation to assess, install, and support Red Hat products in assisted settings and configuration.
2. Support
Manage Support Cases: It can generate, route, and control your support-case activity.
Remote Support: It helps to ask for a remote session for assisting in diagnosing technical issues.
3. Security
Security Updates: In the case of security, it can observe security affix for Red Hat-managed products and services.
Security Tools: It helps to carefully recognize security issues with Red Hat-engineered applications.
4. Assurance
Certified Hardware: It gives value to the uncovered metals, appliances, and much other hardware from the Red Hat partner which is certified by Red Hat technologies.
Certified Software: It also provides value to the OpenShift operators, stored products, and also the traditional software which is certified for running on the Red Hat platform.
Red Hat Enterprise Linux Server Download
Let us see how to download the Red Hat Enterprise Linux8 for free of cost using the Red Hat Developer Program.
It authorizes individual-developer use of RHEL for integration, test, and production environments but will need the paid subscription.
First, we have to create a developer account and complete it by using the link https://www.redhat.com/wapps/sso/login.html.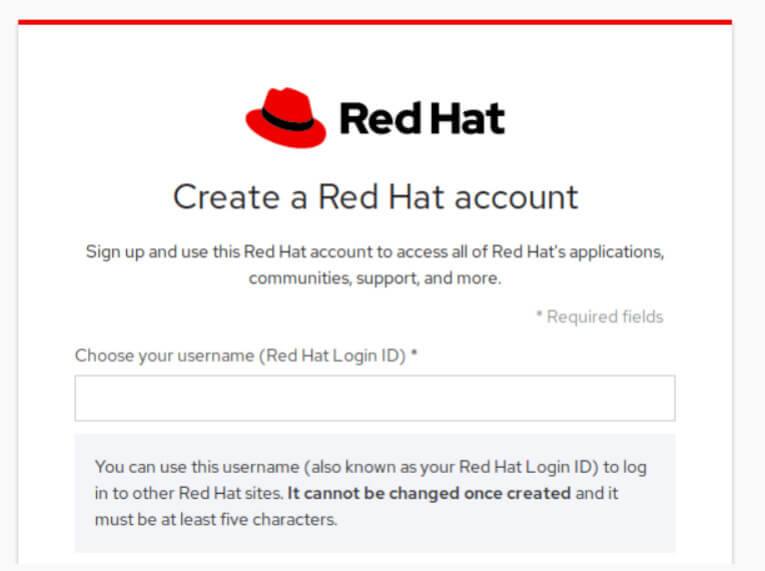 2. Then update the account by selecting the appropriate option.

3. After that click on the link https://developers.redhat.com/rhel8/and download the RHEL8 ISO file. After downloading we will be able to generate a bootable USB using the dd command which is given below.

Where "/dev/sdX" is the device name of our USB drive, and it can be get by running the command 'sudo parted -1'.
4. If we are using Windows, then we can able to generate a bootable USB with the help of 'Rufus'.
5. But if we want to install RHEL 8 in VirtualBox then we do not need to generate the bootable USB drive.
Buy
Red Hat Linux Server: This is easy to administer and simple for controlling the operating system that has been situated on the physical system. The starting price of it is US$349.
Red Hat Enterprise Linux for Virtual Datacentres: It provides limitless access to a heavy virtual environment on supported hypervisors. Starting price of it is US$2,499.
Red Hat Enterprise Linux Workstation: It provides improved high-performance graphics and animation. It can have all the potential and applications from the Red Hat Enterprise Linux desktop. Starting price of it is US$179.
Red Hat Enterprise Linux Developer Suite: It is a self-supported Linux dispersal having all Red Hat Enterprise add-ons at starting price of US$99.
Red Hat Enterprise Linux Developer Workstation: It has all the features similar to the Linux Developer suite with starting price of US$299.
Red Hat Enterprise Linux Developer Support: This can provide an unlimited number of events at starting price of US$5,000.
Red Hat Enterprise Linux IBM Power Little Endian: It extensively uses Linux dispersal which can put together POWER8 and IBM power systems, starting at US$269.
Subscription Guide
Red Hat application services products and the span of interest can have every product subscription.
Red Hat policies allow heavy distribution of subscriptions over all the premises, private cloud, and public cloud environments.
It also guides how to determine the number of claims which is needful against any customer life cycle at any location.
Use cases of implementing the Red Hat Application services over the public cloud and support.
Benefits
Open-source Enterprise Software: It gives access to the newest enterprise-ready Linux transformation which is constructed from a managed supply chain of open-source software having constant transportation of patches and improve at freely.
Deriving Open-source Technologies: It will give access to appearing open-source technologies because it is a guaranteed advisor and main patron to open-source communities.
Security Resources: This can trust the committed team of engineers who detect, recognize, and carefully inform customer risk. It improves the susceptibility by generating, testing, and distributing security spots to all versions of Red Hat Enterprise Linux in its managed life cycle.
Conclusion
In this article, we conclude that the Red Hat Enterprise Linux Server is an open-source operating system that can have the software tools and also the services outlined for corporate, and business uses, we have also seen its value, how to download, how to buy subscription guide benefits and key takeaways.
Recommended Articles
This is a guide to Red Hat Enterprise Linux Server. Here we discuss the introduction, red hat enterprise linux server value, download, and subscription guide. You may also have a look at the following articles to learn more –