Updated April 7, 2023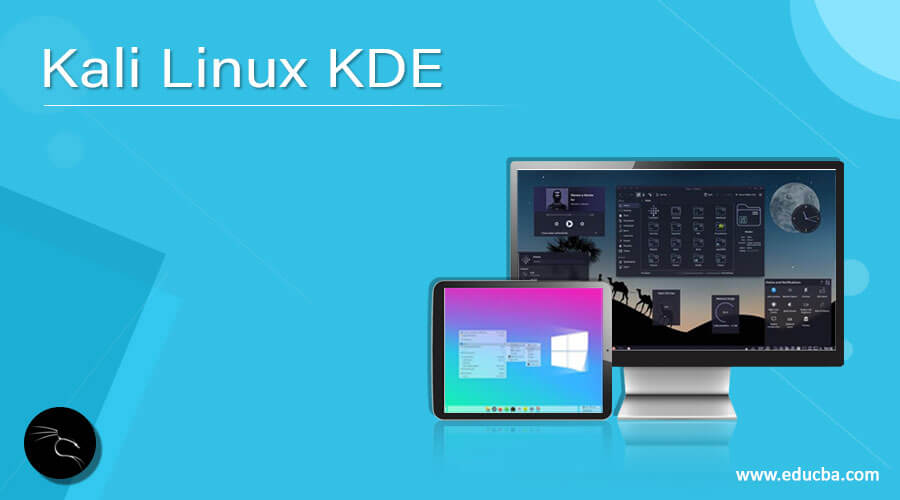 Introduction to Kali Linux KDE
Kali Linux KDE is defined as an environment for Kali Linux, a Linux based operating system. KDE is an acronym for K Desktop Environment and can be thought about as a GUI provider for Kali Linux OS. For conditions similar to DOS in a windows operating system, it is what Kali Linux is without KDE. In an analogous situation of Windows being a GUI provider for DOS, KDE also fulfills the need except for the fact that KDE is related to Linux through x server rather than the operating system. KDE as an environment has proven to be very easy for users to use Kali Linux as if they are working on a similar windows machine!
How does KDE work in Kali Linux?
KDE in Kali Linux is one of the environments for providing GUI to the Linux operating system, which is running at the backend. This project is built and maintained by well-known software developers of the KDE community. This project comprises three parts, and these parts play a key role in the working of KDE in Kali Linux. In this section, we will talk about the three parts in detail and hence understand holistically the working of KDE in Kali Linux.
KDE Plasma: This is a platform UI that consists of different workspaces like Plasma Desktop or Plasma Mobile. This element allows users to have the interface technology that, when adjusted, allows users to run various form factors like smartphones, desktops, laptops, tablets, etc. At the time of writing the article, the latest features of KDE plasma 5 are KRunner, which is a search feature with several plugins allowing users to quickly launch apps in addition to the search feature. Another feature is "Activities", having their own layouts and wallpapers. The next is having the flexibility to customize desktops, layouts, and panels on multiple screens available to connect. Session management is another feature to look out for.
KDE Frameworks: There are ready to use frameworks that are built on "QT" and houses a collection of more than 80 free to use libraries that are ready to use by the end-user. This element is the founding stone for KDE applications and can be used as a part of any other project that might need the utility of these frameworks to build on the requirement of the applications. Some of the notable frameworks are:
Kirigami: This a QML framework that enables developers to write and build applications the natively runs on Android, iOS, windows, etc., without any adjustments made to the code. This framework is highly convergent, responsive, and elegant. Also, it is open-source; users won't need to pay any fees for using the same.
ThreadWeaver: This one of the frameworks that offer users a high-level API for managing threads through job and queue-based interfaces. Thread execution can be easily scheduled by defining the dependencies and hence simplifying the use of multiple threads.
KConfig: To store and retrieve configuration settings, this framework comes in handy for users, and this framework features a group-oriented API. The codes generated are based on XML files.
KDE Applications: There are applications built for KDE and are utility applications for all Linux-based operating systems, not just Kali Linux. Applications are a bundle of software that is part of KDE's official release and are primarily built on the KDE frameworks we discussed above. KDE applications are de-branded and are available as a part of the release service.
The working of KDE in Linux is henceforth bound with all elements we discussed above, and with the synchronous working of these elements is how KDE works in Kali Linux.
Why do we need KDE in Kali Linux?
KDE is required in Kali Linux for various reasons like:
Integration: KDE has integration with a lot of applications and of all kinds, and no application needs to be specifically written for KDE.
UI provider: With the UI to work on, with Kali Linux running in the background, KDE eases out a lot on users so that one doesn't have to use the terminal always, and the work is through just with the click of a button.
Multiple desktops: Single desktop can be cluttered, and sometimes one would need 2 or more to keep things more organized, and that is where KDE comes in handy.
Advantages and Disadvantages
We now have a clear picture of KDE's working and the need for the hour for KDE in Kali Linux. Now it is time to go through the advantages and disadvantages so that one has a clear picture of what conditions one needs to use KDE and in what conditions using KDE might not be useful.
Advantages
KDE has its known flexibility and can be molded and customized to the taste of the user regarding the look and feel of the desktop.
The bundle of this is very lightweight, and it starts simple, but all lies in the hands of the user to try and make whatever one wants with this.
There are many tools present in KDE that allow users to use some repetitive works, which is in general required by ay user of an operating system. Something like calculator, internet, etc., are examples of the tools one uses frequently.
KDE has an office suite of its own known as KayOffice, and obviously a cool thing to have in an operating system.
Along with flexibility and tools, KDE has a lot of options for users, which allows users to do many complex things as well.
Disadvantages
KDE uses up a lot of system memory and resources, which makes it feels bloated. It is due to a lack of optimization in many areas and not just merely about the availability of numerous KDE tools.
The application installed is not yet eased as users have to open a terminal to install an application.
Flexibility to customize might not be a good thing for beginners in Kali Linux, and one might just get lost in the way of exploration!
Examples
Some examples from the dark and light themes in KDE Plasma in Kali Linux.
Lavender Plasma theme (dark):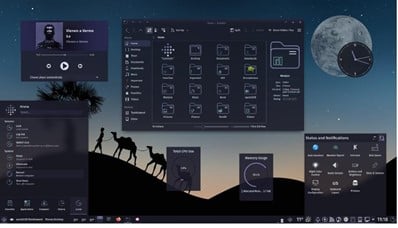 We10XOS theme (Light):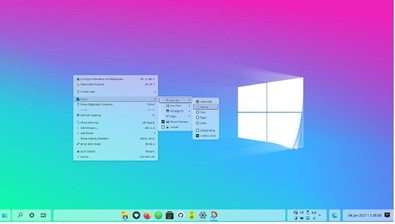 Conclusion
In this article, we have tried to take you through a wide range of KDE topics in Kali Linux and through the pros and cons of KDE as a whole in Kali Linux. With this information, it will be easier for anyone to assess and use KDE as a UI provider as per the requirements of the user!
Recommended Articles
This is a guide to Kali Linux KDE. Here we discuss the wide range of KDE topics in Kali Linux and the pros and cons of KDE. You may also have a look at the following articles to learn more –