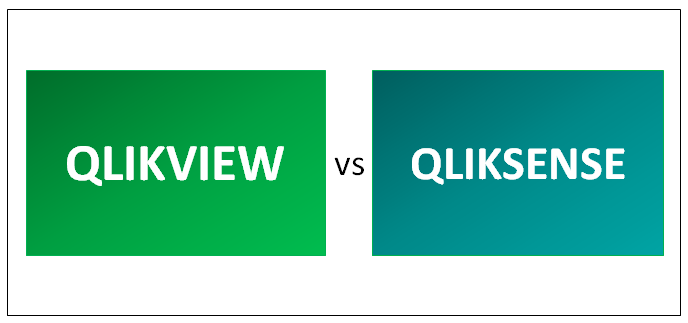 Differences Between QlikView vs QlikSense
QlikView provides an in-the-box application development platform. QlikView suits well for business applications for data analytics. QlikView is a tool for business applications, i.e. applications created by developers who put a lot of thought into the data model, the layout, the charts and the formula and it's going to deliver the applications to end-users who will consume the applications. This is called as Guided Analytics.
QlikSenseis a self-service data discovery tool for creating your own visualizations and applications. End-user have the freedom to create a layout of his own, new visualizations, a new pattern of charts with much more engaging and active features for Self Service data discovery. QlikSense is much easier to use when you have a touchscreen, and is adaptive to different screen sizes and form factors.
Head to Head Comparison Between QlikView and QlikSense
Below is the Top 15 comparison between QlikView and QlikSense:

Key Differences Between QlikView and QlikSense
The key difference between Qlikview and Qliksense are given below:
QlikView is most flexible business intelligence platform for changing raw data into knowledge. QlikView has the ability to write more advanced expressions. QlikView is the swiftest growing BI and data visualization tool, which is quick-to-deploy, easy-to-learn and perfect to get started with data visualization.
Qlik Sense's build and use approach make it easy for you to create visualizations to extend your analytical capabilities and add extra value. You can generate reports and detailed dashboards instantly in QlikSense, it is smart and user-friendly.
QlikView provides an in-memory feature that gives us better insight. It's also easy to drill down into the information and select information While QlikSense provides flexibility of a non-IT developed solution allows for fast to market solutions.
E-T-L, The Extract, Transform, and Loading capabilities of QlikView make it a highly sophisticated self-service business intelligence tool for developers and analysts while QlikSense has given us visibility into our data to make informed decisions.
QlikView's scripting is a great asset as it functions as an ETL while QlikSense has made life easier by visualizing data.
QlikView offers a Google-like search that functions in an associative manner, compiling results for the query as well as for data usually related to that query while QlikSense has a search bar function that allows users to type in phrases and keywords to quickly locate reports, data sets, charts, graphs and more.
QlikView has the ability to combine data sources while QlikSense lets users share several viewpoints at once when they're assigning a context to data.
QlikView is primarily a guided analytics solution. It allows users to drill down into, analyze and navigate data to explore questions and answers based on what's been built for them by an application developer while QlikSense is more a self-service data discovery tool that gives corporate marketers the freedom to create their own applications and visualizations.
QlikView and QlikSense Comparison Table
Below is the comparison table between QlikView and QlikSense.
| | | |
| --- | --- | --- |
|  Basis Of Comparisons | QlikView | QlikSense |
| Product Feature | Dynamic BI ecosystem and interact with dynamic apps, dashboards and analytics | Smart search feature like Google and functions in an associative manner |
| Connectors | Default and custom connectors | Fast and reliable connections to multiple data source. |
| Visualisations | Data Visualisations | Drag and Drop Visualisation |
| Product Info | Business Intelligence data discovery product that is used to create guided analytics applications as well as dashboards designed for business challenges. | A smart and user-friendly analytics tools that can generate personalized reports and very detailed dashboards in an instant. |
| Definition | QlikView is for Guided Analytics | QlikSense is for Self-Service Data Discovery |
| Focus | It is designed for Advanced Analytics | It focuses on business Use Cases |
| Filter | Deriving part of filters and allocating a separate sheet with filters is required | Filter  is not required |
| Suitability | Suitable for guided analytics | It is best to fit for self-service visualizations |
| Platform | Provides an in-the-box application development platform | Self-service data discovery tool |
| Choice Based | Less choice to make things good and work well | More advanced to display things in an orderly fashion |
| Advanced Features | Advanced Reporting Templates and Custom Reports | Powerful Open and Standard APIs with Multi-source data integration including big data |
| Devices Supported | Windows, MAC, iPhone, iPad, Web Based | Windows, MAC, iPhone, iPad, Web Based, Android |
| Language Supported | English | English, China, Germany, Japan |
| Data Loading | Data Loading is slower comparing QlikSense | Data Loading is faster in QlikSense |
| Storey Telling | QlikView Lacks the feature of Storey Telling | QlikSense has a feature of Story Telling |
Conclusion
QlikView vs QlikSense are Qlik's two popular products in the business intelligence software market. Both platforms are built on the same, patented framework: the Qlik Associative Engine, which offers powerful aggregation and on-the-go calculations that simplify data exploration. Both QlikView and QlikSense make it easy to explore and visualize data. However, because of its drag-and-drop interface and self-service functionality, QlikSense is likely a better choice for most organizations who are new to Qlik. QlikView and QlikSense have varying strengths and weaknesses that are common when comparing business intelligence solutions. While QlikView is ideal for guided analysis, it lacks responsiveness. QlikSense, on the other hand, is mostly drag-and-drop, which makes it easier for the non-developer to work with.
Recommended Articles
This has been a guide to Differences Between QlikView vs QlikSense. Here we have discussed QlikView vs QlikSense head to head comparison, key difference along with infographics and comparison table. You may also look at the following articles to learn more –