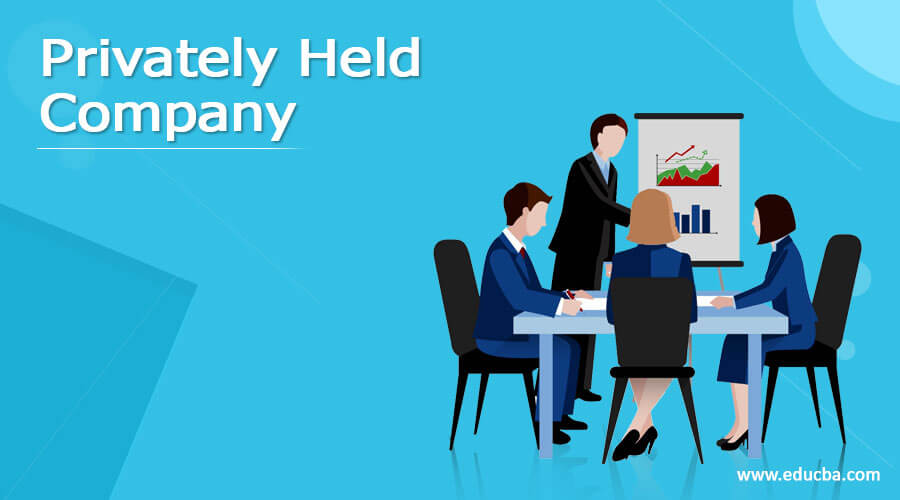 What is a Privately Held Company?
The term "privately held company" refers to a company owned by a relatively small number of shareholders or a non-governmental organization whose shares are not offered for sale or trading to the general public on the stock exchanges. Instead, the shares or stocks of these companies stock are traded or exchanged privately.
In several instances, once publicly traded companies have also converted themselves into privately held companies through a leveraged buyout. The privately held companies are also popularly known as private companies, private corporations, limited liability companies, or limited companies, depending on the country in which they are incorporated and their structure.
How does a Privately Held Company work?
A privately held company may issue stocks and bring in more shareholders, but their stocks don't trade on public stock exchanges. Hence, private companies are not required to meet the strict filing requirements of the Securities and Exchange Commission (SEC) that public companies need to do. Consequently, the shares of these companies are less liquid, and it is very difficult to determine their valuations.
All the US companies start their businesses as privately held companies. However, different private companies vary in size and scope, covering millions of individually owned businesses and dozens of startups. Privately held companies include family-owned businesses, partnerships, sole proprietorships, and small to medium-sized enterprises (SMEs). Given the lack of access to public funding through stock exchanges, these companies can only raise money through private investments, loans from lenders, or company profits.
Who owns a Privately Held Company?
Typically, a privately held company is owned by a small number of shareholders, investors, a non-government organization, or even a single individual. The shareholding seldom changes as it doesn't offer its stocks for sale to the public on stock exchanges. In the case of share transfer, it takes place privately among a small number of existing shareholders or a few new investors.
Example of Privately Held Company
Globally, many privately held companies comfortably outnumber the number of public companies. It is true that many large businesses eventually become public at some point to access the capital markets and enhance their liquidity). However, there are a large number of well-known companies that are still held privately. These well-known privately held companies include Koch Industries, Deloitte, PricewaterhouseCoopers (PWC), Ernst & Young (EY), KPMG, C. Johnson, IKEA, Rolex, and LEGO.
Types of Privately Held Company
Three major types of privately held companies exist sole proprietorship, partnership, and limited liability company.
1. Sole Proprietorship
This type of privately held company has only one owner. There is no separation between the entity and the person owning it. The company owner exercises unlimited freedom and right in making company decisions. However, it results in huge risk as the owner is personally responsible for all its liabilities. It is way more difficult to raise funds for a sole proprietorship.
2. Partnership
It is just an extension of the sole proprietorship with the only difference in the number of owners, which is more than one. Like sole proprietorship firms, the owners here enjoy unlimited autonomy to make decisions, but that comes in exchange for unlimited liability.
3. Limited Liability Company (LLC)
In this type of privately held company, multiple owners share the responsibilities. An LLC enjoys the benefits of both partnership firm and corporation. Two major advantages of LLCs are that the owners can have a pass-through income tax, and they only bear limited liability to the extent of their own in the business.
Why do Private held Companies stay private?
Although there are many reasons why companies choose to remain private, some of the most important ones are as follows:
Being a public company puts the entity under an additional layer of scrutiny. According to the SEC, public companies must issue shareholder reports in compliance with the Generally Accepted Accounting Principles (GAAP). Although private companies must keep their books in shape and present shareholder reports, there are seldom any immediate legal implications due to late reporting or lack of reporting.
The privately held companies have the flexibility to employ different types of corporate structures that are not possible in the case of public companies. Moreover, even private companies can use terms and conditions that the investors won't allow in public companies.
Staying private also helps promoters maintain family ownership of the business without having to answer many shareholders or investors. Many of the largest privately held companies today have their legacy, having been owned by the same families for multiple generations.
Key Takeaways
Some of the key takeaways of the article are:
A privately held company is a business company owned by a relatively small number of investors or a non-governmental organization.
Its shares are not traded publicly on the stock exchanges. Instead, whenever there is a need to raise capital or ownership, the shares are issued or exchanged among a small group of people.
Many public companies become privately held companies through leveraged buyouts.
The privately held companies can be divided into – sole proprietorship, partnership, and limited liability companies.
Unlike a public company, a privately held company doesn't need to answer many public investors while making important decisions.
Conclusion
So, it can be seen that there are benefits of staying private, and so many large companies continue to remain privately held companies. However, liquidity and funding may become difficult for these companies, so many large privately held firms eventually choose to become public through an IPO. Whether remaining private or going public depends on business needs and objectives.
Recommended Articles
This is a guide to Privately Held companies. Here we also discuss the definition, working, examples, types, and why companies choose to remain private. You may also have a look at the following articles to learn more –