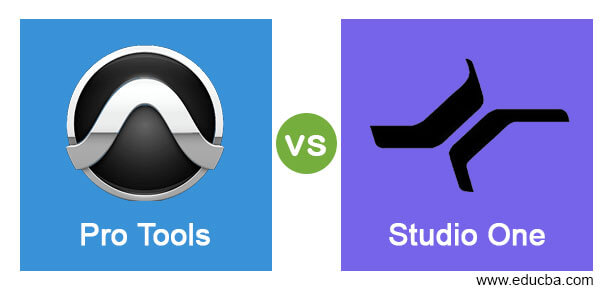 Difference Between Pro Tools vs Studio One
The following article provides an outline for Pro Tools vs Studio One. Pro Tools is a digital audio workstation that works for editing as well as mastering processes of a number of audio tracks; not only editing; it also deals with production,creation and recording of sound or music as audio tracks by using its most favorable tools for audio editing. Studio one is also a digital audio workstation thatstands with DAW and focused on recording,editing ,and mastering and music. It also has a function which can incorporate with videos for improving it in different aspects. Both software are a product of different developer and companies. Having being different developer,both software has different terms and ideas for doing the some type of work in their own way and have a specific configuration for getting the the best result.
Head to Head Comparison Between Pro Tools vs Studio One (Infographics)
Below are the top 7 differences between Pro Tools vs Studio One:

Key Difference Between Pro Tools vs Studio One
Let us discuss some of the major key differences between Pro Tools vs Studio One:
By analyzing these differences, you can have an idea about which one will be good for you to start working with any one of them.
The first thing that to your mind is how much you have to pay for having them in your hand or how you can get it? Or is it free or not? So if you want to have Pro tools software,you can purchase it by paying $299,and you will have an annual subscription. In this package,you will have free supports features as well as all updates. This is the starting pricing of an annual subscription of this software,and it may vary according to additional features and tools. For $899,you can have a Pro ,tools' perpetual license, which is also for an annual subscription with all updates and supports. There is one plus point to its users because it offers free trials so that you can have an idea about its working andnvironment before purchasing it.
Studio One has a different versions. Accordingg to version,s, its price varie. For example,s Studio One 5 has different pricevalues., Studio One Professional hasa  different ones, so you can check it by visiting its official website. It also offers a free trial for understanding about it,so you can also go with the free trial option available on its website.
You can use Pro Tools individually for audio editing purposes or use it with a conjunction withwithwith another external converter, convertingog single to digital and enhanenhancings ability. It can also work with PCIe cards with onboard digital signal processors (DSP),and this DSP provides additional processing power to the host computer for management of real-time effects such as compression, reverb and equalization.
Whereas about the Studio One's functionality,ncludes multi-track recorders options, audio mixing consoles, and ,some others, which makes it's working smoother not only this, but you will also have unlimited track and bus count for dealing with audio editing as well as mastering process in it.
Pro Tools vs Studio One Comparison Table
Let's discuss the top comparison between Pro Tools vs Studio One:
| | | |
| --- | --- | --- |
| | Pro Tools |  Studio One |
| Definition | Pro tools are used to edit and create music ando by using a different typestypesudio editing technology features. | Stu featuresdio one is that digital audio workstation which deals with recording, mastering, and editingr having the high-quality results. |
| resultsInitially Released | Avid Audio develops Pro Tools under Avid Technology,and formerly, it was known as Digidesign,but it has a different developer who developed it originally,and they were Evan Brooks and Peter Gotcher. On January 20, 1989,which is 32 years ago, it was initially launched. | PreSonus developed on September 27, 2009,which is 11 years ago for editing of digital audio but its original developer was Matthias Juwan and Wolfgang Kundrus. |
| Latest or Stable Version | Its stable version is Pro Tools 2020.12 and released by its developer on December 22, 2020. | On March 9, 2021, its latest or stable version was released and named as 5.2.0 version of it. |
| Operating System | Microsoft Windows and Mac OS are compatible operating systems of it and give it a smooth working environment. | It can easily run on Microsoft Windows and Mac OS because it has compatibility with these operating systems. |
| Supported Languages | English, Chines (both traditional and simplified), German, French, Japanese, Korean and Spanish are 8 languages that are supported by this software. | It supports 8 different types of languages for making it accessible to more people,and these languages are English, German, French, Spanish, Italian, Portuguese, Japanese and Chinese. |
| Type and License | Digital Audio Workstation is its category,and it has a proprietary license scheme. | You can categories it also in the Digital Audio workstation,and is has a Commercial proprietary software license. |
| Availability | www.avid.com/pro-tools is that website; by visiting here, you can download it for your pc and enjoy it all features. If you want information about systems requirement and all that, that is also available here. | www.presonus.com./products/studio-one is the website link from where you can have this software and download it to start working with it. Here you will also have a number of related information with this software. |
Conclusion
Now we have gathered all possible information about Pro Tools and Studio One for analyzing them on the basis of their features, requirement, availability, working ability and many more. You can now try the free version of any one of the software for starting using them as editing as well as the mastering of audio or music software.
Recommended Articles
This is a guide to Pro Tools vs Studio One. Here we discuss the Pro Tools vs Studio One key differences with infographics and comparison table. You may also have a look at the following articles to learn more –