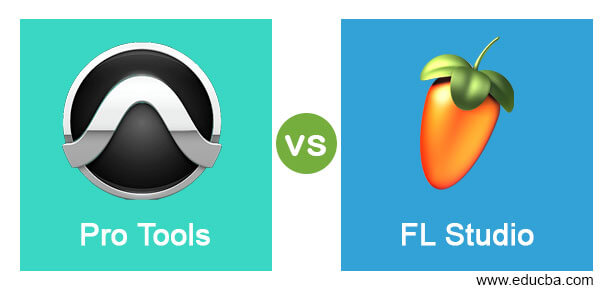 Difference Between Pro Tools vs FL Studio
The following article provides an outline for Pro Tools vs FL Studio. Pro Tools is a workstation which deals with editing and mastering processes of digital audio not only this it also involves in creation as well as production, recording of music or sound for different purposes and was developed by Avid Technology with lots of advance features. FL studio is also DAW that means digital audio workstation which works for management of audio, music or sound and for doing number of essential changes in them which gives good sound quality as well as effect. Both do their work in very smooth way but have different features and tools for same type of work.
Head to Head Comparison Between Pro Tools vs FL Studio (Infographics)
Below are the top 8 differences between Pro Tools vs FL Studio:

Key Difference Between Pro Tools vs FL Studio
Let us discuss some of the major key differences between Pro Tools vs FL Studio:
Here we will see an overview about what are special things by analyzing which you can differential this two software.
The very first thing is that FL Studio can also works as virtual studio technology instrument (VST) with other audio workstation programs not only this but also functions as a ReWire client. You can also have its own VST as well as audio applications which are offers by Image line for making it more efficient. Whereas Pro Tools can work in both condition that is standalone and in conjunction with other external analog to digital converters as well as PCle cards which combines with on board DSP (digital signal processors) and DSP helps host computer for processing of real time effects by providing additional processing power to it. These effects may include equalization, compression, reverb and also for obtaining lower latency in audio performance.
Pro Tools software can purchase in $299 by making it as annual subscription plan payment and you will have all updates and support free with it. It is starting price of annual subscription and will change according to additional features. For Perpetual license of Pro Tools you have to pay $899 for annual subscription payment and it also have all updates and support facility with it. You can also go with free trial version for learning about it and can interact with it before start making it your pet software.
FL studio offers different type of pricing facilities in term of editions to its users for making them comfortable. If you want full song creation and extra plugins package then you have to pay $299 and this package named as FL Studio Signature Bundle, for full song creation with mic recording feature you have to pay $199 and you can find it with name FL Studio Producer Edition, by paying $99 you can have basic melody and loops creations features as well as tools and name of this package is FL Studio Fruity Edition, for complete access you have to pay $499 and it can find with name FL Studio All Plugins Edition. Apart from paid version of this software you can also have free trail facility offers by it but it is for limited time with limited features and it may good choice for learning about it first.
We saw features and facts of Pro tools and FL Studio which can build a great information box in your mind and you can use that for making selection among them.
Pro Tools vs FL Studio Comparison Table
Let's discuss the top comparison between Pro Tools vs FL Studio:
| | | |
| --- | --- | --- |
| | Pro Tools | FL Studio |
| Definition | Pro tools deals with editing, creation and management of digital audio by using its most compatibility tool with audio files. | FL studio works for getting high quality of result in digital audio editing as well as creates high impact music or sound. |
| Developer | Developer of Pro Tools was Avid Audio under Avid Technology which formerly known as Digidesign but its original developer was Evan Brooks and Peter Gotcher. | It was developed by Belgian Company which was Image-Line software but originally its developer is different who is Didier Dambrin. |
| Initially Released | Initially it was released for public use on January 20, 1989 which is 32 years ago for dealing with audio creation and editing challenges. | On December 18, 1997 it was initially released which is 23 year ago. |
| Latest Version | On December 22, 2020 its stable version released which means its latest version and names as Pro Tools 2020.12. | 20.8.2 is its latest version and released on March 1, 2021 with lots of updated features. |
| Written in Language | It is written in C, C++, and Assembly computer language. | It is written in Delphi, C++, Objective-C and Assembly language. |
| Operating System | It has its compatibility with different operating systems such as Microsoft Windows and Mac OS. | You can run it on Microsoft Windows and Mac OS also. |
| Supported Languages | 8 languages are supported by its which are English, Chines (both traditional and simplified), German, French, Japanese, Korean and Spanish. | It supports English, Chinese and Dutch languages only. |
| Availability | You can go with www.avid.com/pro-tools for having more information about it and can also download it from here. | Visit on www.image-line.com for having this software and also for other related information of basic requirement of it |
Conclusion
Now after going this article you can find out what this software are and for which purpose they are using? You have now information about from where you can get exact details of both software from this article for analyzing them deeply so that you can start working with anyone of them
Recommended Articles
This is a guide to Pro Tools vs FL Studio. Here we discuss the Pro Tools vs FL Studio key differences with infographics and comparison table. You may also have a look at the following articles to learn more –