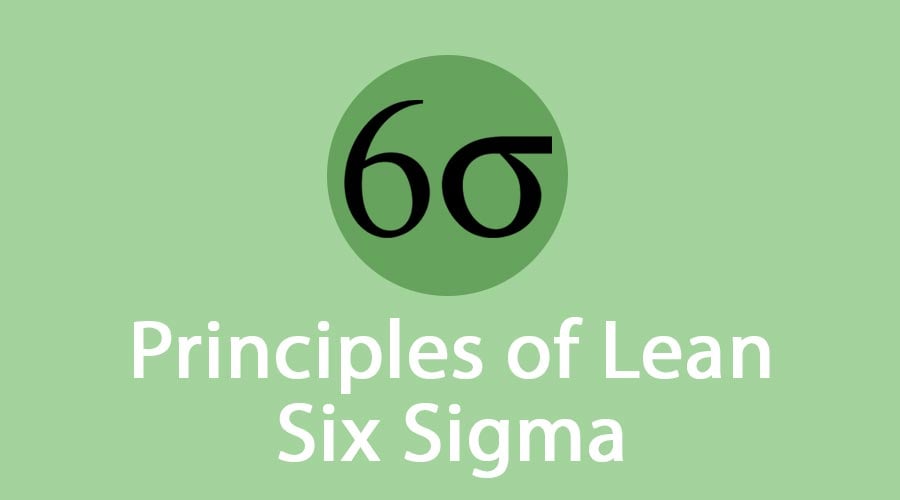 Principles of Lean Six Sigma
Today's globalized dynamic environment demands high competitiveness and is digitally influenced for the potentially sustainable growth of the company. So this competitive edge necessitates following some management approaches to instigate performance or productivity. Lean Six Sigma approach is one of the management approaches which is successfully implemented across many sectors and industries like information technology, telecommunication, FMCG, healthcare, service sector, finance, etc. to transmute processes to business management processes. The integration of lean and six sigma ensures exceptional improvement in a performance like employee engagement and commitment towards customer satisfaction. In this topic, we are going to learn about the Principles Of Lean Six Sigma.
ASQ (American Society for Quality) states, "Lean Six Sigma is a fact-based, data-driven philosophy of improvement that values defect prevention over defect detection". These two approaches have been combined together to form an effective tool to enhance business processes. The lean principle focuses on the reduction and elimination of waste and six sigma emphasizes variation-reduction in waste.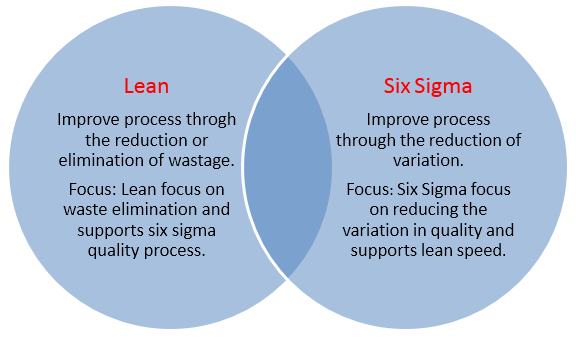 What is Lean?
In order to assure sustainability in today's unpredictable rapid changing economy, the industries must reduce or minimize the waste and maximize the customer value. Lean is a systematic approach that ensures of removing wasteful steps in the process and taking only value-added steps which will benefit streamline processes, lower manufacturing cost,s and reduce unnecessary waste. The wasteful steps like overproduction, defects of product or services, unprocessed inventory, extra processing, unrecognized talent, unnecessary transportation cost, long waiting for equipment and unnecessary motion of personnel or tools, etc. enhance the cost of production which leads to customer dissatisfaction due to the excessive price of ultimate product or service. That is why the industries should practice a lean management approach that promotes a continuous chain of improvements.
It aids in
improving product or service delivery time.
reducing the chance of defect.
reducing process cycle time.
optimizing key improvements
reducing the wastage of inventory.
Some important tools of lean approach are VSM (value stream mapping), Kaizen (Continuous improvement), Kanban, Gemba (Go & See), JIT(Just in Time), Poke Yoke, etc. which industries may use for elimination of wastage.
What is Six Sigma?
Six Sigma helps to improve the end quality of products ensuring minimum quality variation. It is a method of statistical quality control (SQC) and a data-driven problem-solving methodology that ensures 3.4 defects per million output unit. Six-Sigma is also defined as a measurement of process performance with continually striving to reach the ultimate goal of six sigma by reducing the defects in quality control.
| | | |
| --- | --- | --- |
| Sigma Level | Defects per million | Yield |
| 6 | 3.4 | 99.99966% |
| 5 | 230 | 99.977% |
| 4 | 6210 | 99.38% |
| 3 | 66,800 | 93.32% |
| 2 | 308,000 | 69.15% |
| 1 | 690,000 | 30.85% |
There are two kinds of statistical methods to advance quality level by reducing variability. These methods are – DMAIC ( D- Define, M- Measure, A- Analyze, I- Improve, C- Control), DMADV (D- Define, M- Measure, A- Analyze, D- Design, V- Verify). Six Sigma DMAIC approach is used for the existing process; on the other hand, when designing a new process DMADV is used.
Principles of Lean Six Sigma methodology
Every business leader optimizes streamline workflow and elimination of unnecessary or repetitive tasks in order to execute the workflow efficiently and effectively. The combination of lean philosophy and statistical approach of six sigma is to reduce wastes and variation of quality control.
In order to produce the best result, the following principles of lean six sigma (LSS) can be considered.
1. Focus on Customer: One of the most prudent business advice from experts that customer satisfaction is the ultimate goal of any business. By giving importance to customer's needs, a business can improve its product or service quality. After all, everything revolves around customer opinions. Before implementing any drastic or minor changes in product or service, it is the primary goal to establish and maintain quality standard what market or customer demands.
2. Figure out the root cause: It is essential to figure out the root cause for the complete realization of the actual working process. To achieve this
Business leaders must have a clear understanding of the reason for data collection and what kind of data will be collected.
Establish a standardized data collection system.
Ensure accurate communication.
Ensure accurate measurement system.
After the collection of data, it is the primary work to determine whether the data will meet the goal or it will be needed to be changed. If required, the data should be improved to optimize the process by focusing on the root cause with a slight (incremental) variation.
3. Eliminate variation: After detecting the root cause of variation, now it's time to find ways to eliminate it which is only trash in the process. The business manager has to be very proactive to identify the variation and take prompt action to eliminate it. Streamlining or eradicating those variations is the ultimate way to make the process waste-free and effective.
4. Teamwork: The business leaders and team members must have clear knowledge about lean six sigma processes. The members of the team need to be trained in six sigma's methods including measurement methods and improvement tools. In addition, each member of the team should enhance his or her communication skill so that he or she can serve or communicate efficiently with the customers and coworkers.
5. Create a culture of flexibility and responsive: Lean Six Sigma (LSS) always demands to accept positive change. That is why any kind of change in process should be communicated clearly among the employees at the beginning and even motivated them to receive the change professionally.
To cling with any kind of faulty or inefficient process or function is not acceptable in LSS; though the change in the processor in management sometimes become challenging, yet the faulty one must be refined or removed before it becomes obvious.
Therefore, we can encapsulate that the integrated approach of lean six sigma aids in improving process efficiency, elevating utilization of resources, enhancing customer satisfaction significantly with the improvement of increased profit and curtailing costs. Both the improvement and processes go hand in hand to implicate the improvement of existing processes.
Recommended Articles
This has been a guide to Lean Six Sigma Principles. Here we have discussed the Principles of Lean Six Sigma Methodology. You can also go through our other suggested articles to learn more –