Updated June 6, 2023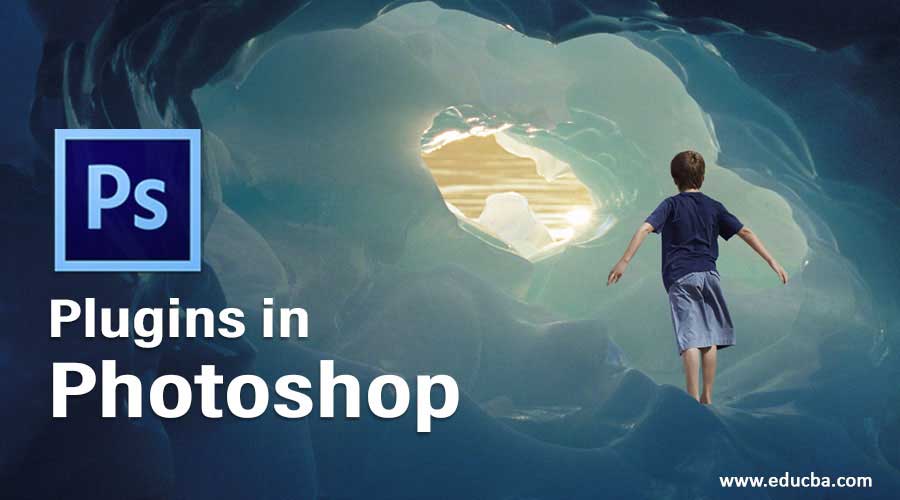 Introduction to Photoshop Plugins
Plugins in Photoshop are add-on programs designed to provide additional image effects or perform tasks intended to make the work of the user more interesting and easier by offering the user with new and creative effects and filters such as lighting, color, HDR, etc.; these plugins are smaller applications in itself that render support to the main program, and in fact, all the effects and filters that you see in the filter menu of Photoshop are all plugin modules which has a powerful effect if used appropriately in your projects.
Steps to Install Plugins in Photoshop
Start Photoshop.
Choose Edit from the dropdown menu, and choose Preferences > Plugins.
Check the additional plugins folder box to receive the latest files.
Download a filter or plugin to your drive in the system.
Unlock your program files folder and choose your Photoshop folder.
Unlock your plugins folder present inside your Photoshop folder.
Pull your new Photoshop plugin from the drive where you saved it into the plugins folder.
Start Photoshop again and locate your new plugin under filters in the dropdown menu.
Top 13 Plugins in Photoshop
Given below are some of the Photoshop plugins:
1. Ink
Ink is one of the premier free Photoshop plugins out there. It permits designers to produce functional user interfaces and mockups, which allows an inexpert Photoshop consumer (developer) to perceive the design elements within a coding structure. In short, Ink makes it simple to converse your design by producing full specifications such as layer styles, text formatting, and dimensions.
2. ON1 Effects
This plugin provides you access to twenty-three filters that can be stacked, which permits you to construct layers of various effects. It also supplies hundreds of borders, presets, and textures. You also get control over different tools that assist you in softening and coloring your images easily.
3. Camera Raw
This plugin allows you to emend and intensify raw files from your digital camera and TIFF and JPG files. A raw file is nothing but raw image information from your digital camera.
You can use Adobe camera raw plugin to enhance raw images, place white balance, and modify the contrast, among many other characteristics. The critical part of this plugin is that it utilizes non-destructive editing, which signifies it does not modify the original image file in case you want to get back to it after you finish your editing.
4. Chameleon Adaptive Palette
This plugin is a sharp palette system that adjusts exceptionally. It provides a scale of strips with some characteristics, but each update automatically depends on your selected color. In addition, the strips can be secured to react as a fixed palette or unlocked to provide discrete forms. This Photoshop plugin is filled with features but should not strain your CPU.
5. Powtoon
This plugin permits you to transform your Photoshop designs into animated video content. Select to export all or choose Artboards, then intensify your animated sketch with stock footage, custom animation, and representation, or append a soundtrack. Eventually, export straight to Facebook, YouTube, Vimeo, MP4, etc.
6. Texture Anarchy
This plugin provides a library of various textures and filters for Adobe Photoshop. Compared to similar plugins like ON1 Effects, the better one is the certainty that the textures it creates depend on fractal noise, making it simple to produce organic pictures like smoke, fire, or marble.
7. Flatico
This plugin provides thousands of free vector icons that you can download in multiple formats, such as PNG or SVG. When you install FlatIcon, you can browse through its database of icons from within Photoshop and place the icons straight into your design group.
8. Fluid Mask 3
This plugin assists you in eliminating backgrounds and executes cutouts. Masking, which also means the invisibility of a part of a layer, is an intricate and often complex procedure. Fluid Mask 3 is one of the sporadic plugins that provide you with a spotless and precise mask, especially with complicated regions like fur and hair.
9. Noiseware
This Photoshop plugin has won an award for noise reduction. Noise is the deep-colored grains or stains found in images that make them look spotty or hazy. Noiseware eliminates the stains from pictures and enhances them simultaneously, permitting you to cleanse the images swiftly and professionally.
10. RH Hover Color Picker
This color plugin provides you with more authority over the colors you select with its collection of sliders that can be customized. The hover color picker is appropriately named because it only discloses itself when you hover over its smaller version and then hides once you finish utilizing it.
11. Machine Wash Deluxe
This plugin appends discordant, hardened effects to your images. The plugin provides 3,500 presets that permit you to modify and texturize pictures in thousands of manners to make them appear mature, vintage, or ethereal.
12. ParticleShop
The plugin painter is a time-honored digital artwork favorite among illustrator users, but Corel has ultimately ushered its brush technology to Photoshop with ParticleShop. Brushes can make a vast distinction to your inventiveness and efficiency, and this strong Photoshop plugin provides non-destructive brushstroke layer assistance and eleven upgraded brushes that includes fabric, debris, fur, fine Art, light, hair, smoke, space, and storm.
13. Eye Candy
Eye Candy, created by Alien Skin, is one of Photoshop's top eye-catching plugins and has been in the market for over ten years. Version 7 supplies a large scale of effects varying from Chrome to Firefox, extrusions to glass. While many look like they are helpful initially only for producing tacky effects, it is astounding how many schemas you will discover them practical in.
Conclusion
These Photoshop plugins mentioned above are utilized to append distinctive attributes or effects, rationalize the procedure of numerous graphic design effects, or build your digital designs to be more imposing. Photoshop plugins provide a swift and simple way to expand the tool's potential. The correct plugin can save time, open the latest characteristics, and even your workflow.
Recommended Articles
This is a guide to Plugins in Photoshop. Here we discuss the introduction, steps of installation, and the top 13 Plugins in Photoshop. You may also look at the following articles to learn more –