Updated June 26, 2023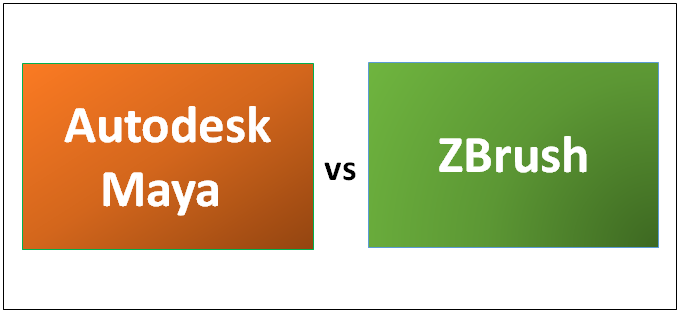 Difference Between Maya and ZBrush
Maya is a leading and superior software for 3D Graphics, Animation, Visual Effects, Gaming applications, etc. Alias System Corporation initially devolves this software. Maya has written in MEL (Maya Embedded Language), C++, and Python. ZBrush is an advanced sculpting tool or application that combines 3D/2.5D modeling, texturing, and painting. This software is best for digital sculpting comparison to any other 3D software. While working with ZBrush, you can convert your imagination to display. It works on pixel technology.
Autodesk Maya
It launched 1st version of this software, Maya 1.0, in February 1998. Later, Maya was bought by Autodesk in 2005, and this software was renamed to Autodesk Maya; Autodesk did not change its parent name, Maya.
This software support on following platforms.
Windows 7 or later versions.
Maya also wins the Prestigious Award Academy Award for Technical Achievement.
OX 10.11 or later
Linux RHE/Cent OS 6.5or later
The last version, which supports 32-bit and 64-bit operating systems, was version 2013.
Maya 2009 or later version doesn't support on Linux platform.
This software is available in three languages English, Japanese, and Chinese.
In the year 2003, for scientific and technical achievement
In the year 2005, for the invention and application of subdivision surfaces.
Maya Plugins
Maya has various plugins which are used as extensions and catalysts for Maya. These plugins are are associated with different fields such as modeling, rendering animation, etc.
Dynamics Plugins: – Ziva, Miarmy, Dynamics, and Pulldownit.
Fluid Plugins: – Glu3d and Realflow
Import/Export Plugins: – Collada and OpenGEX
Modeling Plugins: – Xfrog, LBrush, Lipservice, etc
Rendering Plugins:-Render Man, 3Delight, Maxwell Render-Ray, etc.
Crowd Simulation Plugins:- Golaem crowd.
VR Plugins:- VR-Plugins.com and Marui-Pluigns.com.
Applications of Autodesk Maya
Maya is software used worldwide in different industries and for different applications. Maya is used in industries like film, television, and Video games. You can examine the Maya effect in the latest released famous Hollywood movies like Despicable Me 3, Mega Man, Ironman, Avengers, Incredible, Jurassic World, Transformers, Spiderman Ant-Man, and many more. TV series like Kung Fu Panda, Spy Kids, etc.Video games like Monster Hunter, Sonic Forces, etc.
Except for these industries, Maya is used for Modeling, rendering, animation, 3Dvisulisation, Visual Effects, Motion Graphics, etc.
ZBrush
Pixologic Inc initially developed ZBrush. This software was launched in 1994. The demo version of this software, ZBrush 1.55, was established in 2002; later, version 3.1 was released in 2007. In the year 2009, they were planning to launch version 4.0 to support Windows and Mac systems, but later on, it was postponed.
Pixel technology is similar to pixel, except it contains Z-direction information on depth, orientation, and material information, while pixel contains only X and Y position and color information.
Then ZBrush launched version 3.5 in September of the same year with some new features. Finally, version 4.0 launched with the name GoZ (Go ZBrush) 4.0. This version of ZBrush offers various integration with popular software like Autodesk Maya,3dMax, Cinema4D, Lightwave 3D, Poser Pro, Daz Studio, Elias, Modo, and Blender. ZBrush launched owns a stable version in March 2018.
Main tools of ZBrush
3D Brushes
Polypaint
Transpose
ZSphere
Best preview render
DynaMesh
FiberMesh
Zremsher
Shadowbox
GoZ
Applications of ZBrush
Movies/VFX
Video games
Illustration
Advertising
3D printing
Scientific Visualization
Automotive design
Jewelry design
Education
Head to Head Comparison between Maya and ZBrush (Infographics)
Below are the top 11 difference between Maya vs ZBrush :

Key Differences between Maya and ZBrush
Both are popular choices in the market; let us discuss some of the major difference :
Autodesk Maya
The new feature are –
Motion Graphics:-
3D Type
Improved vector graphics workflow
Motion graphics toolsets
3D Animation
Parallel rig evaluation
Geodesic voxel binding
General animation tools
Shape authoring workflow
Animation performance
Time editor
3D Modeling
Enhanced symmetry modeling
Revamped sculpting toolset
Polygon modeling
Dynamic and effects
Deep adaptive fluid simulation
Faster, easier to use XGen
Adaptive aero solver in Bifrost
Bifrost ocean simulation system
Interactive hair grooming
Maya cloth
3D rendering and shadings
Additional look development shading nodes
Arnold integrated with Maya
Render setup
Color management
Next-gen viewport display and shading
Pipeline integration
Scripting and API
Data and scene management tools
Scene Assembly Tools for smarter data
ZBrush
Main features 
Base mesh creation
Sculpting,
Texturing,
Rendering,
Import/Export
New features 
Getting Started with sculptris pro
Project primitive
Polygroupit
New Gizmo 3D Deformers
New snake hook brushes
Mode to remember to draw size
Gizmo Equidistant multiple copies
New curve stroke function and actions
Displacement maps and HD geometry
Plugins
Head to Head Maya vs ZBrush Comparison Table.
Below is the Topmost comparison:
| | | |
| --- | --- | --- |
| Keys features  | Maya | ZBrush |
| Definition | Maya is a 3D graphics application | ZBrush is a digital sculpting tool used for creating a high-resolution model. |
| Modeling Rank | 5th | 2nd |
| Application | It's come with all packages. Everything you can do | It's good for modeling detailing and texturing only |
| Ease of use | Difficult to learn | Easy to learn |
| Price | Costly | Cheap |
| Conjunctions | Maya is available in a complete package | It's a pipeline app that uses conjunctions with other software |
| Resolution | Lower | Higher |
| Known | Maya is mainly known for animation | ZBrush is mainly known for Sculpting, |
| Tools | It's come with pre-installed tools | ZBrush allows you to make your tools and brushes |
| Usages | Maya is used for animation, VFX modeling, rendering, and lighting | ZBrush used for sculpting, rendering, and texturing |
| Geometry configuration | Maya is a complete 3D package | ZBrush is 2.5D software |
Conclusion
Autodesk Maya is a complete package that provides modeling, simulation, rendering, visual effect, motion graphics, and animation. Because of this software, only the film industry changed drastically. It's Market-leading software that is easy and faster to use. It's compatible with multiple supporting platforms.
Whereas ZBrush is good enough in some applications like Sculpting, texturing, and modeling, Millions of polygons in ZBrush make it more efficient and specific in some files; that's why it is called Digital sculpting software.
Recommended Articles
This has been a guide to the top difference between Maya vs ZBrush. Here we also discuss the Maya vs ZBrush key differences with infographics and comparison table. You may also have a look at the following articles to learn more.