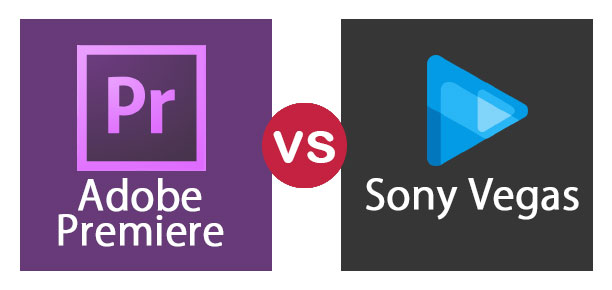 Difference between Adobe Premiere vs Sony Vegas
Adobe Premiere
Adobe Premiere is software which is used for video editing. It is developed by Adobe system and it is one of the software of creative cloud (CC).Adobe first time launched in the year 2003. Adobe Premiere Pro is an upgraded version of Adobe Premiere. Adobe premiere launched in the year 1991 and it was the first computer-based nonlinear editing system which is released on Mac system. But later on from version 6.0 Adobe premiere abounded Mac support until they launched Adobe Premiere Pro 2.0 (CS).
Adobe Premiere Pro and Adobe Premiere Element are sibling software. Adobe premiere pro used for video editing by Professional and Element used for video editing by consumer market (Home user). Adobe Premiere Pro and Element both support window 7 and later version and Mac OS X and later version. There are various advantages over Adobe premiere Element like Pro has the ability to support multiple sequences, Multi-camera editing, time remapping, Scope, advanced color correction tool and advance audio mixer. Premiere Pro has also encore for more elaborate Blu-ray and DVD authoring option and on location for direct to disk recording.
Its allow editing high-resolution video up to 10240 X 8192 pixel at up to 32 bit per channel color in both RGB and YUV. It has the ability to edit audio and surround sound mixing capability as well and it also supports VST audio plug-in. its support wide variety of file format for Import, Export, video and audio files. It has an ability to support 3D editing with an ability to view 3D material using 2D monitors with the help of CineForm's new line of plugins.
Adobe System launched its first version in the year 1991 with the name Adobe Premiere 1.0 for supporting Mac only. The first version of Adobe premiere which supports on the window is Adobe Premiere 1.0 launched in Aug 1993. From the year 1998, they launched its version Adobe Premiere 5.0 which support both Mac as well as Windows. From the year 2003 Adobe launched its Premiere Pro version from the name Adobe Premiere Pro 1.0 (CS). The last version under this Package is Adobe Premiere Pro 6.0 (CS). Later on, they launched its Pro version under creative Cloud series starting from Premiere Pro 13.0 (CC) to Premiere Pro 19.0 (CC) which is recently launched by Adobe system on Oct 15, 2018.
Pixel technology similar to pixel except it contains additionally Z-direction information on depth, orientation, and material information while pixel contains only X and Y position and color information.
Sony Vegas
Sony Vegas is video editing software. Its nonlinear editing software originally developed by Sonic foundry in between 1999 to 2003 then updated and run by Sony creative software from 2003 to 2013 and lastly run by Magix from 2016 to present. This software supports only windows platform. The name of this software become Vegas on the name of its developer its Vegas creative developers.
Sonic Foundry launch Vegas as an audio editing software initially, But later on they plan to launch this software for audio as well as video from Vegas version 2.0.Versions.
Sony Foundry launched its preview version on June 1999. It's known as multitrack media editing system, officially released on July 1999 for audio editing only with name Vegas 1.0. They launch with the same series up to Vegas 7.0 in the year 2006. Afterward 2006 they launch with name Vegas Pro 8.0 and so on. The latest version under this series launched recently on 27 Aug 2018 Vegas Pro 16.0.
Applications
The main application is video and audio editing. This software mostly used by broadcasters. Several You Tubers, Social sites content creators, filmmakers, etc. Various award winners used this software at a time of presenting own videos and feature on the big stage like film fare awards. It's relatively cheaper than any other competitive software. Vegas has some unique features.
Real-time multitrack video and audio editing on unlimited tracks.
Resolution independent video sequencing.
Support for Gigapixel Image
VST and DirectX plugins effect
Dolby digital surrounding and mixing
Complex effect and compositing tools
24 bit192KHz audio support
Vegas Pro product series
Vegas Pro edit
Vegas Pro
Vegas Pro 365
Vegas Pro Suit
Movie studio product line
VR
Add on
Head To Head Comparison Between Adobe Premiere vs Sony Vegas (Infographics)
Below are the top 13 differences between Adobe Premiere vs Sony Vegas.

Key differences between Adobe Premiere vs Sony Vegas
Both Adobe Premiere vs Sony Vegas are popular choices in the market; let us discuss some of the major Differences Between Adobe Premiere vs Sony Vegas:
Adobe Premiere Pro
Mobile editing with all new premiere rush.
Intelligent audio clean up
Selective color grading
Data-driven infographic
Motion graphics templates
End to end VR 180
Spatial markers for immersive media
Adobe stock enhancement
Group invite for team projects
Display color management
Performance improvement
Expanded format support
Creative Cloud library improvements
Australian closed-captioning standard
Language support for keyboard shortcuts
Theatre mode in adobe immersive environment
Sony Vegas
Motion tracking
Video stabilization
Streamline your workflow
Dynamic storyboard and timeline interaction
Extensive file backup option
Drag media bin to timeline
Resizable media thumbnails
Project media hover scrub
Project media in/out points
Preview multiple selected project media files
Select an event from crushor
High DPI scaling
Automatic subtitle creation from timeline regions or a file
Add missing stream
HDR Support
360 media editing
Bezier masking OFX Plugin
Displacement maps and HD geometry
Plugins
Adobe Premiere vs Sony Vegas Comparison Table
Below are the Topmost Comparisons between Adobe Premiere vs Sony Vegas.
| | | |
| --- | --- | --- |
| The Basis Of Comparison Between Adobe Premiere vs Sony Vegas | Adobe Premiere | Sony Vegas |
| Definition | Premiere is video editing software | Vegas is audio and video editing software |
| Animation tool | Yes | No |
| Video Transitions | Yes | No |
| Visual effect | No | yes |
| 3D Editing | Yes | No |
| Learnability | Hard | Easy |
| Operating System | Mac and Windows | Windows only |
| Compatibility | Good | Comparatively not Good |
| Cost | Costly | Cheaper |
| Position | 1 | 2 |
| Complexability | More | Less |
| Performance | Not good as Vegas | Better |
| Integration | Good with other software | Not Good |
Conclusion – Adobe Premiere vs Sony Vegas
No doubt, Adobe Premiere is more capable and better than Sony Vegas, both Adobe Premiere vs Sony Vegas are professional software. Compatibility of Adobe premiere is good with other software's. Its integration with other app is also better than any other software but many things like Vegas performance better than Adobe Premiere. It's quite user-friendly software, the only drawback of this software is its compatibility and integration otherwise it could be better than Adobe Premiere.
Recommended Articles
This has a been a guide to the top difference between Adobe Premiere vs Sony Vegas. Here we also discuss the Adobe Premiere vs Sony Vegas key differences with infographics, and comparison table. You may also have a look at the following articles to learn more –