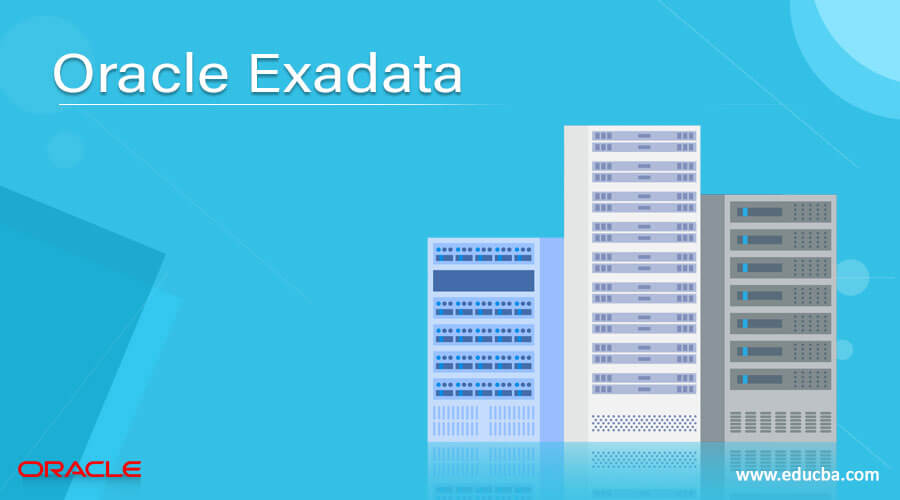 Introduction to Oracle Exadata
Oracle Exadata defines a solitary platform that conveys optimum database enactment and productivity for the mixed data, OLTP workloads, and analytics. Having a complete range of positioning options permits the user to execute the Oracle Database as well as data workloads where we need, how we need – on evidence, in the Oracle Cloud or Cloud at the customer in our data center or maybe any arrangement of these models. Today, thousands of users all over the world practice the Oracle Exadata to execute mission-critical Oracle Databases, to minimize costs with cloud infrastructure in Oracle, associate database infrastructure, on-premises distributions, and [email protected]
Why do we need oracle Exadata?
We have the following five prior reasons to select Exadata for operating the Oracle Database:
Enhanced for Oracle Database: For constructing the database infrastructure applying a generic methodology means that the IT budget vanishes when the business raises quickly which denotes that this generic infrastructure makes problems. So, Oracle Exadata functions here that engineers for serious database workloads. Hence, it provides additional power and with reduced use of hardware ultimately eradicating the IT complexity.
Supplies workload performance with scale: As the databases become more which means big data, several users, operations, and copies to handle and regulate which results in complexity issues in architecture and makes the level of IT unsustainable. In this case, Oracle Exadata helps to increase productivity as well as growing revenues having minimum cost and difficulty, which makes the performance to be maximized to 100 times to manage the databases easily.
Operationally effectual: if we have several databases and rely on hardware then it increases the complex infrastructure with problems in maintaining and tuning every database which overloads the IT management. For this, Oracle Exadata delivers better database and application enactment with minimum hardware having fewer licenses. Oracle database supports tuning, upgrades, reinforcing, controlling the cost, and observing it.
Capitalize on availability and security: Having better data security and updated databases may be critical to the business tasks to produce revenue for the organization. But the database extension creates hardness to connect for steady performance and protection of sensitive information present on the server. Therefore, businesses implement the Oracle Exadata to execute their most significant database workloads and removing the system downtime with redundancy and security.
Equipped for the cloud: In business, it requires the cloud strategy to be basic and complete for implementation. For development and testing to run globally, the generic approach and database infrastructure cannot fully deliver on-premises and public cloud compatibility. So, here Oracle Exadata offers the benefits of both cases by supporting to manage on-premises in a traditional way thus, managing compatibility between on-premises and public cloud.
How do Oracle Exadata works?
The Oracle Exadata Database Machine is defined as a calculating platform that is elevated for executing the Oracle databases. It is a combination of both software and hardware platforms that comprise scale-out Intel x86-64 storage and computes servers, InfiniBand or RoCE networking, NVMe flash, persistent memory, and dedicated software.
Exadata is intended to execute Oracle Database workloads like an OLTP application implementing concurrently having Analytics processing. Traditionally, database calculating platforms were designed for a distinct workload like Data Warehousing and for unusable other workloads like OLTP.
But Oracle Exadata permits varied workloads to share system resources impartially with resource controlling features supporting prioritized distribution like often favoring workloads examining communicating users in excess of reporting with batch but even if they are retrieving the similar data.
Thus, Oracle Exadata is a calm to install solution developed for presenting the Oracle database which provides the greatest levels of database performance prevailing.
Advantages and disadvantages
Some of the advantages are mentioned below:
The identical capabilities, on-premises data centers and in the cloud.
More storage resources, flexibility, and scalability.
Tranquil digital transformation and supports security with reduced IT complexity.
Advanced concert for all workloads.
Lesser infrastructure and administration costs.
High throughput speeds analytics
Accelerates the transaction processing with low-latency.
Empowers relaxed growing with scale-out architecture.
Smooth flash cache.
Rises uptime with no solo point of a let-down.
Defends privacy with end-to-end encryption.
With minimum privileged administration preventing access.
Increasing uniformity with IO Resource Management.
Database licensing budgets is abridged with query offload.
Supports Disaster recovery for oracle Data Guard as well as Oracle GoldenGate.
Also, a few of its related disadvantages are listed below:
Oracle Exadata is a pre-configured grouping of hardware and software.
Exadata is not an appliance as Oracle Database Appliance(ODA).
Used for big guns not concerned towards only small or medium-sized businesses.
No support for storage replication or any remote mirroring technology used for disaster recovery.
Examples
Here is the list of few examples of Oracle Exadata i.e. from the Exadata Product family which delivers an entirely integrated database system for better performance:
Exadata Database Machine X2-2: It consists of three versions as the Full Rack, Half Rack, and lastly Quarter Rack on the basis of performance, size and I/O requirements of the server database to be installed.
Exadata Database Machine X2-8: It mixes an outstanding architecture having scale-up and scale-out by providing a grid infrastructure.
Exadata Smart Flash Cache: This feature of Oracle Exadata intelligently helps to cache database objects in the flash memory.
Exadata Storage Expansion Rack: This is engineered to make a humble, firm, and robust method to supplement extra storage capacity to an Exadata Database Machine or supercluster.
Exadata Smart Scan Processing: It supports offload database backups and table space creation with fast processing.
Exadata Smart Memory Scans: It delivers high operative scan bandwidths with less cost and increases in capacity of disk and flash.
Exadata User Storage Virtualization: It is implemented to handle the storage in the Exadata cell for virtual presentation of the disk objects and making configurations flexible.
Usage of Oracle Exadata
There are following usage in the server management listed as follows:
Associate with the database as a service to lower the complexity in architecture and costs.
Implement mission-critical apps at the promptness of business with up to lower latency 98% and refining the performance of consumer applications.
Producing fresh insights with Oracle Exadata which functions data warehouse quicker, in Oracle Cloud Infrastructure or on-premises.
Speed up application improvement to help developers enable new capabilities under budget on time.
Construct machine learning prototypes 10X wilder to the prevailing databases easily.
Conclusion
The Oracle Exadata is the finest place and greatest on-premises system to execute the Oracle Database in the cloud.
We can streamline the private database clouds with the help of Oracle Exadata in customer data centers, minimizing the complexity and dropping the costs by up to 40% which is explained in Wikibon's analysis(PDF).
Recommended Articles
This is a guide to Oracle Exadata. Here we discuss How does Oracle Exadata work along with the examples, advantages, and disadvantages. You may also have a look at the following articles to learn more –