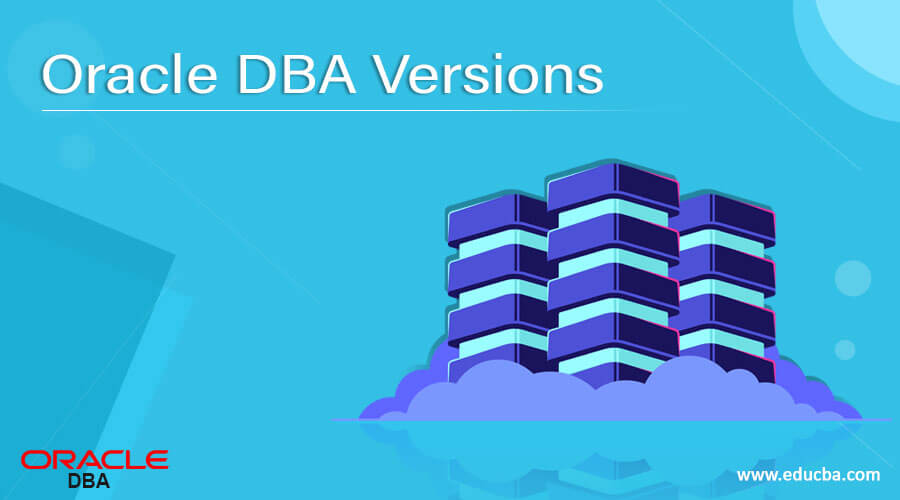 Definition of Oracle DBA versions
Oracle DBA is defined as Oracle Database Administrator who is responsible to govern the Oracle database server holding different accountabilities and operations.
Since types of database users and their associated roles and jobs may vary at a site and therefore this DBA user having a high privilege level occupies more priority tasks to handle and control the overall database management and administration for the application creators and other users.
In every database server, there is a requirement of at least a single DBA for administrating the large site as well as a small one. Since Oracle database server is big and includes many types of users who share a section of responsibilities with each other to handle and secure the database.
Hence, an Oracle DBA version comprises Oracle database enhancements to bring up new capabilities to sustain the market-leading performance, reliability, scalability, and security also on-premises and in the cloud.
Oracle DBA versions
Initially, Oracle was founded by Larry Ellison, Bob Miner along Ed Oates on June 16, 1977, under the name SDL (Software Development Laboratories). Later the company was not successful with the name till 1979 and then in the same year the company name was modified to Relational Software Inc worked in Relational Software Inc, by three courageous friends which were till 1982. Also, further, the company was recognized with its products and again altered to Oracle Systems Corporation. Later in 1995, the name was modified to Oracle Corporation which is still continued to this current date.
This was just a brief on oracle DBA Versions history. Now, let us discuss and explain some details on DBA versions also listed as follows:
| | | |
| --- | --- | --- |
| Version | Year | New Structures  |
| Oracle v2 | 1979 | Initial commercialized SQL-based RDBMS. |
| Oracle v3 | 1983 | Data Distribution, Concurrency Controller, and Scalability |
| Oracle v4 | 1984 | Read Consistency having Multiversion |
| Oracle v5 | 1985 | Distributed database systems & server/client computing support |
| Oracle v6 | 1988 | PL/SQL, Online backup and recovery, Row-level locking, Oracle Parallel Server, and scalability |
| Oracle 7 | 1992 | Triggers, PL/SQL stored events procedures, Cost-based Optimizer, shared Cursors, Transparent Application Failover |
| Oracle 8 | 1997 | Virtual Private Database, Partitioning, Java, Recovery manager, Native Internet protocols, Dataguard |
| Oracle 9 | 2001 | Logical Standby, Oracle XML DB, Oracle Real application clusters i.e. RAC, Streams, Data Mining |
| Oracle 10gR1 | 2003 | Automatic Database Diagnostic Monitor, Oracle ASM, Grid Infrastructure, Flashback Database |
| Oracle 10gR2 | 2005 | Online Indexing, Transparent Data Encryption, Database Vault, Real application testing, Advanced Compression |
| Oracle 11gR1 | 2007 | Exadata, Secure Files, Active Data Guard |
| Oracle 11gR2 | 2009 | Database Appliance, Cluster File system, Hybrid Columnar Compression, golden Gate Replication, Data Redaction |
| Oracle 12cR1 | 2013 | Database cloud service, In-memory Column store, SQL pattern matching, Native JSON, Multitenant architecture |
| Oracle 12cR2 | 2016 | Cloud at customer, Exadata cloud service, Zero data loss recovery appliance, Native sharding |
| Oracle 18c | 2018 | Active Directory Integration, Autonomous database, Polymorphic table functions, Data guard multi-instance redo apply |
| Oracle 19c | 2019 | Partitioned Hybrid Tables, Automatic Indexing, Real-time stats + stats only queries, Data-guard DML |
Oracle 8: With this version of DBA in Oracle, Recovery Manager(RMAN) was introduced that denotes the recovery and backup tool of Oracle database along with Partitioning feature making a prodigious involvement to the Database Management system in positions of performance. Also, with Oracle 8 the Disaster recovery feature is out known as Dataguard.
Oracle 9: In this version, the most beneficial feature is the (RAC) Real Application Cluster undoubtedly. Further, Oracle Instance available with this feature that is installed on many servers at an identical time delivers high availability of databases. In other RDBMS still, there is no other feature such as RAC(active-active) that has come to be a sine qua non for corporations, called as call business-critical systems particularly for the customers having prompt money flows like banking and insurance.
Oracle 10g Release Date: The Oracle 10g was introduced in 2003 which holds the capability to handle Oracle's storage management from operating systems that is currently called Automatic storage management. With Oracle 9 version, the feature called Real application cluster has been enhanced and the other feature Grid Infrastructure has been released with Oracle 10g. One of the most significant features i.e. Flashback for database administrators and reduces the recovery on user faults was presented with the Oracle 10g. Similarly, some other innovative features such as Transparent Data Encryption and Advanced Compression are also introduced.
Oracle 11g Release Date: In 2007, Oracle 11g was introduced. Also, the Exadata was designed as a database machine developed by Oracle on the hardware side. Hence, Oracle 11g becomes the first version of the database to be used in Exadata. In this version, Active dataguard feature was developed for the disaster recovery feature of Dataguard databases. Cluster File system, Hybrid Columnar Compression, and Data Redaction are listed as another feature of this version.
Oracle 12c Released that: With the 12c version, Oracle has broadcast several different features at 2012 which has echoed in the market already, and further, the most significant reason behind this is that it has proclaimed Cloud feature. Hence, now the idea of g i.e. grid in 10g and 11g is substituted by c i.e. cloud.
Oracle 18c Release Date: The Oracle 18c is out in 2018 including the most significant features such as Data Guard Multi-Instance Redo Apply and Autonomous Database.
Oracle 19c Release Date: In 2019, the Oracle 19c is introduced with features such as Automatic Indexing, Partitioned Hybrid Tables, Data-guard DML Redirect, and Real-time Stats + Stats Only Queries features.
Thus, an Oracle DBA functions to prioritize few tasks such as weighing the Database server hardware, deploying the Oracle Software, forecasting the Database, generating & opening the Database, Backup the database and enrolling system users, executing the database design, backing up the entirely functional database and at last tweaking database performance.
Conclusion
In this Oracle DBA version, we have learned about all several versions that offer diverse new features along with inventive abilities in all the areas consisting of development, security, performance, and management.
All delivering the database administrator and developer having essential tools to support creating the innovative application on top of secure and efficient database infrastructure.
Recommended Articles
This is a guide to Oracle DBA Versions. Here we discuss the definition, Explain some details on DBA versions. You may also have a look at the following articles to learn more –