Updated November 6, 2023
Difference Between Online vs In-Person Data Science Courses
The field of Online vs In-Person Data Science Courses is rapidly evolving, and the demand for individuals with expertise in this domain is soaring. Aspiring professionals and data scientists seeking to enhance their data analytics skills face a pivotal decision: should they embark on their learning journey through online data science courses or opt for the traditional in-person classroom experience? This article delves into the fors and againsts of each learning mode, aiming to empower individuals with the knowledge to make an informed choice that aligns with their unique learning preferences and career objectives. Whether you're seeking the flexibility of online education or the hands-on guidance of in-person instruction, understanding the pros and cons of these two approaches is crucial to charting your path to success in the dynamic realm of data science.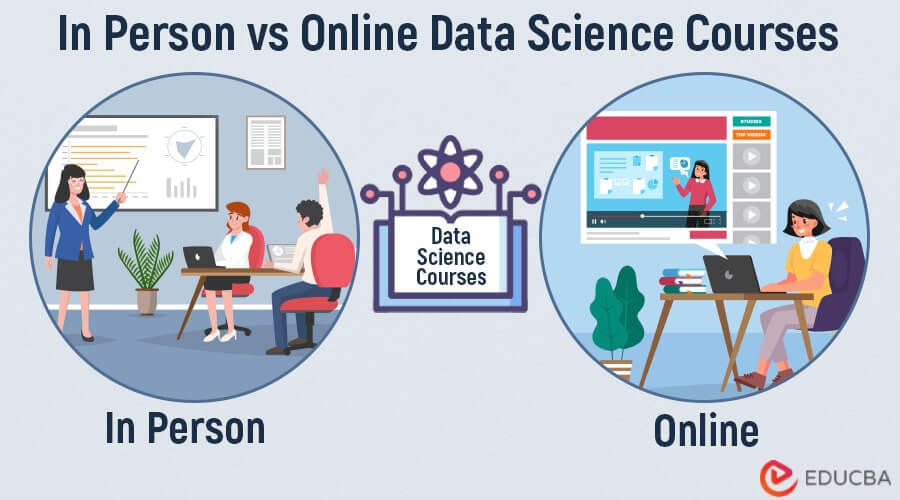 Table of Content
Online Data Science Courses: Pros and Cons
Online Data Science Courses refer to educational programs or courses in the field of data science that are delivered entirely over the Internet. These courses teach data analysis, machine learning, statistical modeling, and other data science techniques.
Here are some key characteristics of online data science courses:
Online Platform: Online courses are delivered through a dedicated online platform or learning management system (LMS). Students typically access course materials, lectures, assignments, and assessments through this platform.
Self-Paced Learning: Online courses often offer self-paced learning options, allowing students to progress at their speed within a given timeframe. This means students can start and complete the course according to their schedule.
Modular Approach: Online courses are often structured into modules or units that cover specific topics. Students can navigate through the modules linear or non-linearly, depending on their needs and interests.
Multimedia Content: Online courses use multimedia content such as recorded video lectures, interactive quizzes, virtual labs, and simulations to deliver the course material.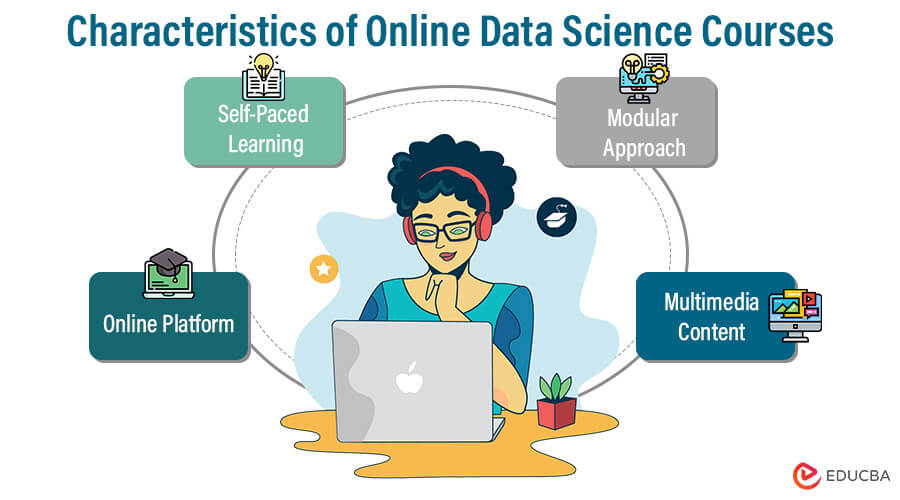 Pros
Flexibility and Convenience: Online data science courses offer unparalleled flexibility. Learners can set their own pace and determine when and where they engage with course materials. This convenience allows working professionals to balance their career commitments while pursuing education.
Cost-Effectiveness: One of the standout advantages of online courses is their cost-effectiveness. Typically, online programs have lower tuition fees compared to in-person options. Moreover, learners save on commuting and accommodation expenses, making it an attractive option for those on a budget.
Diverse Course Options: Online platforms host extensive data science courses, ranging from introductory to advanced levels. This diversity enables learners to select programs that precisely match their skill level and interests. Moreover, specialized and niche subjects that might not be available in traditional institutions are accessible online.
Global Networking: Online courses provide a unique opportunity for learners to connect with peers worldwide. Engaging with a diverse group of fellow students fosters cross-cultural collaboration and expands professional networks, which is particularly advantageous in the global field of data science.
Self-Directed Learning: Enrolling in an online data science course requires self-motivation and discipline. This learning style cultivates valuable skills such as time management and self-accountability, highly relevant attributes in a data-driven work environment.
Cons
Lack of Face-to-Face Interaction: The absence of physical presence and face-to-face interaction can be a drawback of online courses. While virtual classrooms and discussion forums attempt to bridge this gap, real-time engagement with instructors and peers may be limited, potentially affecting the depth of understanding and collaborative learning experience.
Self-Motivation Required: Online learning places a significant responsibility on learners to stay motivated and on track. Some individuals need the structured environment of a traditional classroom to maintain consistent progress and engagement.
Small Hands-On Practice: While online courses often include practical exercises, physical labs, and equipment can hinder the depth of hands-on learning. Hands-on experience, a crucial aspect of data science education, might need to be more comprehensive online.
Technical Challenges: Online learning depends on stable connectivity and proper technical setup. Technical glitches or interruptions can disrupt the learning process and impede access to course materials, leading to frustration and potential setbacks.
Isolation and Loneliness: The solitary nature of online learning can sometimes lead to feelings of isolation and loneliness. Missing in-person interactions and networking opportunities can limit a learner's overall experience and personal growth.
In-Person Data Science Courses: Pros and Cons
In-person data Science Courses are educational programs or courses in data science conducted in physical, traditional classroom settings. These courses are designed to provide individuals with hands-on, face-to-face instruction and practical experience in various aspects of data science, including data analysis, machine learning, statistical modeling, and more.
Here are some key characteristics of in-person data science courses:
Resources: Students typically access on-site resources such as libraries, research facilities, and specialized software and equipment.
Certification: In-person data science courses may offer certificates or degrees upon completion, which can carry weight in the job market.
Physical Presence: In-person data science courses require students to attend physical classes or workshops at a designated location, such as a university campus, training center, or classroom.
Technical Requirements: While students need access to a computer, the technical requirements for in-person courses are generally less demanding than online courses.
Fixed Schedule: In-person courses follow a fixed schedule with specific class times and durations. Students are required to attend classes according to the predetermined timetable.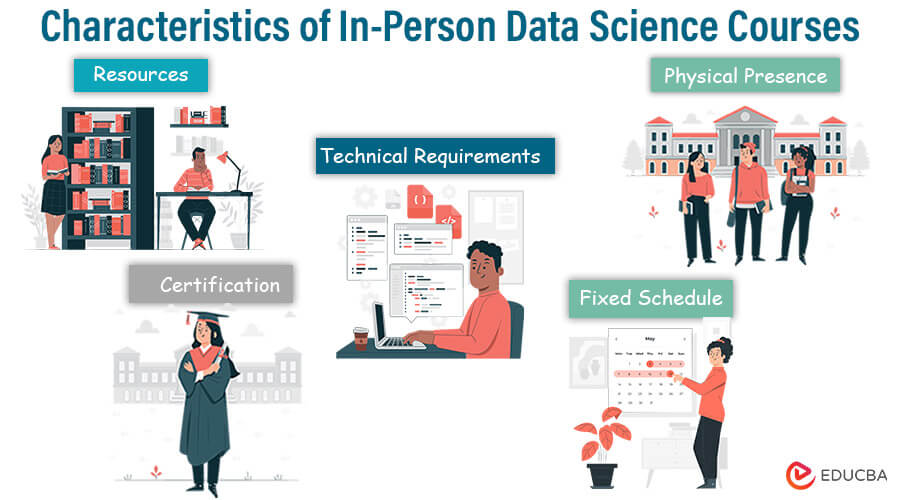 Pros
Direct Interaction with Instructors: In-person data science courses offer immediate access to instructors for clarification, feedback, and in-depth discussions. This direct interaction enhances the learning experience by facilitating clear communication and personalized guidance.
Structured Learning Environment: The structured nature of in-person classes enforces discipline and accountability. Regular class schedules create dedicated time for learning, which can be particularly favorable for individuals who thrive in a controlled setting.
Hands-On Learning Opportunities: In-person courses often provide access to physical labs, equipment, and resources. This tangible environment enables learners to engage in more comprehensive hands-on activities closely resembling real-world scenarios.
Networking Opportunities: The physical presence of classmates and instructors allows for cultivating strong relationships and networking opportunities. Local job markets and industry events become more accessible, potentially enhancing career prospects.
Accountability and Motivation: The classroom setting fosters a sense of responsibility and motivation through peer interactions and group dynamics. The presence of peers can encourage healthy competition and a shared commitment to success.
Cons
Limited Flexibility: In-person courses come with fixed schedules, which might only accommodate the diverse programs of some learners. This lack of flexibility can be a hindrance, particularly for working professionals or those with other commitments.
Higher Costs: In-person data science courses are often associated with higher tuition fees. Additionally, commuting, transportation, and accommodation expenses can significantly increase the overall cost of education.
Geographical Constraints: Learners are limited to the courses offered within their geographical vicinity. This constraint might force individuals to relocate or compromise their desired educational path.
Less Course Variety: In-person courses offer a narrower range of options, especially for specialized or niche data science topics. The availability of courses depends on the local institutions and their offerings.
Inconvenience in Commuting: Commuting to and from classes can take time and effort. Traffic, weather conditions, and distance can affect attendance and overall learning experience.
Key Difference between Online vs. in-person Data Science courses
Here's a table of contents outlining the key differences between online and in-person data science courses:
| | | |
| --- | --- | --- |
| Section | Online Data Science Courses | In-Person Data Science Courses |
| Format | Conducted entirely online | Conducted in physical classrooms |
| Flexibility | Can be accessed at any time and from anywhere | Require scheduled attendance at specific locations |
| Course Duration | Usually self-paced or with flexible timelines | Typically follow fixed schedules and timelines |
| Interaction | Primarily through online forums, discussions, and video lectures | Face-to-face interaction with instructors and peers |
| Hands-on Experience | Virtual labs and projects may be included | In-person labs and projects are common |
| Networking | Limited opportunity for in-person networking | Opportunities for networking with classmates and instructors |
| Cost | Often more affordable compared to in-person courses | Generally higher cost due to facilities and resources |
| Technical Requirements | Stable internet connection and a computer | Access to physical classrooms and resources |
Key Similarities Online vs In-Person Data Science Courses
Both formats typically cover similar topics, including statistics, machine learning, data analysis, and programming languages like Python and R.
In both settings, courses are often taught by experienced instructors with expertise in data science.
Both formats emphasize practical application through hands-on projects, allowing students to gain real-world experience.
Students in both settings can access course materials, textbooks, online tutorials, and resources to support their learning.
Instructors provide feedback on assignments and projects, helping students understand their strengths and areas for improvement.
Online and in-person courses encourage student interaction through discussions, group projects, and forums.
Both formats offer networking opportunities, although in-person courses may provide more face-to-face networking opportunities.
Online courses and some in-person courses offer flexibility in terms of scheduling, allowing students to balance their studies with other commitments.
Both formats often offer certificates or credentials upon completion, which can be valuable for career advancement.
Institutions offering these courses typically provide student support services, such as technical support, academic advising, and career counseling, to assist learners in their journey.
Conclusion
Both online and in-person data science courses present distinct advantages and challenges. The choice between these two learning modes hinges on individual preferences, career goals, and learning styles. Online courses offer flexibility and cost-effectiveness, while in-person classes provide hands-on experience and direct interaction. Prospective learners must carefully weigh the pros and cons outlined in this article to make an informed decision that aligns with their aspirations and circumstances. Ultimately, the chosen path should demonstrate a dedication to acquiring the necessary skills and knowledge to succeed in the ever-changing field of data science.
Recommended Articles
We hope that this EDUCBA information on "online and in-person data science courses" was beneficial to you. You can view EDUCBA's recommended articles for more information.