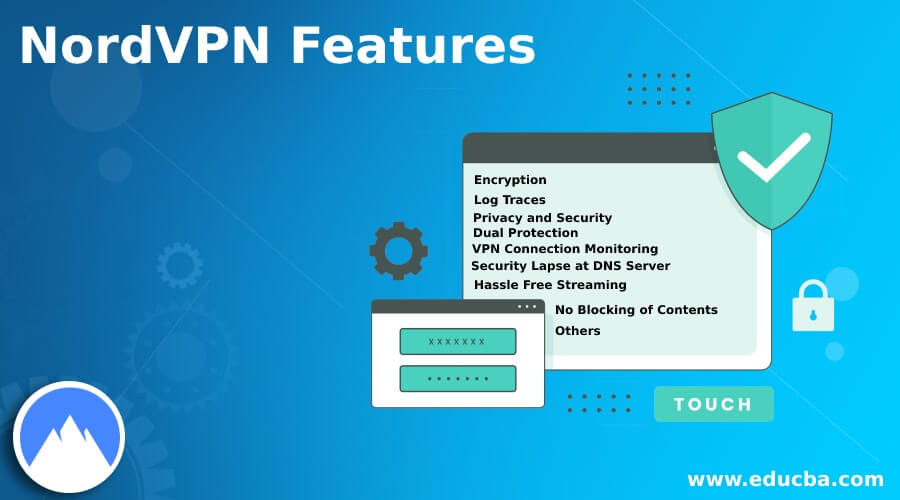 Introduction to NordVPN Features
NordVPN features address the primary concerns of users on internet access, such as they are being tracked and their browsing data will be sold to unwanted people. Hackers will steal their confidential information like passwords, bank account details, tax information. A state may access their online transaction logs and implicate them. The Internet service provider will take them to ransom since they will get to know their online behavior, and personal freedom is lost. Browsing the internet through any VPN will add unnecessary overhead and impact the performance and stability of the applications accessed. VPN will not permit round the clock (24 x 7) internet access.
Various NordVPN Features
Given below are the various NordVPN Features:
Users can access the public internet through a secured tunnel offered by a VPN service provider, and it makes the user to feel like browsing in their own private network.
NordVPN is one of the top players in the VPN community, and its features are:
1. Encryption
Whenever a user tries to connect to the web, a VPN client installed in the user's laptop/ desktop/ smart phone establishes contact with the VPN server with authentication details. Once authenticated, VPN creates a secured tunnel, the data pockets are encrypted and sent through the tunnel to a Web server via an Internet service provider. Before the data pocket reaches the Web server, the data is decrypted. Similarly, the data travels back to the user from a web server in the same encrypted way.
By this encryption, certain critical information like user's identity, IP address, location details are masked from ISP, possible hackers trying to intervene and State on user's browsing history. VPN will change the location, and IP details of the user to that of the VPN server, and the access to ISP/web server will carry the new IP details, and the user's identity is well protected. The password, bank/ financial details, medical info, individual conversation, mail info, and many other data are encrypted before leaving the end-user devices. NordVPN uses state of the art encryption standards like 256-bit keys Advanced encryption standards approved by several Government agencies. It makes use of three security protocols, namely OpenVPN, Nordlynx, IKEv2/IPsec, during VPN tunnel creation.
2. Log Traces
Personal identity, data accessed are protected from ISP and Hackers by VPN design and encryption. But the VPN servers have access to browsing history or logs of users activity in the net like websites/ software accessed, time and duration of internet connection, IP addresses, files uploaded/downloaded, bytes transferred and Server details.
Before choosing the VPN, users will have to evaluate the tools deployed by a VPN service provider to track the information, the list of browsing data collected, geographical location/ state laws and legal requirements.
NordVPN does not maintain any of the log data, and audit agencies validated it. Headquartered in Panama, there is no legal obligation from that country to keep the logs of users, and it had conveniently avoided US and Euro regions where log keeping is mandatory.
3. Privacy and Security
NordVPN security software CyberSec blocks access to identified websites that are familiar with hosting spyware, malware and any other malicious codes. A constant vigil by CyberSec at the DNS layer blocks access to vulnerable websites. It also blocks advertisement pop-ups, video ads and ad content and ensures ad-free internet viewing.
CyberSec prevents a user's system from taking part in Distributed Denial of Service (DDOS) attacks even if the system is already infected with malware by disconnecting communication with a command center.
4. Dual Protection
Double VPN and double encryption protect hackers' highly sensitive and critical data by making hacking twice as difficult. In this architecture, the data is routed through a VPN server, where extra encryption is added over the already encrypted data. Thus, double encrypted data travels through the net safely, and it is decrypted at another VPN server before it is passed on to the Web layer.
This method protects the data completely and also ensures the privacy of the user identity is strictly maintained.
5. VPN Connection Monitoring
NordVPN continuously monitors whether a connection to VPN servers is always on, and if there is any issue in the connection, access to the internet is blocked so that there is no leakage of data in the web. This monitor called VPN Kill Switch acts as an extra defense layer to prevent accidental loss of data. Blocked internet connection will be re-established only after disabling the VPN kill switch.
There is an option to enable the Kill switch at the system level for all apps running in the system or at an application level. In addition, users have yet another option to keep kill switch monitoring always on or during working time only or sometimes whenever required.
6. Security Lapse at DNS Server
If any VPN is used in the internet access, the traffic is routed through a secured VPN tunnel and DNS servers designated by the VPN services. DNS servers decipher the URL (https://www. amazon.com) and convert it to the actual IP address of Web servers. Instead of reaching out to the designated DNS servers by VPN services, sometimes due to the wrong usage of Windows software or reset of system preferences or wrong VPN setting, the system may reach out to public domain server, which may cause security lapse.
NordVPN services ensure that internet connection goes through the DNS servers designated by it only, and the connection does not creep into public servers.
7. Hassle-Free Streaming
NordVPN ensures that the users don't face any difficulty while viewing video content even at a lower bandwidth from anywhere anytime.
8. No Blocking of Contents
Content providers like Netflix and Amazon block region-based content for VPN users also. NordVPN manages such blocking issues with Netflix and Amazon and renders disruption-free to its users.
9. Others
NordVPN allows 6 devices with any OS for one account.
The speed of the internet is always fast.
It provides a facility to have dedicated IP to have secured access to do high-value financial transactions.
Round the clock support (24 x 7).
Conclusion
It is worth the money spent on the NordVPN services. Users get secured, hassle-free, fast internet access with NordVPN.
Recommended Articles
This is a guide to NordVPN Features. Here we discuss the introduction and various NordVPN features for better understanding. You may also have a look at the following articles to learn more –